Bryant & Treschan: NYC's New Mayor Must Make Sure All Students Have a Clear Path to College and Career Success — Starting in 6th Grade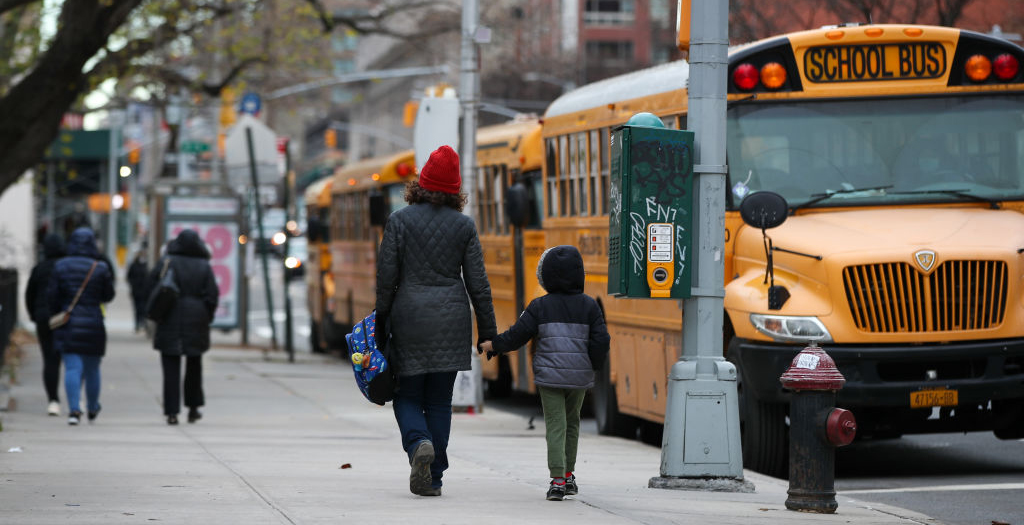 Get stories like these delivered straight to your inbox. Sign up for The 74 Newsletter
Even before the pandemic, young people across New York State were graduating high school ill prepared for college or the workforce, putting them at risk for dropping out before earning a degree and missing out on gaining skills and professional connections critical for earning a family-sustaining income.
The current moment provides an opportunity for change, as school districts are already receiving significant increases in federal funding through the American Rescue Plan Act. It is crucial that New York City's new mayor invest these dollars in programs that address the significant and widening opportunity gaps that disadvantage students and threaten their futures — particularly kids of color and those from low-income backgrounds.
More than ever, the next mayoral administration must make equity a priority and ensure that every child beginning as early as sixth grade has an opportunity to engage with rigorous coursework, explore a variety of interesting careers, earn college credits, gain work experience beginning in high school and have opportunities to connect with professionals in various fields.
In the years leading up to the pandemic, an increased emphasis on college attainment led to higher rates of college enrollment, with notable gains for Black and Latino students. But these increased graduation rates have not led to corresponding postsecondary retention, higher attainment of associate or bachelor's degrees, or more opportunity to acquire family-sustaining wages. That is especially true for first-generation college students.
Instead, students are left without a clear pathway to a career or an understanding of how going to college will prepare them for the future they desire. As a result, they leave college ill-prepared, with record amounts of student loan debt and unfilled promises of economic stability and upward mobility — whether or not they graduate.
The impact on communities is evident in a recent survey of over 8,300 companies by the Business Council of New York State that revealed 48 percent could not get qualified candidates for posted positions. The most common barrier, cited by 56 percent, was a lack of experience.
When businesses have relationships with schools in their communities, they can offer students opportunities for better understanding their college and workforce options. But a mere 7 percent of companies in the survey reported having a strong relationship with high schools, and only 2 percent have strong relationships with middle schools.
School systems must do a better job of helping students understand their options and develop plans for their future after they leave high school. Affluent families and resourced schools already do just that, but Black and Latino students, and those from low-income backgrounds, often lack this vital information when making postsecondary choices. When Here to Here — an organization that enhances pathways to careers for young people by uniting employers, educators and community-based organizations — explored the disparities among high school students from varying racial, ethnic and socio-economic backgrounds, it found huge gaps in expectations for what schools are supposed to do. Its January 2020 report found that those who attend New York City schools that serve students from low-income backgrounds said the goal of their high school is to see them graduate. But students at high- or mixed-income schools believe that their school is also focused on helping them discover their unique skills and interests; build a resume that allows them to showcase those talents to colleges and employers; and ensure they leave high school prepared for the postsecondary pathway of choice.
The shift to ensuring all students leave high school prepared for college and the workforce starts with access to rigorous coursework, and it is crucial that the next mayoral administration invest in making opportunities for advanced coursework available to all students.
The New York Equity Coalition found that in 2018-19, high school students across New York State who were white and not from low-income backgrounds were approximately twice as likely to be enrolled in a range of key advanced courses like physics, calculus, computer science, Advanced Placement and International Baccalaureate, music and advanced foreign languages than their low-income and Black and Latinx peers.
The next mayoral administration must also expand work-based learning experiences that can act as a complement to rigorous coursework and provide knowledge that can empower students to make informed choices about postsecondary paths while engaging in real-world, paid work.
Work-based opportunities make it more likely that students enroll in postsecondary programming that is most aligned to skills and interests they developed in middle and high school. These experiences also make academic coursework more engaging and relevant and allow students to practice what they learn in traditional classrooms while cultivating a professional network.
Now is the time for New York City to invest in students' futures.
Dr. Dia Bryant is executive director of The Education Trust–New York. Lazar Treschan is vice president of Here to Here.
Get stories like these delivered straight to your inbox. Sign up for The 74 Newsletter