Fewer Students Left NYC Schools this Year than Other Major Cities, DOE Data Say. One Official Worries Those Tallies Obscure Truth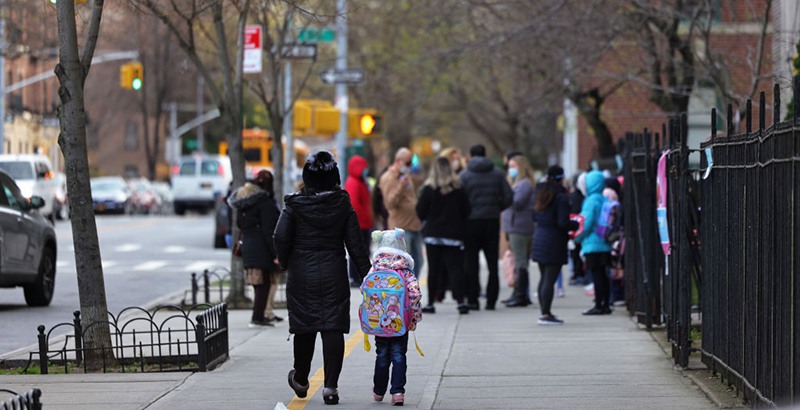 Support The 74's year-end campaign. Make a tax-exempt donation now.
Updated, Nov. 2
Correction appended
Enrollment in the nation's largest school district dropped just 1.9 percent this year, less than some other major cities, but one city official is skeptical of whether the numbers tell the full tale.
There are roughly 938,000 students now attending traditional New York City public schools, down from 955,000 last year and slightly over 1 million in the 2019-20 school year. Following national trends, enrollment in independently run city charter schools rose 3.2 percent this year, to 143,000.
The drop in NYC district public school enrollment was smaller than the reported 6.0 percent decrease in Los Angeles versus last year and a 2.9 percent decline in Chicago, estimated by a WBEZ analysis, which would mean the district may no longer be the nation's third largest.
Before the New York City Department of Education released figures on Friday, which are preliminary and have not yet been audited by the state, elected officials had long been pressing the city to publish clear data on enrollment and attendance rates by school.
One of them, City Councilman Mark Treyger, believes the numbers may obscure more dire circumstances — such as attendance rates below 50 percent in some schools.
"We don't have a full picture of attendance in our school system," he told The 74.
To be counted as "enrolled" in a school, Treyger said, students must show up once during the month of October. That means youth could miss school more than 90 percent of the time and still contribute to their respective buildings' tallies.
The DOE did not offer an alternative description of its policy, but cautioned against conflating attendance and enrollment. "A student is enrolled until they are discharged," Deputy Press Secretary Nathaniel Styer wrote in an email to The 74.
"They could literally be absent three weeks straight," said Treyger, who chairs the Education Committee and formerly worked as a New York City public school teacher.
The DOE has yet to respond to a public records request filed by The 74 in May for the number of students chronically absent — those missing 10 percent or more days — in the 2020-21 school year.
The data released Friday do not offer a precise indication of how many students are regularly missing class, though officials said that average daily attendance has been 89 percent this year.
Anecdotally, Treyger said he has heard accounts from principals in Brooklyn, Queens and the Bronx of attendance rates that have reached what he called "emergency status" — as low as 40 or 50 percent.
The district publishes daily attendance rates for each school, but they do not include the numerical counts of how many students show up, nor do they publish the share of students who have missed so much class that they may be academically at risk, a threshold that researchers say is when students are absent one out of every 10 days. On Monday, numbers from the district indicated that 39 of the city's roughly 1,600 schools had attendance rates under 50 percent, but many of those buildings were transfer schools, which historically have had lower attendance rates because they serve students as old as 21 who often work jobs.
Last year, the city only released school-by-school attendance rates once Treyger subpoenaed for disaggregated attendance logs. Those numbers revealed that schools with a majority of Black and Hispanic students were nearly eight times more likely to report low virtual learning engagement or poor attendance than whiter schools.
Now, the council member is taking legislative action to require that the district publicize school-by-school weekly attendance by percentages and the raw number of students absent. Mayor Bill de Blasio's office did not respond to questions about whether he would sign those pieces of legislation should they reach his desk. The mayor leaves office at the end of the year.
Students who had not consistently shown up to class received robocalls from the district urging them to attend school — a measure Treyger says is "completely inadequate."
Even without further data, the numbers released by the DOE provide further evidence of the profound disruption that the pandemic has had on public education. All told, traditional public schools in New York City have lost 64,000 students since before COVID-19.
"While not as bad as the worst projections, the loss of 64,000 public school students since the start of the pandemic — roughly the equivalent of the entire current third grade citywide — is a major problem for the Department of Education and the city," said United Federation of Teachers President Michael Mulgrew in a statement sent to The 74. "The DOE needs to mount a major campaign to get those kids back into our classrooms."
Before the Friday numbers, Mulgrew had posited that as many as 180,000 students might not have stepped foot in city classrooms. The estimate was provided to the union in early September, said spokesperson Alison Gendar, but when asked, she did not specify the source of the data. At that point in time, the Delta variant was in full swing and more parents may have been keeping children home for fear of the virus.
There is no remote schooling option in New York City provided by the DOE this year, except for select instances for medically vulnerable students. A DOE spokesperson told The 74 that the city has received about 750 applications for the program and has about 500 students enrolled. Those students are included in the count the city publicized last week.
Correction: An earlier version of this article stated that the NYC Department of Education does not publish school-by-school attendance rates. The DOE does release that data daily, but does not publish the numerical counts behind its percentages or the share of students who are chronically absent, meaning those missing so much school they may be academically at risk.
Support The 74's year-end campaign. Make a tax-exempt donation now.