Bernie Sanders's K-12 Proposal Would More Than Double the Federal Education Budget: 6 of His Top Spending Priorities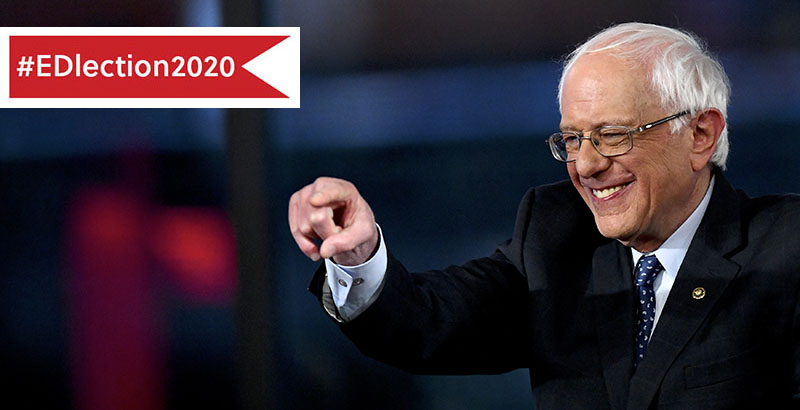 Following his proposal Friday to limit charter schools, Sen. Bernie Sanders this weekend released perhaps the most substantive K-12 platform of any of the major presidential candidates. It touches nearly every area of K-12 policy, from protections for LGBT students to teacher pay to special education, but perhaps what sticks out most of all is the huge increase in spending he proposes.
In what Sanders touted as the "Thurgood Marshall Plan for Public Education" — named for the future Supreme Court justice who argued against school segregation in Brown v. Board of Education — the Vermont Democrat "calls for a transformative investment in our children, our teachers and our schools and a fundamental rethinking of the unjust and inequitable funding of our public education system," his campaign said on its website.
Merits of the individual ideas aside, it would cost an eye-popping amount of money — more than double the current budget — to pay for all of them.
Some of the proposals are without specific price tags, like creating a fund to train teachers at historically black colleges. Others, like his plan to "close the gap in school infrastructure funding to renovate, modernize and green the nation's schools," would seemingly be a one-time investment. Still others, like raising teacher pay to a minimum of $60,000 and setting a minimum per-pupil spending, would probably require new state dollars.
Ignoring those unspecified and one-time expenditures (and the additional $6 billion in funding for the Agriculture Department that would be required to provide universal free school lunch) brings the total to an additional $74 billion a year for the Education Department. That would more than double its funding, currently about $71 billion a year, and doesn't include any higher ed proposals, including Sanders's free college plan, or any changes to early childhood programs.
Here are some of the biggest-ticket proposals, and how much additional spending they'd require:
1 Triple Title I funding — $32 billion
This proposal is mentioned several times throughout the Sanders plan, as a remedy for both high-needs schools and special education costs. Current funding is $15.86 billion, so tripling that figure would be $47.58 billion a year, or another $31.72 billion annually.
2 Increase special education funding — $30 billion
The original bargain of the Individuals with Disabilities Education Act was that the federal government would provide 40 percent of additional costs for educating students with disabilities, in exchange for states and schools providing that education. But the federal government has never done so, and increasing federal funding has bipartisan support.
Sanders, though, wants to go further and raise the federal government's share to 50 percent. Based on calculations in IDEA full funding bills introduced in Congress, it would take about $43 billion a year to hit that 50 percent mark, an increase of $29.75 billion from current funding.
3 A new community schools program — $5 billion
Sanders proposes a $5 billion community schools program. There isn't one currently, but House Democrats have proposed spending $260 million in the coming fiscal year.
4 Additional funding for afterschool and summer programs — $3.8 billion
Sanders wants to raise funding for these programs to $5 billion, up from the $1.2 billion they receive this year. The Trump administration has proposed eliminating this funding three times, to widespread backlash — a fact Sanders notes in his campaign literature.
5 New funding for career and technical education — $3.7 billion
Spending on CTE, like IDEA, has bipartisan support. Sanders calls for $5 billion for federal grants for the program, which get about $1.3 billion annually under the current spending deal.
6 More money for magnet schools — $893 million
Sanders proposes $1 billion for the federal magnet school program, up from the current $107 million. These schools of choice have often been used to promote desegregation, and Sanders touts the new funding as a way "to help integrate our schools."
Get stories like these delivered straight to your inbox. Sign up for The 74 Newsletter