Did AFT Actually Add 30,000 New Members This Past Year? Well, Not Really
Antonucci: Many new names on the rolls are retirees, and a substantial number are part-time instructors — which doesn't help the union's bottom line.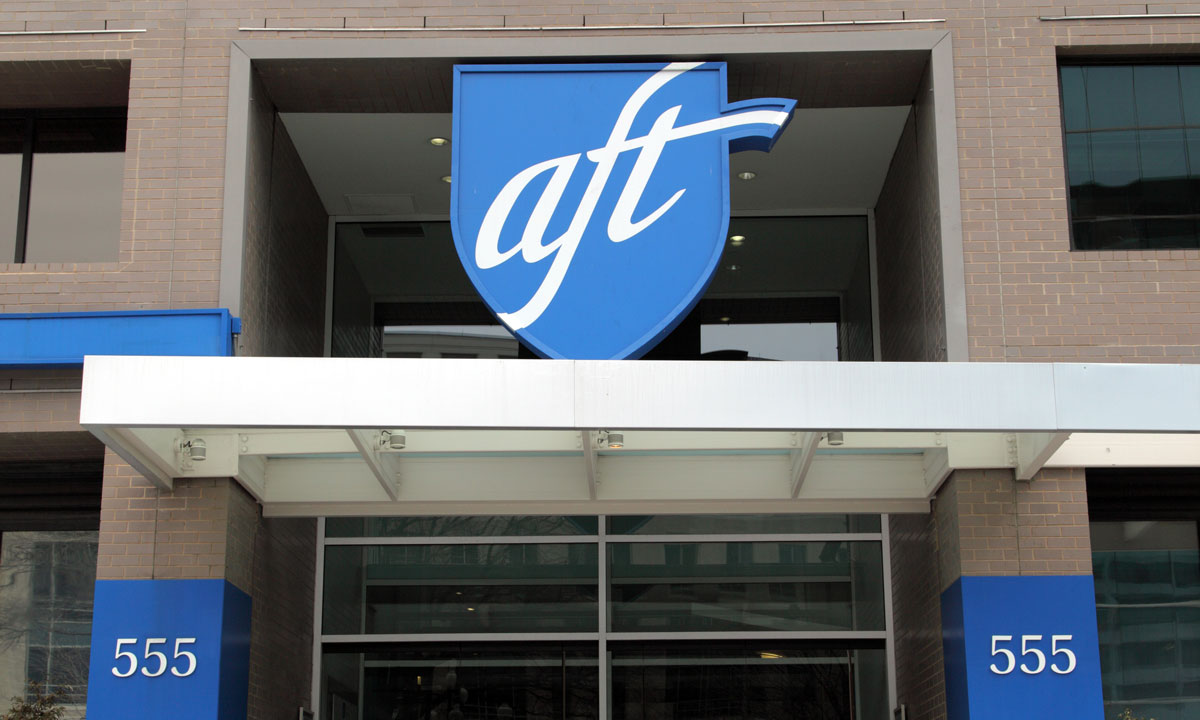 Support The 74's year-end campaign. Make a tax-exempt donation now.
Each year, the American Federation of Teachers is required to report its income, expenditures and membership to the U.S. Department of Labor. Its disclosures for its fiscal year of July 2022 through June 2023 have just been released, and the union revealed it gained 30,000 members over that period.
This would be a triumph for AFT if it didn't come with a string of asterisks.
The first is the issue of retired members. AFT members are members for life. When they retire, they are not removed from the rolls, nor are they required to apply for retired membership or pay any dues. A growth in retired members actually constitutes a loss in income for AFT.
In 2023, the union added more than 11,500 retired members, accounting for almost two-fifths of the reported gain in total membership. It now has 471,582 retired members — 27.5% of its total.
The other major event for AFT in the fiscal year was the affiliation of the American Association of University Professors. The AAUP has 44,000 members. Previously, about 20,000 AAUP members also belonged to AFT. Now, they all do, accounting for a further increase of 24,000 members to AFT's total this year.
Mergers and new affiliations with existing unions are a fun way to pump up raw membership totals, but they do nothing to increase the share of the overall workforce that is unionized.
The new members from AAUP aren't really a boon to AFT's bottom line. A substantial number work part time, which is true of many AFT members as well. AFT reported 1,716,448 total members for 2023, but only 43% of them work full-time.
The effect of all this is illustrated by AFT's finances. Last year, the union collected close to $212 million in dues. This year, that number fell to $189 million — a strange phenomenon if it had actually recruited tens of thousands of new members.
But there's no need to fear for the union's finances. AFT is putting its money to fruitful use. It greatly increased investments in stocks, corporate bonds, mutual funds and U.S. Treasury notes, leading to a net growth of $28.2 million in its portfolio.
AFT spread its wealth around to its allies as well. The largest amounts went to:
For Our Future Action Fund — $1.5 million

Workers Vote — $816,000

Democratic Governors Association — $600,000

Red Wine & Blue — $520,000

A Better Wisconsin Together Political Fund — $500,000

Friends of Charlie Crist — $500,000

House Majority PAC — $500,000
AFT also donated $250,000 to the Amazon Labor Union, but since it spent more than $292,000 worth of purchases on Amazon, that looks like a wash.
Mostly, AFT spent its money on itself. Its payroll for 342 employees totaled almost $43.1 million, or an average of $126,000 each. The union spent an additional $18.7 million on benefits.
AFT President Randi Weingarten led the way, with a 2023 salary of $443,551, which was a 2% increase over 2022.
The National Education Association's fiscal year runs from September through August, so its disclosure report won't be available until the end of November. However, Union Report has already obtained internal union documents that indicate NEA lost 9,800 members during fiscal year 2022-23. Preliminary numbers for September 2023 show a continued decline of about 2,800 members, mostly from the ranks of school support employees.
It would be a strange circumstance if AFT were recruiting so many new members from non-union ranks while NEA was steadily losing unionized members. Both organizations are still powerful and influential, whatever their numbers, but the extent of their power depends upon which direction those numbers are trending. Politicians might be less likely to bind their futures to a sinking ship. This would open up a host of new possibilities for education reform.
Mike Antonucci's Union Report appears most Wednesdays; see the full archive.
Support The 74's year-end campaign. Make a tax-exempt donation now.