Despite What the Unions Say, Membership Rates Hit Record Low in 2022
New federal data shows 10.1% of wage and salary workers belonged to unions in 2022, including 6% of private-sector and 33% of public-sector workers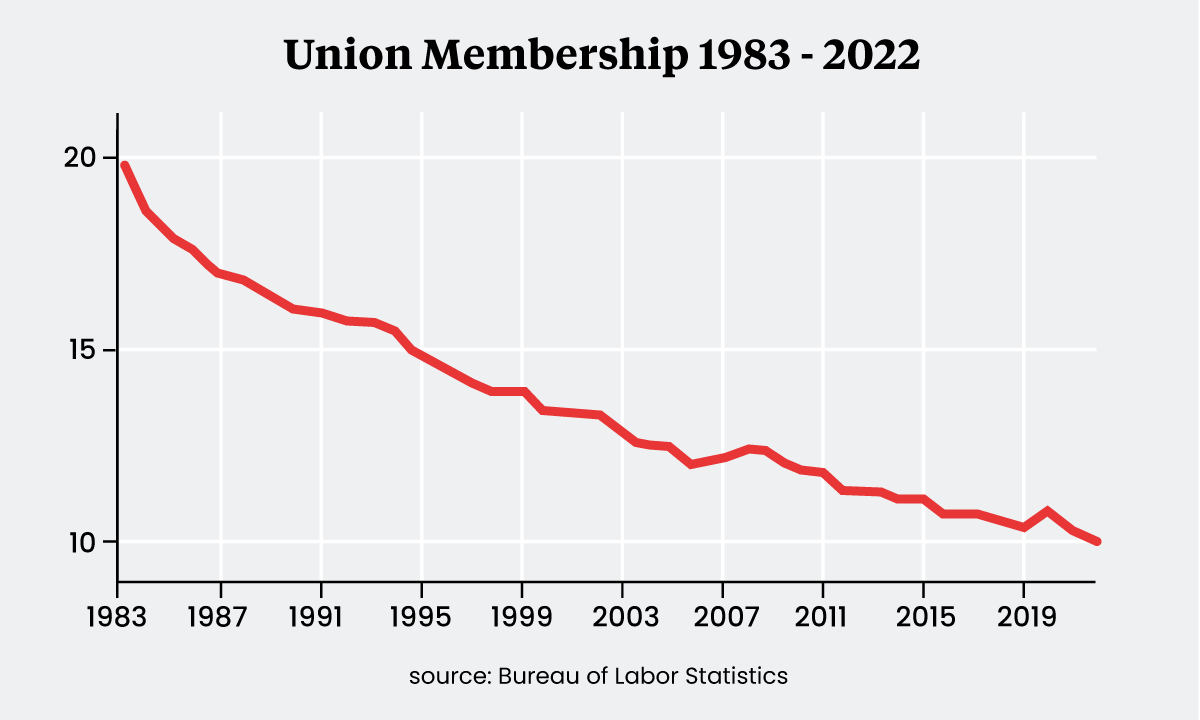 Get stories like these delivered straight to your inbox. Sign up for The 74 Newsletter
In a ritual as dependable as the rising sun, the U.S. Bureau of Labor Statistics released its annual grim accounting of union membership last week. Only 10.1% of wage and salary workers belonged to unions in 2022, down from 10.3% in 2021. This set a record low since the federal government started compiling the numbers in 1983.
Just 6% of private-sector workers belonged to a union, along with 33% of public-sector workers, both down from 2021. Even local government employees, a category that includes most public school teachers, fell to a record low of 38.8%.
While those numbers have declined almost unabated for more than a generation, unions are doing their level best to convince the public otherwise, and are having some success doing so.
"With the resurgence of union organizing and unprecedented federal investment in job creation, the labor movement is poised to grow significantly in the coming years," tweeted the AFL-CIO after the bureau's report was released.
The National Education Association touted a report by the union-financed Economic Policy Institute that claimed "in 2022 more than 60 million workers wanted to join a union, but couldn't."
Where did the institute get that number? It took a single 2017 survey of 3,915 self-selected respondents, 48% of whom said they would join a union if they could. From this, the institute concluded, "While 2017 is the most recent year the survey of nonunion workers was conducted, we presume that the share of nonunion workers who would like to unionize was at least 48% in 2022, if not higher. Assuming that to be true, that means that more than 60 million workers in 2022 wanted to join a union, but couldn't."
You know what happens when you assume.
Last Labor Day, unions also lauded a Gallup poll showing that 71% of Americans approved of unions. They conveniently ignored the additional finding that 58% of America's nonunion workers were not interested at all in joining one.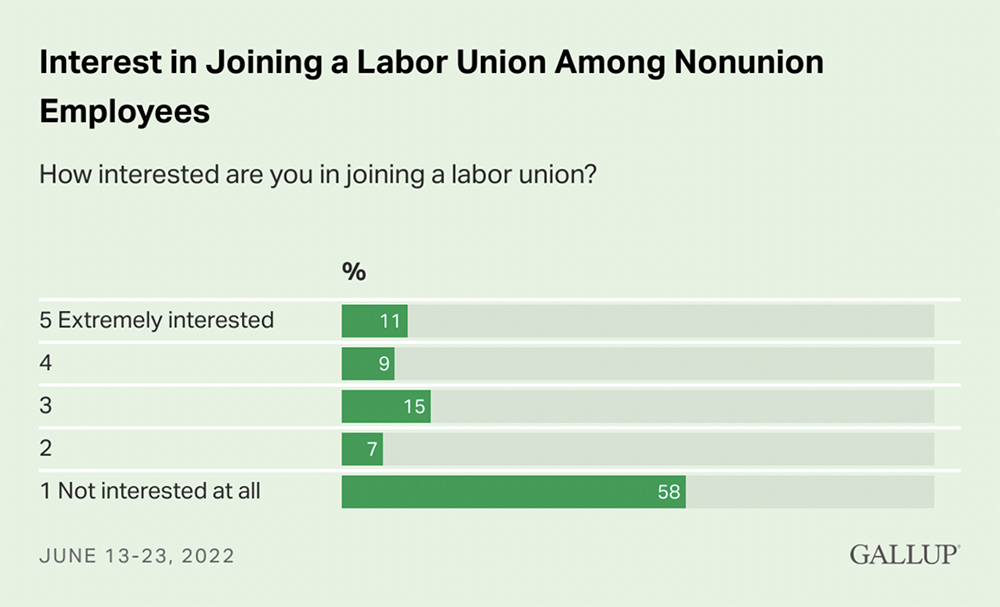 Despite the bad news, unions have been able to sell a resurgence narrative for for more than 20 years. Just a few weeks prior to the release of the bureau's report, ABC News, CBS Pittsburgh, NJ Spotlight News and The Miami Times all ran stories touting a union comeback. Bloomberg Law posted a piece doing so even after the numbers came out.
Let's add some context to the current situation for unions.
The overall picture is probably worse for unions than the statistics indicate, since they exclude the 16.5 million self-employed American workers. I cannot find even estimates of what their unionization rate might be, even though I'm one of them. But I would be astonished if it is an appreciable number.

The number of union members working in the private sector in 2022 was roughly the same as it was in 2011. During a period in which the U.S. economy added 15.6 million workers, unions added zero members.

Even if unions were able to recruit every single worker of the top 10 U.S. employers — that is, every employee of Walmart, Amazon, Home Depot, FedEx, Target, Kroger, UPS, Starbucks, Berkshire Hathaway and UnitedHealth Group — it would get them to only 10.2% of the private sector, which is where they were in 1996.
The public sector is what has kept the labor movement alive. Its membership rates were remarkably steady until about 2014. Now, government unions are following the trajectory of their private counterparts, and only massive political intervention will rescue them from the same fate.
Mike Antonucci's Union Report appears most Wednesdays; see the full archive.
Get stories like these delivered straight to your inbox. Sign up for The 74 Newsletter