DeVos Visits Private Schools, Zoo-Based Science Program in Nebraska on Tour's 3rd Day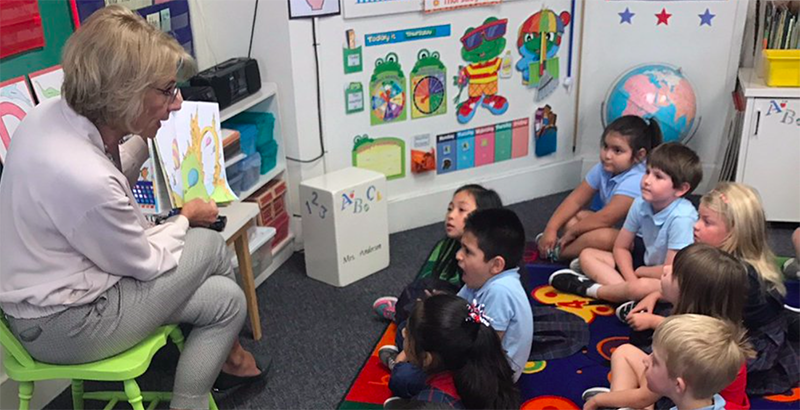 Education Secretary Betsy DeVos visited three Nebraska K-12 schools Thursday, the third day of her "Rethink Schools" cross-country tour.
She visited Nelson Mandela Elementary, a foundation-funded, tuition-free, K-3 private school in Omaha; St. Mary's Catholic School in Lincoln; and the Science Focus Program at the Lincoln Children's Zoo.
At Mandela, DeVos saw a kindergarten math class, a third-grade language arts class, and a violin class "where students practiced a tango," the Omaha World-Herald reported.
Unlike Wyoming and Colorado, which DeVos visited on her tour Wednesday, Nebraska doesn't have a charter school law or any private school choice programs. Leaders at the Mandela school emphasized that they don't support charters and have a strong relationship with the Omaha Public Schools, according to the World-Herald.
(The 74: DeVos Continues 'Rethink School' Tour With Visit to Autism School, Air Force Academy)
At her second stop, St. Mary's, DeVos read Dr. Seuss's Oh, The Places You'll Go! to kindergartners and listened to a choir practice, according to the paper.
DeVos was met by one protester in a bear mask at the school, a reference to the secretary's fumble at her Senate confirmation hearing that some Wyoming schools might need guns to protect students from grizzly bears.
(The 74: DeVos Urges 'Something Radically Different' in Back-to-School Tour Kickoff in Wyoming)
There were about 75 protesters at the Zoo School, according to a tweet by Omaha World-Herald news reporter Roseann Moring. Some were members of Betsy Riot, which describes itself as a neo-suffragist and punk protest group, holding signs protesting DeVos's announcement last week that she'll redo Title IX regulations governing how schools handle sexual assaults on campus.
Some students at the Zoo School registered their objections by wearing "I Heart Public School" T-shirts, which, according to a tweet from World-Herald reporter Erin Duffy, they said were "the politest protest they could think of."
At the Zoo School, DeVos watched students care for the animals, including feeding an iguana cooked sweet potatoes, and met students in a research class.
DeVos was to visit Johnson County Community College Thursday evening. On Friday, she will visit the Kansas City Academy in Missouri, a private middle-high school with an arts focus known for its acceptance of LGBT students, then move on to Indiana.
There, she'll visit Gary Middle College/21st Century Charter, which allows students to take college courses for credit, and Hope Academy in Indianapolis, a charter school for students with drug and alcohol addiction. She'll end her tour Friday evening at a football game at Eastern Hancock High School in Charlottesville, Indiana.
Support The 74's year-end campaign. Make a tax-exempt donation now.