DeVos Continues 'Rethink School' Tour With Visit to Autism School, Air Force Academy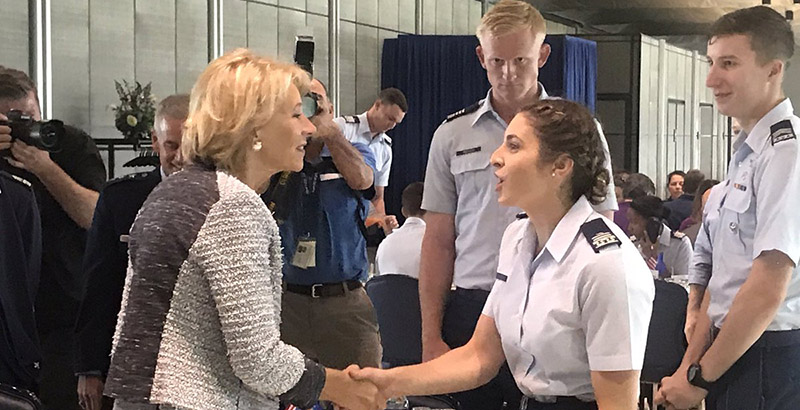 Updated, Sept. 14.
Education Secretary Betsy DeVos continued her "Rethink School" tour Wednesday at a school at the center of a landmark Supreme Court case.
DeVos toured Firefly Autism House, the school at the center of the Endrew F. Supreme Court ruling earlier this year that requires districts to meet a higher bar in the education provided to students with disabilities.
DeVos met with Endrew's parents at Firefly, she wrote on Medium later Wednesday.
"Hearing their story first-hand gave me even greater admiration for their resolve, but no family should have to sue their way to the Supreme Court to get a quality education for their child – no matter his or her disability. Thanks to Endrew's parents, others won't have to," she wrote.
Endrew's parents enrolled him at Firefly after they felt he wasn't making adequate progress in public school, and they sued their home district for tuition reimbursement. The Supreme Court agreed, unanimously overturning a "barely more than minimal" standard for educational progress in place in some parts of the country, including Colorado.
(The 74: Supreme Court Sets New Standard for Special Ed, Unanimously Rejects Minimal School Progress)
DeVos also addressed the issue during her tour, saying minimum progress for students with disabilities is "preposterous," Chalkbeat Colorado reported. Endrew's parents pulled him from public school in May 2010 at the end of his fourth-grade year, meaning he should be in his senior year at Firefly, which educates students up to age 21.
DeVos tied the long legal struggle over Endrew's education to her broader "rethink school" theme.
(The 74: DeVos Urges 'Something Radically Different' in Back-to-School Tour Kickoff in Wyoming)
"We must rethink what education means for every student," she said, according to Chalkbeat. "Different students living in different places demand different solutions."
The school tour was closed to press, at the school's request to comply with federal health privacy laws.
Most of the school's funding for its 19 students comes from the eight school districts that send students there; the school's executive director said DeVos was open to his concerns about inadequate federal funding for special education, according to Chalkbeat. Tuition can be up to $78,000 a year, according to the news site.
DeVos stumbled on the Individuals with Disabilities Education Act during her confirmation hearing, and whether she believes IDEA would apply to her proposed private school voucher program.
One of a small group of protesters outside the school cited that confusion, according to CBS Denver.
Firefly officials seemed to try to head off criticism of DeVos's visit early.
"Please understand that in regards to [DeVos's] visit to Firefly this morning, we put all of our personal political convictions aside, and are focusing on the opportunity to have a dialogue with the [secretary] of Education on how to improve autism treatment around the country, and how to educate our public officials on the needs of these kids and of the system in general," the school wrote on Facebook.
Later in the day, she visited the Air Force Academy in Colorado Springs.
She toured the school's chapel, met with cadets, practiced on a flight simulator and witnessed PT testing, according to tweets from Alasyn Zimmerman, a reporter with local NBC affiliate KOAA.
DeVos will finish the day at a satellite campus of Midlands University near Omaha, Nebraska.
Tomorrow, she'll visit four schools. In Nebraska, she'll see Nelson Mandela Elementary School, a tuition-free private school in Omaha; St. Mary's Catholic School, in Lincoln; and the Lincoln Public Schools Science Program, which is housed in the Lincoln Children's Zoo. She ends the day at Johnson County Community College in Overland Park, Kansas.
Get stories like these delivered straight to your inbox. Sign up for The 74 Newsletter