DeVos Pushes State Chiefs to Consider ESSA Waivers, Particularly in Testing, Saying Anything That Helps Student Achievement 'Is Going to Be Seen Very Favorably'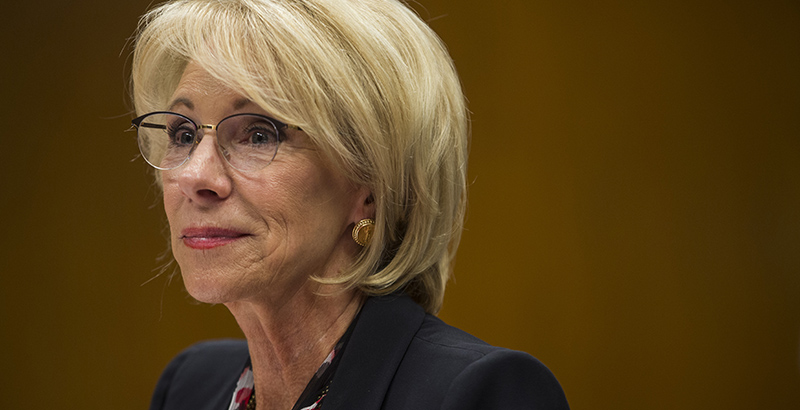 Washington, D.C.
A year after Education Secretary Betsy DeVos told state chiefs their ESSA plans weren't up to snuff, she expressed an openness to hear amendments to those plans that could improve student achievement.
"Anything that is going to ultimately result in greater student achievement is going to be seen very favorably by the Department of Education," she told the Council of Chief State School Officers' annual legislative conference.
DeVos's remarks, in a "fireside chat" with South Carolina Superintendent Molly Spearman, came a year after she delivered what she called "tough love" about ESSA implementation plans that she said "only meet the bare minimum."
Specifically, states should look into the flexibility offered under the Every Student Succeeds Act to try new assessment systems, following the example of New Hampshire, DeVos said. Leaders there have received permission from the department to give teacher-developed assessments that are more specifically focused on student learning, in lieu of traditional standardized tests.
"I would encourage more of you to think more broadly about what you might be able to accomplish with an alternative, innovative assessment … If you have an idea about how you might raise the bar for student achievement in a way that could be a creative, new approach, we would encourage you to consider applying for that particular flexibility," she said.
Several states, including South Carolina and Utah, are experimenting with personalized learning and new assessments, and are watching New Hampshire's example, Spearman said.
"We're really all watching New Hampshire, and with their success as they move forward, we'll be jumping on that same road. It takes a while. It's not something you can change overnight," she said.
DeVos's remarks came a few weeks after one of her deputies, Assistant Secretary for Elementary and Secondary Education Frank Brogan, told big-city superintendents that the department was looking for bigger changes in ESSA plans.
What won't be looked at favorably, DeVos said, are request "to obfuscate or put off something that you should be doing today for students."
The vast majority of waivers requested and granted so far pertain to the law's 1 percent limit on alternative assessments given to students with severe disabilities; most of the alternative assessment waivers that have been denied are from states that didn't meet the law's requirement to test 95 percent of all students, including students with disabilities.
"We all share the goal of wanting to see … every student have the best opportunity to succeed, and we have to continue to raise the bar," the secretary added.
DeVos, in the 30-minute conversation with Spearman, also touted the Trump administration's budget proposals for a $5 billion federal tax credit scholarship program and vouchers that would let teachers choose their own professional development.
Get stories like these delivered straight to your inbox. Sign up for The 74 Newsletter