Cruz, DeVos Defend Tax-Credit Scholarship Proposal as 'Right Fight to Have' as Conservatives Criticize Plan and Dems Declare It 'Dead on Arrival'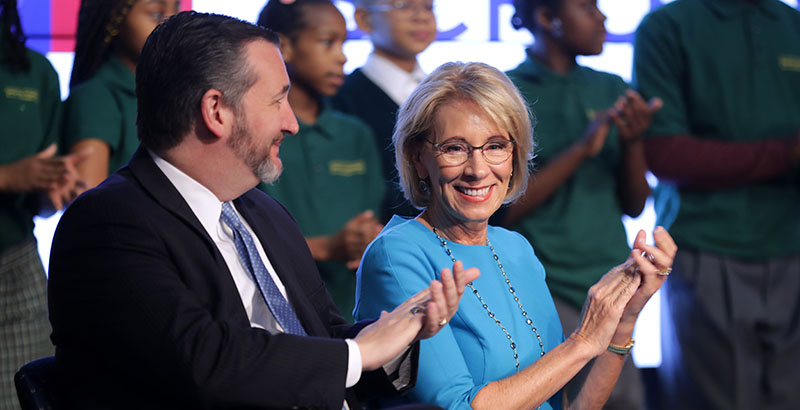 Washington, D.C.
Supporters of a federal tax-credit scholarship proposal used a press conference Thursday to head off likely criticism, as conservatives called it a federal overreach and congressional Democrats immediately panned the proposal.
"This should be, and I hope it will be, bipartisan legislation," Sen. Ted Cruz, who will sponsor one of the two bills, said at a press conference Thursday. "Today in Washington, as divided as it is, there are a lot of partisan fights, but we ought to be able to come together."
The Education Department unveiled its proposal Wednesday evening to provide up to $5 billion annually in federal tax credits for donations to state scholarship-granting organizations.
Tax-credit scholarship programs exist in 18 states and fund scholarships for children to attend other schools, primarily private ones, and often are for the benefit of low-income children or students with disabilities.
Cruz and Rep. Bradley Byrne, Republican of Alabama, introduced bills Thursday. Byrne's bill reflects the Education Department's proposal and would provide up to $5 billion annually for K-12 scholarships. Cruz's bill would include that $5 billion for K-12, and another $5 billion for apprenticeships and workforce training.
Though the department's proposal doesn't include the workforce training component, DeVos supports all efforts to expand choice, a spokeswoman said after the event.
The inclusion of workforce training, while important for the economy, is also aimed at expanding the coalition of supporters needed to get the bill passed, Cruz said.
The bills, which will create what proponents are calling Education Freedom Scholarships, are a direct response to President Trump's call to Congress in the State of the Union to "pass school choice," Byrne said.
The fight already looks difficult, as criticism from Democrats, who now control the House, poured in from both chambers.
"House Democrats will not waste time on proposals that undermine public education. We're focused on reversing our chronic underfunding of public schools so that all students — regardless of their background — can learn in schools that are healthy, safe, and provide a quality education," Rep. Bobby Scott, chairman of the House Education and Labor Committee, said through a spokesperson.
Sen. Patty Murray, ranking Democrat on the Senate Health, Education, Labor and Pensions Committee, in a statement called the proposal "dead on arrival."
Press representatives for Republican leaders of the congressional education committees did not respond to requests for comment.
Neil Campbell, the director of innovation for K-12 policy at the Center for American Progress, said in an email that if Republicans supported such a proposal, it was strange the Trump Administration didn't include what he described as a "backdoor school voucher" proposal in the 2017 tax reform bill.
"Rather than giving away billions more to corporations and wealthy Americans and repeatedly proposing massive budget cuts to education spending, we should be investing in our public schools to pay our teachers like the professionals they are and prepare students for success in college, career and life," he added.
Education Secretary DeVos dismissed the idea that the proposal is an attack on public education as "fake news," and Cruz said the infusion of money will help create competition that will improve all schools.
But Cruz and DeVos said they are not naive about the difficulties in passing these bills.
"We're not suggesting this is an easy fight, but we are suggesting this is the right fight to have, and we are happy to be fighting for our kids because the stakes are big and important," Cruz added.
State tax-credit scholarship programs have attracted bipartisan support, DeVos noted.
Some conservatives, such as those at the Heritage Foundation, say that program shouldn't proceed because the federal government shouldn't have a role in K-12 education — besides responsibility for a few distinct constituencies, such as children of active-duty military members.
"School choice for the most part is just not a federal issue. It is not an enumerated power of the federal government," Lindsey Burke, director of the Center for Education Policy at the Heritage Foundation, told The 74.
DeVos, Cruz, and Byrne addressed that criticism both in their prepared remarks and in responses to questions from reporters.
"The Heritage Foundation is absolutely wrong in their allegation," DeVos said when asked about it.
Cruz, for his part, emphasized that the bill will be an opt-in program, and he touted what he called "ironclad" bans on federal intervention in state curriculum decisions. Tax credits are a long-standing, commonplace mechanism for the federal government to encourage taxpayers to take certain actions, he said.
"It is respecting federalism. Each of the 50 states can decide the best way to do it," he said.
The department's proposal would set limits on tax credits but wouldn't impose any requirements on states, including ones that would restrict which students are eligible or require a minimum GPA or test score to participate.
Asked about those responses, Burke noted that there are at least three federal laws barring federal intervention in curriculum, but that didn't stop the Obama Administration from promoting the Common Core.
"I appreciate the effort to try to ensure that there are no additional federal regulations and federal meddling, but if history is any guide, those prohibitions have not prevented the federal government in meddling in local school policy before," she said.
Reaction to the proposals wasn't all negative, earning support from the American Federation for Children, the group DeVos led before her appointment as secretary, and the Foundation for Excellence in Education.
Florida Gov. Jeb Bush, the Foundation's creator, in a statement said all families should have the power to determine the best educational path for their children.
"The Education Freedom Scholarship Program will expand successful choice efforts in states across the country, empowering more families to explore educational opportunities without increasing the size of government or raising taxes," he said.
Support The 74's year-end campaign. Make a tax-exempt donation now.