DeVos, Conway Tackle Widespread Opposition to $5 Billion Federal Tax-Credit Scholarship Proposal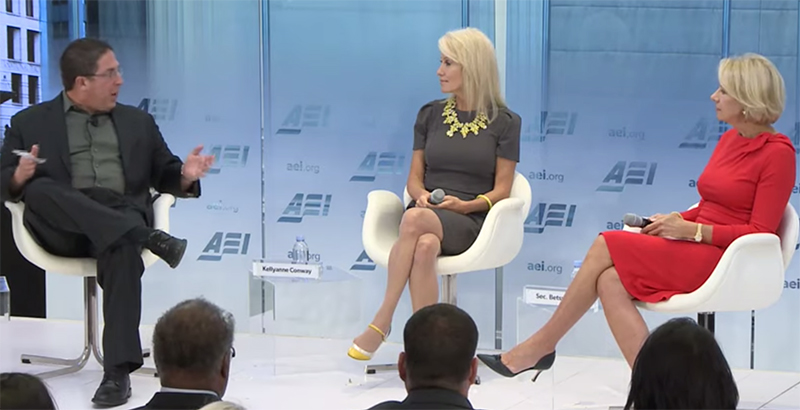 Updated Nov. 26
Washington, D.C. 
Education Secretary Betsy DeVos and top presidential adviser Kellyanne Conway on Tuesday struck back at critics of all political stripes who have denounced the administration's long-shot federal tax-credit scholarship program.
Opposition to the plan, particularly from teachers unions, "is clearly anti-parent and anti-student," DeVos said at an event at the American Enterprise Institute, a conservative think tank. "Education freedom is pro-parent and pro-student … One parent's freedom to make a choice doesn't mean everyone has to make the same choice."
The proposal, which the administration calls Education Freedom Scholarships, would give federal tax credits, up to $5 billion per year, to individuals and businesses who donate to nonprofits that provide scholarships to K-12 students. States could decide whether or not to participate in the federal benefit and what, if any, requirements would be placed on participating students and schools.
It has so far gained very little traction in Congress, and upon its introduction in February, it was the subject of immediate criticism from both Democrats, who said it was a giveaway to businesses and wealthy individuals at the expense of public schools, and some conservative think tanks, who said it was a federal overreach past the limited role in education the federal government has under the Constitution.
DeVos and Conway, who is better known for defending President Trump on cable news than diving into the wonky policy details at Beltway think tank events, spoke to a packed house at AEI.
They particularly took aim at teachers unions, which have sharply criticized DeVos since her nomination and have opposed private school choice programs at the state level.
"Union bosses don't put kids first. … They put themselves first," DeVos said. She criticized unions in West Virginia, which went on strike against a bill that would have provided a pay raise but also opened the door to charter schools and a private school choice program. The version that was ultimately passed into law allows a few charter schools a year but no private choice programs.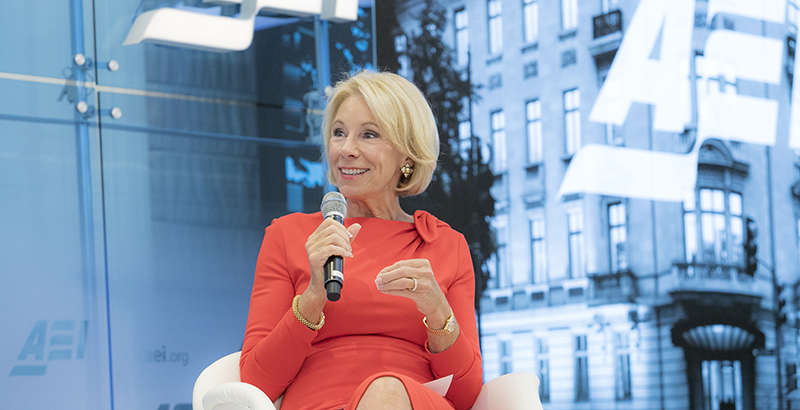 Randi Weingarten, president of the American Federation of Teachers, in a statement took particular offense at DeVos having called teachers who oppose the tax-credit scholarships "bullies." She linked DeVos's word choice to Trump's frequent name-calling of opponents.
"At a time when school bullying is increasing, aided and abetted by Trump spewing hate on Twitter, labeling teachers 'bullies' is a new low. Unlike the secretary, teachers are in classrooms every day caring for kids, while Betsy has gone out of her way to make their lives harder by trying to cut programs, silence their voices and siphon resources into private hands," Weingarten added in the statement.
The two women, among the longest-serving officials in the Trump administration, also addressed criticism from the most ardent conservative and libertarian groups who argue that the program inappropriately expands the federal footprint in education.
It is "way too linear and constricted" to say that because this is a federal program, it would automatically grow the federal role in education, Conway said.
"The criticism is ill-founded, respectfully. This does not expand the federal role. It gives freedom and flexibility," she said.
For her part, DeVos twice emphasized that there would be no "bureaucratic sponge" blocking money flowing from taxpayers to the organizations that then aid students. She also wondered how she and Republican Sen. Ted Cruz, the sponsor of Senate legislation to authorize the program, could ever be seen as less-than-staunch conservatives.
The House measure, sponsored by Rep. Bradley Byrne, has 72 co-sponsors, all Republicans. Cruz's Senate version, which would allocate another $5 billion in tax credits for apprenticeships and workforce training on top of the $5 billion for K-12, has 11 co-sponsors, also all Republicans.
There is so far no sign of the proposal gaining legislative ground: It has not been the subject of a committee hearing in either chamber, much less come to either the full House or Senate for a vote.
Beyond the overall apathy for the measure, the congressional schedule is likely to be booked in the coming weeks, with the House taking up an impeachment inquiry of Trump following a whistleblower's complaint that he pressured the Ukrainian president to investigate the Bidens.
Putting kids' needs first is "quintessentially a nonpartisan issue" that should receive wide bipartisan support, Conway said, comparing it to recent efforts to overhaul the nation's criminal justice system or combat the opioid crisis.
"I would challenge any of them to say this [opposition to tax-credit scholarships] isn't poor, naked, raw politics," Conway said.
This being a presidential election season, she, in particular, dinged Sens. Elizabeth Warren and Cory Booker, two Democratic candidates who have in the past supported some form of private school choice, though their views have since changed.
Later, Pennsylvania House Speaker Mike Turzai, speaking on a second panel of state leaders who have adopted tax-credit scholarship programs, said he'd urge Senate Majority Leader Mitch McConnell to take up the bill.
"Once it passes a chamber, it changes the chessboard, because it has a level of reality. A body of the United States Congress actually passed it and it puts pressure on the other body," he added.
Eighteen states currently have tax-credit scholarship programs, many geared toward students in low-performing schools, those from low-income families, or students with disabilities. Tax-credit scholarships, unlike vouchers, are funded by voluntary donations, so they have become a more popular option for lawmakers concerned about potential legal challenges arising from state support for religious schools.
Members of the public should question how Congress is spending its time and the issues it's taking on, Conway said.
"I think they're afraid of taking a negative vote" that would put Democratic lawmakers opposite widespread public support for the programs, she said. "This is one, I believe, where they truly have partisan blinders on."
A majority of respondents — 58 percent in 2019, up five points from 2016 — in the annual Education Next poll supported tax-credit scholarships, including majorities of both parties.
Disclosure: The Bill & Melinda Gates Foundation, Chan Zuckerberg Initiative and Walton Family Foundation provide financial support to the American Enterprise Institute and to The 74.
Get stories like these delivered straight to your inbox. Sign up for The 74 Newsletter