America Divided: Public Support for Charter Schools Is Growing — but So Is Opposition, New Poll Finds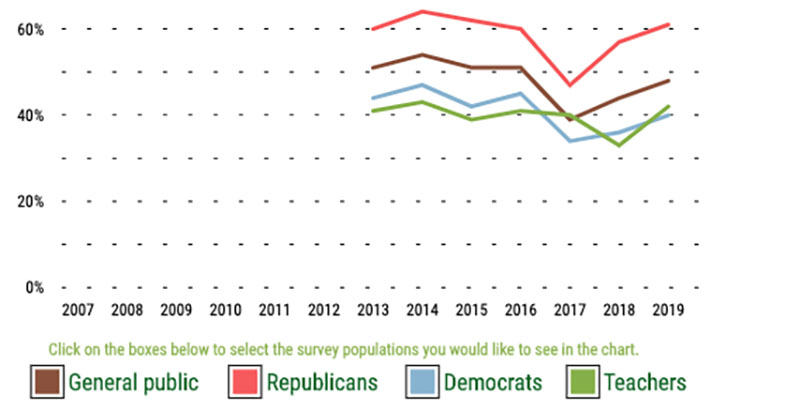 This is the latest article in The 74's ongoing 'Big Picture' series, bringing American education into sharper focus through new research and data. Go Deeper: See our full series.
Public opinion on charter schools has grown polarized as the number of people who either support or oppose the schools has increased, according to a new poll released Tuesday by the journal Education Next. Much of the opposition is being levied by Democrats at a time when party leaders and 2020 presidential contenders have become increasingly skeptical of charters.
Among poll respondents, 48 percent said they support the formation of charter schools — a sizable jump from just two years ago, when only 39 percent of poll participants held a favorable view. In 2017, support for charters took a 12-percentage-point dip, a shift researchers said could have been driven by the Trump administration's support for the schools. Now, support for charter schools has nearly rebounded, a resurgence attributed primarily to Republicans. While 61 percent of Republicans this year said they support the formation of charter schools, just 40 percent of Democrats said the same.
However, as support has grown, so too has opposition, with fewer people taking a neutral position. Though 39 percent of respondents this year said they oppose charter school growth, that resistance was most profound among Democrats, 48 percent of whom said they oppose the schools. That's a 7-percentage-point jump in Democratic opposition from 2017, while Republican opposition — at 27 percent — dropped by a modest 3 percentage points.
Martin West, editor in chief of Education Next and professor at the Harvard Graduate School of Education, said the growth of the charter school sector and high-profile debates over their efficacy have likely led people to stake out a position on the topic — "but that doesn't necessarily mean that they've become more knowledgeable." Misconceptions abound. Just 22 percent of respondents correctly stated that charter schools cannot hold religious services, according to the poll, and just 27 percent realized that the schools do not charge tuition.
Administered in May, the Education Next poll surveyed a nationally representative sample of 3,046 adults.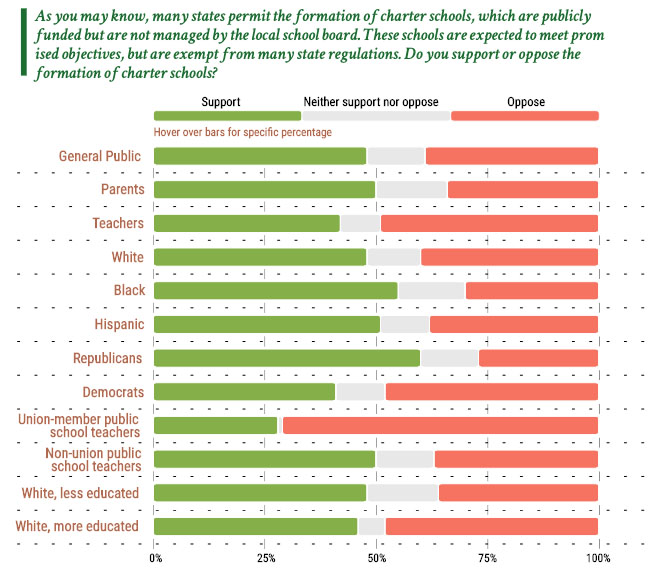 The growing opposition to charters among Democrats comports with the anti-choice drift of Democratic candidates for the 2020 presidential election. Though charter school proponents found a friend in former president Barack Obama, Democratic candidates looking to challenge President Donald Trump have offered harsher critiques.
When he presented his education platform earlier this year, former vice president Joe Biden said that although some charter schools work, he doesn't support giving federal money to for-profit operators that siphon "off money for our public schools, which are already in enough trouble." Bernie Sanders, the Vermont senator, has called for a ban on for-profit charter schools — a small part of the charter school ecosystem — and a cessation of federal funding for charter school growth. Even Cory Booker, who championed charter schools as mayor of Newark, said charter school laws in some states are "really offensive" and vowed to fight against those that are "about raiding public education and hurting public schools."
But polling data offer new reasons for anti-choice Democrats to be cautious, West said. While a third of white Democrats backed charter school growth, 55 percent of black Democrats and 47 percent of Hispanic Democrats said they supported the schools.
"The tension a Democratic candidate faces is that there is a split within the Democratic Party coalition between white Democrats and African-American and Hispanic Democrats, majorities of whom support not only charters but also various forms of private school choice," West said. "So I think that creates a decision point that candidates need to wrestle with."
Indeed, it's not charters but tax-credit scholarships that command the most public support among school choice policies. Support for tax-credit scholarships has seen modest growth under the Trump administration, with 58 percent of respondents saying this year that they favor the idea. That's up from 53 percent in 2016.
That finding should buoy the hopes of Education Secretary Betsy DeVos, whose "Education Freedom Scholarships" proposal would provide federal funding to states that implement the idea. The poll finds that tax-credit scholarships have bipartisan approval: Sixty-five percent of Republicans favor the idea, as do 56 percent of Democrats — a rate that's held steady over the past few years. But that bipartisanship does not extend to Capitol Hill, where fierce Democratic opposition to DeVos guarantees an uphill battle for the proposal.
Private school vouchers for low-income students found support from 49 percent of poll respondents, up 12 percentage points from four years ago. Though the idea saw near-majority approval, it was the least-popular school choice initiative highlighted in the poll.
Mixed messages
The poll this year saw an uptick in support for a range of education policies that don't seem to tilt in favor of any one political party. For example, support increased for both school choice initiatives and teachers' collective bargaining rights. On the heels of teacher protests in multiple states, the poll found growing support for teacher raises, higher education spending, teachers unions and educators' right to strike.
"The policies that are on different sides of the political spectrum are all gathering political support, so it's not like the public is moving in a left direction or a right direction," said Paul Peterson, an Education Next senior editor and Harvard professor. The public "seems to want change, although, at the same time, you've got a lot of support for the public schools — more than ever before."
Support for teacher raises was higher this year than at any point since 2008, just prior to the recession. Among respondents who were informed of average teacher salaries in their state, 56 percent said they favor a pay boost. Support for teacher raises was even higher when respondents weren't given average teacher salaries in their area.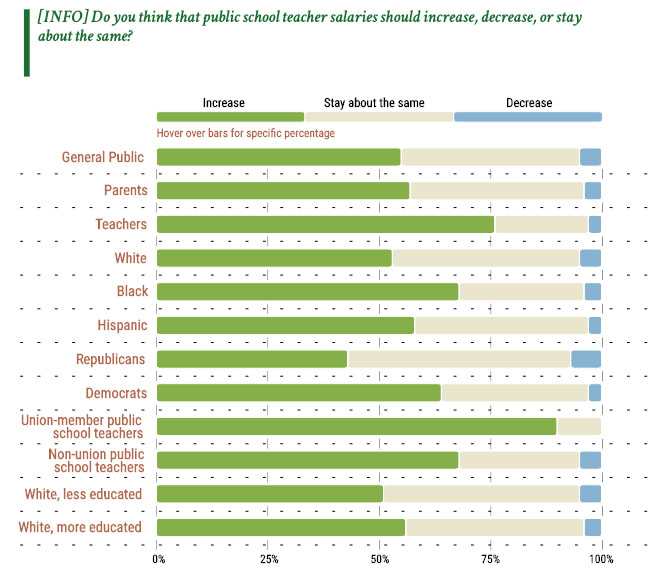 As Democratic candidates call for greater investment in public schools, the poll found that Americans are warming to the idea. This year, 50 percent of those informed about current spending levels said they favor an increase, an 11-percentage-point jump from two years ago. Forty percent said education funding should remain the same.
Digging deeper on education spending, the poll found that participants were far more likely to support an increase on the national level, implying that "the Democratic presidential candidates who are calling for increases in federal spending, in particular, seem to know what they're doing," West said.
After taking a major reputational hit in recent years, support for the Common Core State Standards is also in the midst of a rebound, with resurgence most pronounced among Republicans. Half of respondents said they support the standards, including 46 percent of Republicans — a 14-percentage-point jump over the past two years. Meanwhile, 52 percent of Democrats this year said they support the Common Core. However, it appears the "Common Core" brand still carries a negative connotation. When asked the same question absent the name "Common Core," 66 percent of respondents said they supported the idea.
Support The 74's year-end campaign. Make a tax-exempt donation now.