Congress Uses New Funding Bill to Reassert Itself in ESSA Implementation, Nudging Use of Evidence for Struggling School Interventions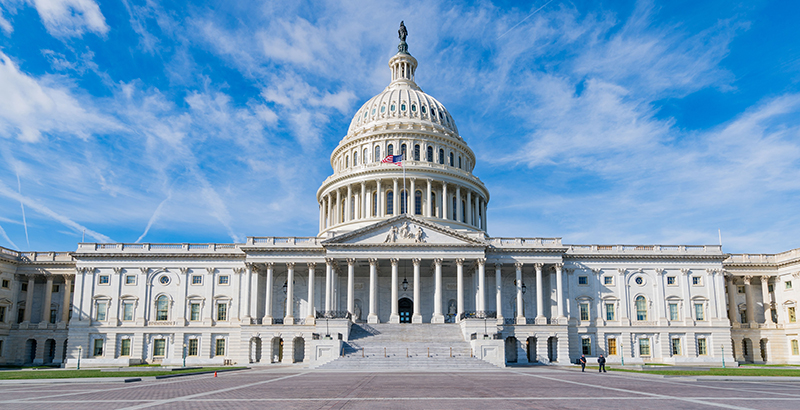 The Republican-controlled Congress, in keeping with GOP orthodoxy of a reduced federal hand in education, has largely kept out of implementation of the Every Student Succeeds Act, even going so far as to roll back a ream of Obama-era regulations and block the Trump administration from writing new ones.
After a year of that hands-off approach, they're taking a small step back into the fight over implementing the sweeping K-12 federal education law.
Tucked into a report filed with the $1.3 trillion government funding bill passed last week is a reminder to states — through the federal Education Department — that their ESSA accountability plans must include assurances that they'll require districts to use school improvement dollars for organizations or individuals "that have practical expertise in the development or use of evidence-based strategies and programs to improve teaching, learning, and schools."
Getting anything in an appropriations bill is "a big deal," said Michele McLaughlin, president of Knowledge Alliance, a non-profit that advocates for the use of research in K-12 education. She previously worked for former Sen. Tom Harkin, who chaired both the Health, Education, Labor and Pensions Committee and the appropriations subcommittee that oversees education spending.
"There is a strong signal to the field that we're looking at this, this is not just an 'Oh well, if you could do it, it would be nice' requirement. The actual legislators are looking to see that the actual evidence-based provisions of the law are enforced," she said.
States can set aside 7 percent of their federal Title I grants for school improvement, with 95 percent of those grants going to interventions in the lowest-performing 5 percent of schools, high schools with low graduation rates, and schools where certain subgroups of students are underperforming their peers. Fourteen states were taking sufficient steps to ensure school improvement grants are conditioned on districts' use of evidence-based interventions, according to a January report by Results for America, a nonprofit that advocates for the use of data at all levels of government.
So far, the Education Department has approved ESSA plans from 34 states, the District of Columbia and Puerto Rico.
State plans are weak on school interventions, a notoriously difficult subject from the get-go, said David Steiner, director of the Johns Hopkins Institute for Education Policy. They frequently don't offer the strong needs assessments tools that schools should be using to determine the causes of low performance even before they look for an intervention to address it, he said.
"Trying to figure out how that process should work, what level of assistance, what level of accuracy, what level of providing tools that would get that whole train of events on the right track, would be important, and we're not seeing a lot of that, frankly," he said.
It makes sense that evidentiary standards are a low priority for state education agencies, Steiner said.
"On the long list of what state education departments are worrying about, monitoring the evidentiary level claims for their districts for hundreds of interventions in these schools is not exactly at the top of the list, and I'm sympathetic to that," he said.
References to using "evidence-based" strategies are strewn throughout ESSA; the law even includes four defined tiers of research, with the three most rigorous tiers required to receive funding for school improvement efforts.
Though an original Obama administration template for state implementation plans required assurances on the use of evidence, those disappeared in a condensed version Education Secretary Betsy DeVos released last March, a move that drew criticism from the Hill in the following months.
Sen. Chris Murphy, Democrat of Connecticut, questioned DeVos during an Appropriations Committee hearing in June on whether she would reject state plans that didn't require strong school interventions.
He brought it up again at a Health, Education, Labor and Pensions Committee hearing in October. It was "really curious" to not have that information in the plan template, "given how much we focused on evidence-based practices, how intentional we were" to make sure that interventions for underperforming schools are backed by research, Murphy said.
The requirements for research-backed interventions are part of ESSA's much-lauded "civil rights guardrails" to protect students who typically don't fare as well in public school, including low-income students, students of color and those in special education. They are a way to push states and districts in the right direction even as the federal government took a step back, McLaughlin said.
Using evidence-backed strategies also ensures the most effective use of scarce federal education dollars, said Margie Yeager, director of advocacy and policy at Chiefs for Change, a group of state and district leaders that backs education reform.
The concept of evidence-backed interventions in K-12 education isn't new, Yeager added, pointing to provisions in No Child Left Behind, the law ESSA replaced, that required "scientifically-based research" as the foundation for education programs.
The new language might bring the issue into greater focus at the district level, she predicted, particularly as states begin implementing their new school improvement grant programs. Several are using competitive processes for those funds, so using stronger evidence would give districts a leg up.
"Even in those states, it's a little bit of a shift and I think people are going to have to adjust accordingly," she said.
Support The 74's year-end campaign. Make a tax-exempt donation now.