Biden Touts Ambitious Birth-to-College Education Plan as Way to 'Compete with the Rest of the World'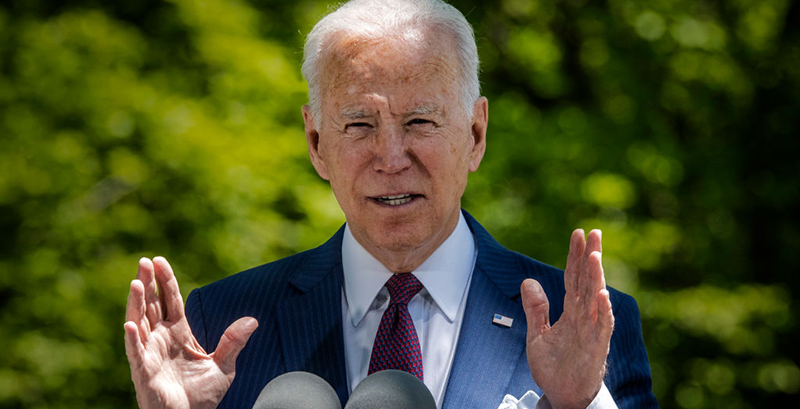 Updated
In his first address to Congress Wednesday night, President Joe Biden highlighted his American Family Plan, saying that four additional years of public education — two in preschool and two in community college — are necessary to "compete with the rest of the world in the 21st century."
"The research shows that when a young child goes to school — not day care — they are far more likely to graduate from high school and go on to college," he said.
The president didn't report whether he had met his goal of reopening the majority of K-8 schools within his first 100 days, but Republican Sen. Tim Scott of South Carolina, who gave the rebuttal, touched on the topic, calling school closures "the clearest case for school choice in our lifetimes."
"Our public schools should have reopened months ago," he said. "Other countries did. Private and religious schools did. Science has shown for months that schools are safe.
Three- and 4-year-olds could attend preschool for free and community college students could have their tuition covered under a far-reaching plan President Joe Biden will unveil Wednesday night before a joint session of Congress.
The $1.8 trillion American Family Plan, one of the more ambitious domestic policy plans since Lyndon Johnson's Great Society, seeks to address an array of long-standing challenges from child care to teacher shortages. But with Republicans already mobilizing against the first phase of the president's infrastructure agenda, it's unlikely they'll be open to such a progressive wishlist.
"It's very exciting to have a president who understands the central role that child care and early learning play in both the country's economic recovery from the pandemic and the long-term success of its children," said Aaron Loewenberg, a policy analyst at New America, a center-left think tank. "Of course, the fate of the bill will ultimately depend on whether President Biden can convince all 50 Senate Democrats to support it. Once again, all eyes turn to Joe Manchin."
The moderate West Virginian isn't the only Democrat Biden will have to convince as he makes his first major speech on the House floor. The president faces pressure from members of his own party over plans to extend an increase in the Child Tax Credit through 2025. The American Rescue Plan increased the credit to as much as $3,600 for a year; families will begin receiving monthly payments in July.
Democrats in both chambers plan to push forward with legislation that would make the credit permanent, a measure they see as necessary to address child poverty and to avoid renegotiation in five years when Republicans might be back in charge in Washington.
"This is a lifeline to the middle class," Rosa DeLauro, (D-Conn.), chair of the House Appropriations Committee, said Tuesday during a press conference, adding that despite the administration's concerns over the proposal's potential cost, "we believe we will be able to square those numbers."
The president intends to pay for his plan partly by raising taxes on the wealthiest Americans to 39.6 percent and ending capital gains tax breaks — reforms that are estimated to bring in $1.5 trillion over 10 years.
'Child care infrastructure'
There is more agreement among Democrats over his early-childhood proposals, which include $200 billion for free, universal preschool, $225 billion to expand and improve child care and permanently extending a higher tax credit for child care expenses. Employees in publicly funded pre-K, Head Start and child care programs would earn at least $15 per hour, while early educators with teaching credentials would earn the same as kindergarten teachers in public schools.
Democrats have already introduced legislation that would accomplish much of what Biden has outlined in early education. His proposal mirrors the Child Care for Working Families Act, reintroduced in both the House and the Senate last week.
A separate, 10-year, $700 billion Universal Child Care and Early Learning Act would provide free high-quality child care and early learning programs for families earning $53,000 or less.
"We talk about crumbling infrastructure when we talk about roads and bridges," Senate education Chair Patty Murray of Washington said Tuesday during a hearing. "But we've never really had child care infrastructure in this country in the first place."
Ranking Member Richard Burr, a Republican, said he was "seeking workable, bipartisan solutions" and that he hoped to avoid the budget reconciliation process, which the Democrats used to move the $1.9 billion March relief bill through Congress without a single GOP vote. But he said he didn't want to see a preschool system controlled by the public schools. "Parent choice and flexibility is paramount."
Some early learning advocates think the president's plan doesn't go far enough.
"In the broadest strokes, it's prioritizing the neediest and there are zero negative things to say about that," said Chris Swanson, an associate research scientist at Johns Hopkins University. "But what we've seen with the pandemic is [that] a completely unforeseen disruption in earnings can be catastrophic. Our middle class often doesn't have great reserves."
K-12 and higher ed
In K-12, Biden would spend $9 billion to reduce teacher shortages by offering $8,000 scholarships to future teachers and helping educators earn additional credentials in high-demand areas, such as special education. The plan would support teacher residencies and "grow-your-own" models that encourage high school students to pursue teaching and stay in their communities.
Joshua Starr, CEO of PDK International, a professional organization for educators, said all of the elements are needed, but he wonders how equipped states and school districts are to manage all of the new funding while addressing competing priorities.
"School districts now are drinking from a firehose when it comes to dollars," he said.
"Where is the capacity? How do you even get this stuff on a school board's agenda?"
In higher education, Biden proposes to spend $109 billion to cover two years of community college, similar to the America's College Promise Act Democrats introduced Wednesday. But Michael Petrilli, president of the conservative Thomas B. Fordham Institute, described such legislation as just one of the "dubious policies" in Biden's agenda.
"It's a terrible idea to make community college free but not the first two years at four year universities, given that students, especially low-income students and students of color, tend to do so much better at four year schools," he said. "The last thing we want to do is encourage students to undermatch, and choose institutions that are less capable of giving them the support and challenge they need and deserve."
Other key elements of Biden's proposal include:
$225 billion over 10 years for 12 weeks of paid family leave
$25 billion for a permanent debit card program to provide low-income children with meals when schools are closed during the summer
$17 billion to expand free school meals to all students at high-poverty schools
Permanently extending the increased Earned Income Tax Credit that was included in the American Rescue Plan
A $1,400 increase in Pell Grant awards
Get stories like these delivered straight to your inbox. Sign up for The 74 Newsletter