VIDEO: American Federation of Teachers Authorizes Educator 'Safety Strikes' If Schools Reopen This Fall Without Adequate Safety Measures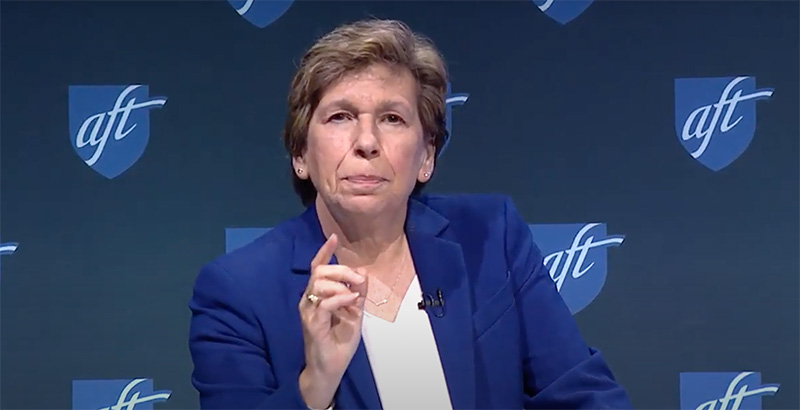 American Federation of Teachers President Randi Weingarten announced on Tuesday the union's support for educator "safety strikes" across the country if schools reopen without adequate safety procedures.
Though she said that teacher strikes should be a "last resort," Weingarten warned that "nothing is off the table" if public officials don't do enough to ensure that students and educators have a safe return to classrooms after months of remote learning due to the pandemic. The potential strikes, which the country's second-largest teachers union announced during its virtual national convention (see the 43-minute mark in the video below), offer a sharp rebuke to lawmakers, including President Donald Trump, who have pressured schools to fully reopen as the virus surges in states nationwide.
"We will fight on all fronts for the safety of our students and their educators," Weingarten said. "But if the authorities don't protect the safety and health of those we represent and those we serve," the union will consider protests, lawsuits and strikes if necessary. The move was approved by the national union's executive council, which said in a resolution that local or statewide strikes would be considered on a case-by-case basis.
The latest escalation comes just weeks before students in some regions are expecting to return to classrooms after months of distance education. The AFT resolution outlines that schools should reopen only if community infection rates fall below 5 percent and the transmission rate is less than 1 percent. The union also demanded "effective disease surveillance" and accommodations for school staff who are at "high risk for serious health problems or death" if they become infected.
Local unions have already taken measures against lawmakers seeking to reopen campus buildings. In Florida, where the virus has surged in recent weeks, the local union sued lawmakers over a school reopening plan that it accused of being "reckless and unsafe." Under an executive order, all schools in the state are required to reopen their physical campuses in August.
Though most educators want schools to reopen if necessary safeguards are put into place, Weingarten said the union is "prepared to fight on all fronts for the safety of students and their educators" if its demands aren't met.
Click here to read the AFT's full resolution: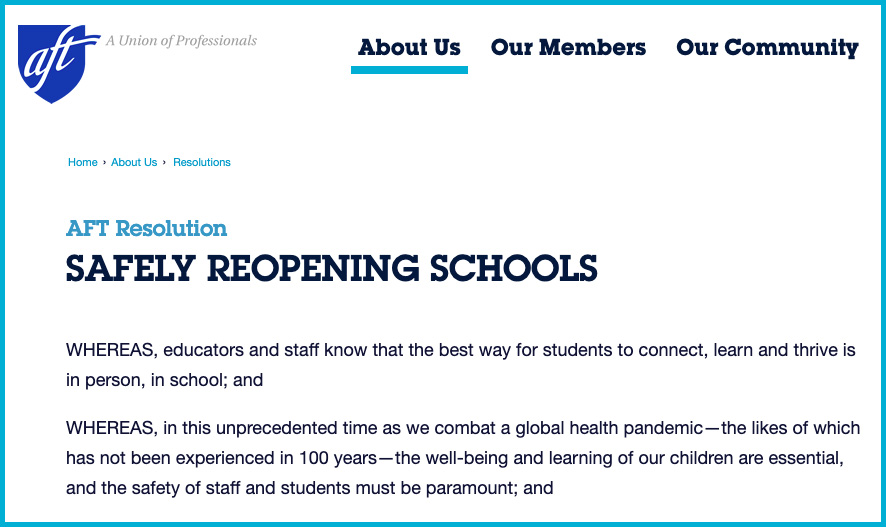 Get stories like these delivered straight to your inbox. Sign up for The 74 Newsletter