Cleveland Schools Seek Tax Hike Even as COVID-19 Hammers Families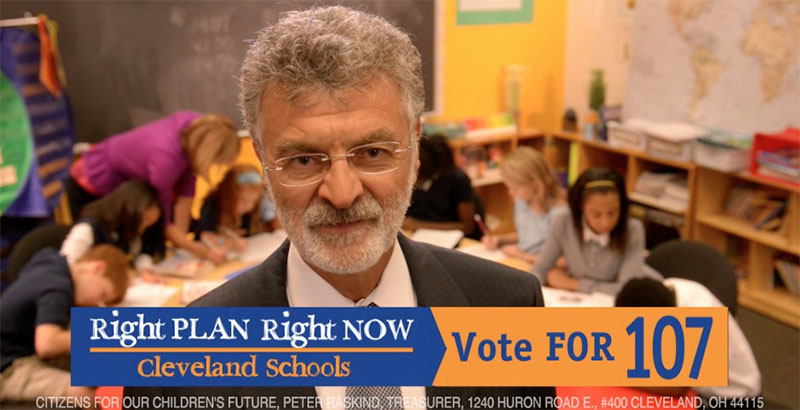 Cleveland school officials have taken the unusual step during the pandemic of asking voters to approve a 12 percent property tax hike — even as the city's overwhelmingly poor residents struggle with COVID-19's economic punch.
"We know this is a particularly difficult time to ask for an increase, which we have worked to keep as small as possible," Cleveland school CEO Eric Gordon told the board before the Tuesday night vote. "But we believe our eight-year track record of progress combined with the new educational needs created by the COVID-19 pandemic make it necessary."
Voters must approve the tax hike — which would raise an additional $23 million annually for the district — in November. It would be the district's first increase toward school operations in eight years.
District spokesperson Roseann Canfora said the district expects to spend the money on a new system to manage online classwork, and on internet access costs, personal protective equipment and additional busing for students. More details will come when the district releases its school reopening plan late this month.
The vote comes as unemployment has soared with businesses shut down to contain the virus. More than 25 percent of Cleveland's adults were unemployed in April and more than 20 percent in May, compared with about 5 percent a year ago. The United Way and Cleveland Food Bank say the number of new families seeking aid has tripled since March.
School districts across the country have all faced budget issues as state and local income, sales and other taxes have plummeted while states have slashed funding to schools. But most have focused on pressing Congress for more emergency aid — an effort Cleveland schools CEO Eric Gordon helped lead — or lobbying states to maintain school funding.
Philadelphia's mayor proposed a local increase in school taxes but backed off when the state added money for schools. Districts have mostly slashed expenses, frozen salaries or added small tax increases they could just impose under their states' laws.
Ohio Gov. Mike DeWine cut state aid to schools, which the district relies on for 55 percent of its budget. Cleveland, like other districts across the country, also faced increased costs to buy Chromebooks and internet hotspots to quickly teach students online.
At Gordon's urging, the board unanimously voted Tuesday to ask voters to extend a 2012 tax that generates about $67 million a year, but which would expire at the end of this year, and then add a $23 million tax on top of it.
Those totals assume tax collections maintain their 88 percent rate and do not fall because families can't afford to pay.
The tax, if passed, would cost the average homeowner about $87 more per year. (It would cost $175 more a year per $100,000 in home value.) The median household income in Cleveland is $29,000.
Homeowners currently pay a little over $1,500 per $100,000 home value each year in Cleveland school taxes, according to the Ohio Department of Taxation.
Cleveland residents are not sure yet what they think of the tax proposal and want to see whether the district really reopens schools to students this fall.
"A lot of people are out of work and they don't know if schools will open," said Vianca Johnson. You're asking us for more money, but the kids won't actually be in school."
Resident Felicia Kent she is still working, but the economy is too bad to spend more on schools.
"The neighbors, they don't have a job," Kent said. "They're unemployed, or they're on welfare. I know I will vote against it."
Part of the district's strategy could also draw opposition. Gordon and the board are combining the renewal of the old tax with the new increase into a single issue on the ballot. Voters will have to approve both or reject both, which would result in massive cuts and layoffs when the $67 million tax expires.
Gordon said he expects that if they were presented to voters as two separate questions, the renewal would pass and the increase would fail. That would leave the district with budget deficits next year, he said.
Shari Obrenski, president of the Cleveland Teachers Union, said she supports the increase.
"If we just went for a straight renewal, within a year we would be in a deficit situation," she said. "With no additional funds after eight years at the same level, we were bound to need an increase."
She is optimistic the tax will pass.
"If the closure period has shown the community anything, it's that our schools are more important than ever," she said. "This is absolutely necessary."
Support The 74's year-end campaign. Make a tax-exempt donation now.