Cleveland Schools Comply with Governor's March 1 Opening: Teachers Union Could Resist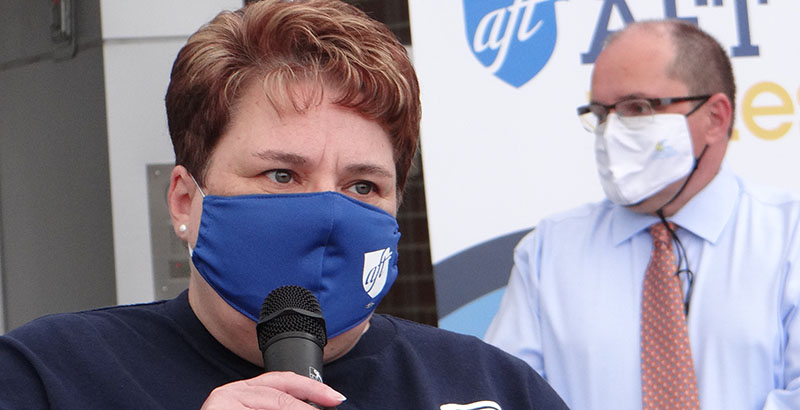 The Cleveland school district plans to begin bringing students back to classrooms March 1, the district announced Friday, complying in part with Ohio Governor Mike DeWine's deadline.
The new plan from district CEO Eric Gordon calls for first bringing back students across all grades that need extra help, with the rest returning in stages tentatively expected to be concluded by the end of March.
The accelerated plan for opening Cleveland's classrooms to its 34,500 students came following a threat from DeWine to withhold vaccines for teachers if Gordon continued to target April 6 for school reopenings.
DeWine has also criticized other Ohio districts, including Akron, Cincinnati and Columbus for not meeting their agreements to open at least part-time by March 1, in return for school staff receiving priority for vaccines. Cleveland's announcement is the biggest shift in response to his complaints last week.
Whether Cleveland's classrooms will actually open remains a question: In its strongest public statement since the start of the pandemic the Cleveland Teachers Union objected to Gordon's plan and warned that teachers would refuse to return to classrooms if they believe safety precautions are rushed and incomplete.
"Our careful, science-based planning should not be abandoned now simply to meet a subjective political decree," Union President Shari Obrenski wrote. "CTU members will return to in-person learning when it is safe for us and our students to return. Until then, we will continue educating Cleveland's children remotely."
In a press release, the union singled out adequate ventilation in schools as a safety requirement, but did not specify other safety concerns.
The Centers for Disease Control and Prevention last week said schools could safely reopen even in high transmission areas like Cleveland if safety precautions are met. It said middle schools and high schools in high transmission areas should stay remote unless these precautions are followed strictly, which DeWine says schools are doing.
DeWine had criticized the Cleveland and Akron school districts last Friday, along with a single high school in Cincinnati, for accepting vaccines for staff but not opening to all students by March 1 as they had agreed. He threatened to withhold first doses of vaccines if schools did not keep their promise.
Since then, the Columbus and Youngstown school districts have received attention for not planning to open by March 1 — delays that DeWine called "breaking the agreement."
DeWine's hard line has been met with mixed reaction, with teachers unions and some school officials blasting him as a bully and Columbus school leaders, who have opened schools to some grades but not all, saying they would open to others on their own timetable.
"It's pretty sad…that our state government doesn't want to be a partner and instead wants to chastise, and blame and hold hostage, in some ways, local school districts when they are just doing the best they can," Columbus school board President Jennifer Adair said.
But Akron officials agreed to look at reopening plans and try to open sooner and will discuss those with the school board Monday. The Constellation charter schools chain in the Cleveland area, which had planned to open late March, will also move its opening sooner because of DeWine's push.
Here's how Cleveland school officials proposed reopening schools:
March 1: Start bringing back students with significant learning disabilities, some career-technical education students and some twelfth grade students requiring extra support.
March 8: Bring back some English Language Learners, PreK through grade two, off-track 9th grade students, off-track seniors, additional career-technical education students, and additional students with learning disabilities.
March 15: All remaining students.
Each of these steps has what the district is calling a "transition" period with orientation and phasing in classroom instruction. It did not immediately respond to requests for clarification of that part of the plan.
Gordon said in a pre-recorded statement that while Cleveland's county remains "Red" in the state's COVID risk rating system, it is moving toward less-risky "Orange" that would make a hybrid plan viable.
He also said new surveys of parents and students show "slightly more than half of parents want a hybrid model and two thirds of students want a hybrid model as well.
Surveys have been mixed all school year, with parents consistently showing worries about safety if students return.
And Gordon said school staff will have received at least one dose of the Moderna COVID vaccine by March 1, with second doses by late March. Though he has said he preferred to give both doses before reopening, he pointed today to a just-published letter in the New England Journal of Medicine saying Moderna is over 92 percent effective two weeks after a single dose. In addition, the Centers for Disease Control and Prevention last week advised that vaccinations are not necessary to reopen schools.
"Our vaccinated staff members are, in fact, safe to return to work without fear of infection even before receiving their second and final vaccination," he said.
Cleveland so far has avoided the public battles with teachers unions that have flared in cities like Chicago, Los Angeles and Baltimore, where teachers unions have had very public demands or demonstrations to press their case. The Cleveland Teachers Union's quiet negotiations with Gordon have led him to largely meet union requests to keep safety as the main factor in his decisions.
The school board will discuss the plan Tuesday.
Get stories like these delivered straight to your inbox. Sign up for The 74 Newsletter