'Simply Unacceptable': Ohio Gov. DeWine Threatens to Withhold Early Vaccines From School Staffers if Cleveland Schools Fail to Reopen Classrooms By March 1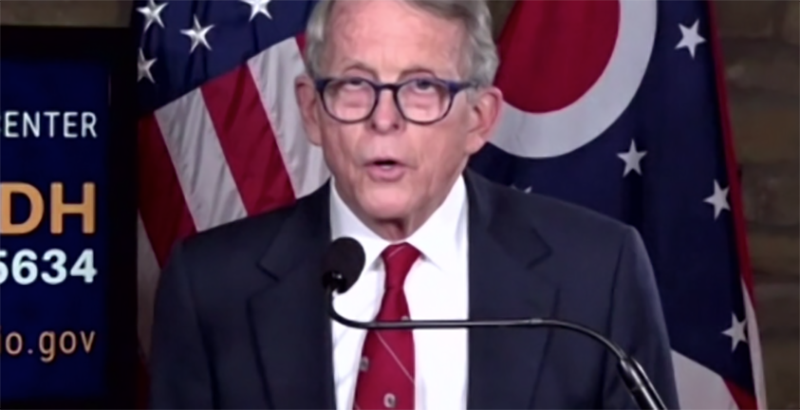 Ohio Gov. Mike DeWine threatened to pull COVID vaccines from Cleveland school staffers late Friday after The 74 reported that the district was likely putting off reopening until April.

After making the vaccine threat, DeWine said district CEO Eric Gordon promised him in a phone call Friday that Cleveland schools would reopen by March 1, the governor's original deadline which Gordon initially agreed to. 
DeWine said in a special evening press conference he was bothered by multiple reports of reopening delays, including Cleveland's April 6 opening Gordon was leaning toward; that Akron schools are planning to reopen mid-March, and that a single high school in Cincinnati was planning to have remote-only classes all year, while the rest of that district's schools are open. 
All three districts had promised to reopen by March 1 in return for school staff receiving priority for scarce and "precious" COVID vaccines.
"This is simply unacceptable," DeWine said.
He said he called Cleveland schools CEO Eric Gordon Friday about his plans. The district had started vaccinating staff this week, even as Gordon was planning to ignore the March 1 deadline.
"We had a very frank, very plain, but a very good discussion," DeWine said.
"My question to him was, 'Are we to stop vaccination? Should we stop the vaccination?" DeWine said. "So, we talked. He made a commitment to me, I'm very happy to report. He's going to do everything in his power to bring kids back in school by March 1."
"I understand there's some challenges that he has. But he's going to make every effort and I take him at his word."
DeWine held up a commitment letter that districts signed weeks ago,  including Cleveland, Akron and Cincinnati, pledging to reopen by March 1 even if "complete vaccine administration may not be completed by March 1, 2021, and regardless of vaccine uptake by your staff."
"Your commitment is not just to me," Dewine said Friday "Your commitment is to the children in your district and your commitment is to your parents, your parents who said, ' Yes, I want my child back'."
The district said in a press release Friday night that Gordon talked to DeWine "about our continued efforts to open (Cleveland schools) as quickly as we are able to do so, knowing his expectation for all Ohio districts is March 1."
District officials did not commit to reopening by March 1 in the release, but said Gordon will announce plans Feb. 19, as scheduled. The release added that parents will soon receive mailings about bus transportation and school assignments.
"We have already prepared our school buildings, buses, and classrooms for reopening safely," the release said.
But Gordon had told a Cleveland City Council committee early this week that he was hoping for a part-time return for the district's fourth grading quarter, which starts April 6.
Second vaccine doses would finish around March 20, he told the committee, then the third grading quarter would end March 26. Students are then on an Easter break for a week before fourth quarter starts on April 6.
"With health conditions improving and a second dose coming, we're also starting to plan for a hybrid return hopefully for our fourth quarter," he told the committee. "If we can move sooner we will, but I would say most likely for fourth quarter."
Support The 74's year-end campaign. Make a tax-exempt donation now.