One Dose? Or Two? Ohio Districts, Teachers Disagree with Gov. DeWine Over How Many Vaccine Shots it Takes to Safely Reopen Schools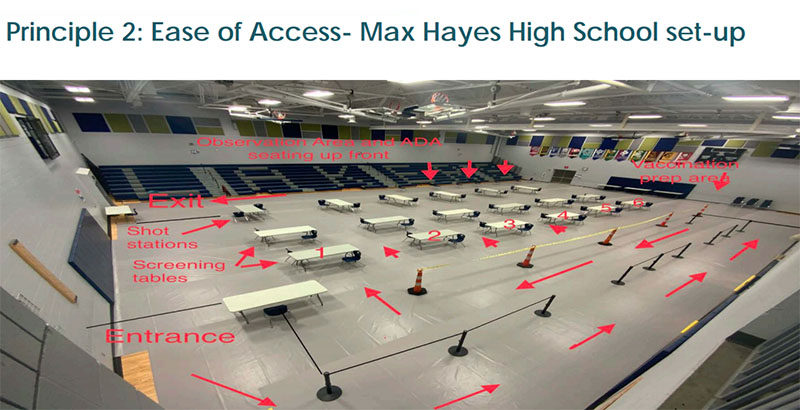 Cleveland and other urban districts in Ohio are balking at Gov. Mike DeWine's insistence that schools reopen by March 1, a deadline he acknowledges is too soon for most teachers and staff to receive both doses of COVID-19 vaccines.
Though DeWine has made Ohio one of 28 states to give school staff priority for the coveted vaccines, his tight timeline, coupled with the scarcity of doses and the time it takes to deliver them, has touched off a battle over just when someone is considered "vaccinated."
Officials from Cleveland, Akron and Dayton school districts, along with teachers unions across the state want to delay so staff can be fully vaccinated before schools must open. But with school vaccinations just starting now, DeWine can only guarantee one dose by March 1, with the second dose for most coming shortly after schools open. He says a single dose adds a "layer" of extra protection on top of what he considers a low risk of the virus spreading at schools.
"What we know with in-classroom spread, which has not been much at all, and you add on top of that the whole idea of getting that vaccination, and in some cases getting that second vaccination, I think there's a lot of protection there," DeWine said this week.
The Centers for Disease Control and Prevention this week also said that schools can reopen safely if staff and students wear masks and distance themselves.
But Cleveland schools CEO Eric Gordon joined education officials from Akron and Dayton this week seeking extra time before having to open. Cleveland won't receive any doses until the week of Feb. 8, so Gordon hopes he can get both doses to all 7,000 staff by early April.
"It seems necessary and appropriate to take the short three- to four- weeks of additional time required to ensure both doses are administered before considering faculty and staff to be safely inoculated and protected from the virus," Gordon said through a spokesperson.
For now, Cleveland schools will stick with online classes until Feb. 26. Gordon will decide next month when he can reopen Cleveland's schools, which have been shuttered since last March, but says he will only bring students back "when it is safe to do so."
Akron Superintendent David James previously told school board members that DeWine's March 1 date is flexible and that reopening is dependent on vaccines being available. Though Akron is among the first districts to receive doses next week, the district found out Friday that it will get only 780 of the 3,000 doses it needs by then.
And Dayton schools spokesperson Alexandra Kincaid said that district is waiting to see vaccine supply before setting a reopening date.
"Students will only return after staff receive both vaccines," Kincaid said.
Teachers unions at these three districts and in other Ohio cities wrote a "unity letter" Jan. 21 that sought a delay.
"We should not rush to reopen before it is safe, especially when adding mere weeks beyond March 1 could allow for full vaccinations of school employees," they wrote.
And Scott DiMauro, head of the Ohio Education Association, said this week that the March 1 deadline is "arbitrary."
"Rather than just focusing on getting school employees vaccinated as quickly as possible, they are adding this threat that's just adding angst to the whole situation," he said.
But DeWine is not budging on his reopening deadline.
Virtually all Ohio districts committed earlier this month to opening if staff could receive vaccines. Akron, Cleveland and Dayton all signed a commitment letter to DeWine which included a pledge to reopen even if "complete vaccine administration may not be completed by March 1, 2021, and regardless of vaccine uptake by your staff."
"It's a matter of good faith, quite candidly," DeWine said Thursday. "Each district signed a document that said we'll be back on March 1."
Districts can make their own choices, he said, about whether to have in-person classes full-time or use a "hybrid" plan — with time split between school and remote learning — but not about when to come back,
"We've given some leeway in regards to [whether] you can be five days a week or you can be hybrid," DeWine said. "We'd like for them to be five days a week, but we wanted to create some leeway for them to be able to do that."
He also noted that most schools in Ohio have returned to classrooms at least part-time, with fewer than 20 percent of Ohio students now having online-only classes. And, he said, he is giving schools high priority for vaccines while others beg for them.
"The school personnel will be put in front, really, of 11 million fellow Ohioans," he said. Only health care providers, nursing homes and some senior citizens receive vaccines in Ohio ahead of school staff.
Here is Ohio's current K-12 breakdown of in-person vs. remote ⬇ pic.twitter.com/P6Dt21jF7N

— Governor Mike DeWine (@GovMikeDeWine) January 28, 2021
Whether one dose of vaccine provides adequate protection is an open question. Data from clinical trials showed different benefits from the two available vaccines from Pfizer and Moderna. Pfizer showed 52 percent protection against symptomatic COVID infection after one dose in trials, which jumped to 95 percent after the second dose. Moderna showed 80 percent protection after one dose and 94 percent after the second.
Cleveland is likely to receive the Moderna vaccine, Gordon told his school board this week, but that is not guaranteed. That vaccine has a 28 day gap between doses so there's no way to give both doses by March 1, even if Cleveland receives all 7,000 on Feb. 8.
Some doctors have urged the U.S. to follow the lead of Israel and give one dose to twice as many people as a strategy toward lowering COVID cases. Others oppose such a plan, including Anthony Fauci, director of the National Institute of Allergy and Infectious Diseases.
Bruce Vanderhoff, Ohio's chief medical officer, joined DeWine in saying one dose is enough to open schools.
"The first dose of a vaccine has a substantial impact and we see that impact within weeks," he said. "Our second dose remains very important, primarily because it's a booster."
He said a single dose is not sufficient for lasting protection, but stressed that "We develop a very robust immunity as a result of our first shot."
Meanwhile, Gordon has already designated Max Hayes and East Technical high schools, one on each side of Cleveland as vaccination sites for when the district receives vaccines the week of Feb. 8.
Charter and private schools in the city can also receive doses at the two district sites, Gordon said, and doses will be given by school nurses.
He's also offering all staff that receive both doses by April 3 an extra personal day off, paid for with federal pandemic relief funds, as incentive to be vaccinated.
"Just having a bonus day felt like a nice way to say thank you," Gordon said.
Support The 74's year-end campaign. Make a tax-exempt donation now.