Cleveland Schools an Ohio Outlier: April Reopening Likely With Parents and Teachers Cautious About Classroom Return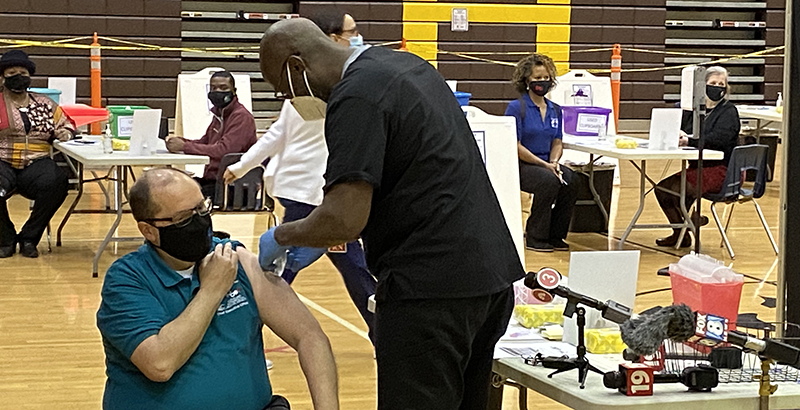 The Cleveland school district is likely putting off reopening schools until April, well after other cities, in deference to teachers and in defiance of Gov. Mike DeWine's March 1 deadline.
The delay isn't all about politics between the district and the teachers union or the statehouse.
Even as schools around the state and the country reopen and the Centers for Disease Control say risks to kids in school are low, many Cleveland parents and guardians, just like teachers, are hesitant to send their children back. That makes the city an outlier in a state where the vast majority of districts have opened schools.
"I think everybody should be vaccinated, even the kids," said Ruth Weeks, who has a great-granddaughter at Cleveland's John F. Kennedy High School and would prefer in person classes start in the fall.
National polls have shown more reluctance among Black families to return to schools, and school reopenings have followed that pattern in cities like San Antonio, Washington, D.C., and Chicago.
In Cleveland, school district surveys have repeatedly shown a majority of parents uneasy with returning to school. Many parents and guardians in this high-poverty, majority minority district say they want to wait for teachers to be vaccinated and COVID infection rates to drop.
Derrick and LaTonia White are typical of parents across Cleveland who want students back in school "real fast" because being away from classrooms for almost a year is hurting them.
But asked if schools are safe for kids to go back now, they paused.
"I don't know," LaTonia White said. "I want them to go back, as long as it's protected."
"Whatever's safe for them," added Derrick White. "You want teachers safe too."
After a moment, LaTonia remained conflicted, but concluded, "We're OK waiting."
Shirley Montgomery, who has two grandsons in Cleveland schools, is also okay with waiting.
"I'm 66 years old and I don't want to take … chances of them catching COVID and them bringing it home," Montgomery said.
DeWine and Lt. Gov. Jon Husted, when told Thursday of the reopening delays for Cleveland and Akron schools, reminded districts that they signed letters committing to opening by March 1, said they "really need" to open and urged them to do so.
"For the schools that are holdouts, the kids need you," Husted said. "We need you back open to serve them."
There are other schools in Cleveland that have been open for months, including several charters and all of the schools of the Catholic Diocese of Cleveland. Diocesan Superintendent Frank O'Linn said there has been little spread of COVID in those schools.
"There's very little transmission for kids," said Melissa Beckman, a middle school teacher at Luther Memorial School, a Lutheran school in the city. "We have all the precautions. We stay away from each other. We have masks and hand sanitizer. I think we're good. I'm not a fearful person."
Data released last week by the Ohio Department of Education show Ohio students, particularly Black children, have suffered huge learning loss while absenteeism skyrockets.
Cleveland's schools have been closed all school year and students have had classes entirely online. But reopening efforts took a huge step forward this week when the district began vaccinating teachers and other school staff at two high schools.
District CEO Eric Gordon told the school board 5,000 of the district's 7,000 staffers want to be vaccinated and will receive their first dose by the end of next week; and fully vaccinated by March 20.His full reopening plan will be out by Feb, 19, but he is leaning toward opening April 6.
Letting teachers receive both doses has been a priority for teachers unions in Ohio, but one that many districts and DeWine have not agreed to. DeWine set a March 1 deadline to reopen schools as a condition for school staffers to receive priority for the vaccine. Gordon even signed a commitment to meeting that date.
But Gordon, joined by Akron school officials, are waiting until teachers have both vaccine doses before reopening, as teachers unions statewide have requested in recent weeks. Akron decided this week to open classrooms starting March 22.
How wide dissatisfaction is with delays is unclear.
Unlike other cities, where parents have been pressing for a return to classrooms, there has been no such push in Cleveland. Parents who want schools to reopen are not organizing petition drives or demonstrations, or signing up to tell the school board they want a fast reopening.
That frustrates parents like Angie Schmitt, who just wrote to The Land, a new news website in the city, that Cleveland is seemingly the last to reopen.
"To me the problem isn't really the union advocating for their interests," Schmitt wrote. "That's their job. But in Cleveland, the students and parents don't seem to have political power to advocate for theirs very effectively."
Get stories like these delivered straight to your inbox. Sign up for The 74 Newsletter