Education Through a Pandemic: From California Schools Bracing For an 'Independent Study' Surge to Alabama Eliminating Quarantine Rules for Vaccinated Students, 12 Ways COVID Is Disrupting Schools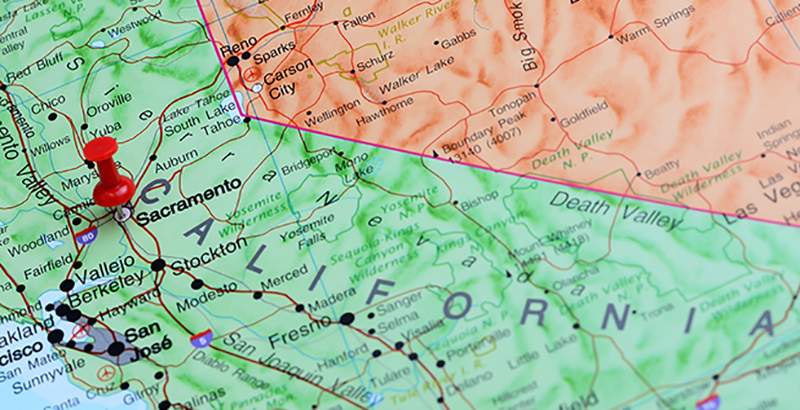 Get stories like these delivered straight to your inbox. Sign up for The 74 Newsletter
The Washington Post charts the beginning of back-to-school season, though for many schools and districts it represented a return to the uncertainty that most faced last school year.
With the rapid rise of the Delta variant, large swaths of the nation are once again battling out-of-control community spread and wrestling with decisions to reopen schools and possibly put teachers and students at risk. The increased concern around the Delta variant coincides with a tumultuous month for state masking mandates and other COVID-19 precautions, with states taking divergent paths on mask mandates, teacher vaccinations, or even to allow schools to continue offering remote or hybrid learning options.
At the national level, the Centers for Disease Control and Prevention, the American Federation of Teachers, and the American Academy of Pediatrics all issued strong guidance and recommendations urging states and districts to keep mask mandates in place as the school season begins, citing lower-than-expected rates of vaccination and the aforementioned Delta variant. Pediatric specialists from the Duke University School of Medicine took to the New York Times to provide more context to that position, sharing evidence gathered from over one million students on the effectiveness of various COVID-19 precautions. Aside from vaccination, the experts write, "Masking is one of the best, most readily available methods to protect [students] from the disease, with universal masking being one of the most effective and efficient strategies for preventing SARS-CoV-2 transmission in schools."
In states, however, arguments over masking and in-person schooling are reaching a boiling point, with disputes between stakeholders at all levels bubbling up to be resolved by state officials or courts in states like Florida, Arkansas, and Mississippi. Some governors, chiefly those of Florida and Texas, were called out by Education Secretary Miguel Cardona, who admonished actions to ban mask mandates, even as large districts like Tallahassee and Dallas rebuked their governors by mandating mask requirements for the new school year. "Don't be the reason why schools are interrupted," Cardona stated during a press event. Even in states that long held firm in their COVID-19 precautions— like Massachusetts, Rhode Island, Oregon, and Maine — districts are often at odds with state or national guidance.
Beyond the obstacles surrounding school reopening and classroom safety, here are 12 other updates from across the country about how states and school systems are confronting the challenges posed by the coronavirus emergency — and working to preserve student learning amid a pandemic:
CALIFORNIA – Educators and School Leaders Prepare for Unpredictable 'Independent Study' Surge
California districts and superintendents are expressing rising "anxiety" as the beginning of the school year approaches. They brace for unknown implications stemming from a surge in the Delta variant and a complex rewrite of state rules dictating how students might continue learning remotely via "independent study." Some superintendents are saying they expect as many as 1 in 8 students to apply for independent study, a number that might trend higher as COVID precautions are reinstated and if the school year results in a spike in cases. In addition to navigating the continued pandemic, school leaders will also be directing a "once-in-a-generation" infusion of state and federal funding into education programs, including transitional kindergarten, extended school days or years, and initiatives to combat the growing teacher shortage.
ALABAMA – Fully Vaccinated Students Will Not Be Required to Quarantine This School Year
According to the Alabama Department of Education, students who are fully vaccinated will not need to quarantine if exposed to COVID-19, though unvaccinated students would be expected to follow quarantine guidelines followed last year. At this time, individual Alabama school districts are given discretion in deciding whether to open for fully in-person instruction and whether to implement masking or social distancing mandates.
ILLINOIS – Governor Signs New Investment in Teacher Pipeline
Illinois Gov. JB Pritzker signed a $200 million investment in teacher education into law late last month. The funding is expected to support over 5,000 candidates in becoming childcare providers or teachers in the state through 2024. Gov. Pritzker also signed a bill offering an additional year of education services to students with special needs, an action taken in other states as the pandemic disrupted schooling for many students with disabilities.
MINNESOTA – Local Decisions Allowed on Continuing Online Options
Minnesota public schools are able to provide an online/distanced learning program for students this fall — but are not required to do so. The Star Tribune is unaware of how many districts are offering this option but notes that those taking the state up on its offer have just six or seven weeks to establish a model for distance education. Minnesota Education Commissioner Heather Mueller stated that with the Governor phasing out "his emergency powers," mandates regarding social distancing and mask wearing are more of a local decision.
OHIO – Some Schools Digging Deeper Into 'Mastery' Approach to Learning Amid Pandemic
What started as a summer project for Ohio students has transformed into something more beneficial — mastery learning. As many students have fallen behind due to at home learning, Cleveland and Columbus school districts are considering mastery learning to help bring students up to speed. District CEO Eric Gordon stated, "Over time, [it] will actually close achievement gaps more quickly and effectively." The 74 Million states that the concept "throws out standard expectations" in a specific school year, by acknowledging that students learn differently. Mastery learning gives students time to learn at their own speed, "repeating and reinforcing skills" until they've essentially mastered them.
DISTRICT OF COLUMBIA – Fearing a 'K-Shaped' Recovery In Capital Classrooms This Year
Beth Hawkins covers how the pandemic's "K-shaped" recovery might play out in the nation's capital this school year, citing the fact that thousands of students, particularly at younger ages, went missing from schools during the pandemic. Teachers, bracing for unexpected learning conditions and a resurgent virus, are preparing to differentiate instruction for students at a daunting scale – with some national experts concerned that there could be as many as nine grade levels per class. Adding to the confusion, as traditional DC public schools prepare for an in-person start to the year, 3 large DC charter networks are seeking permission to continue offering all-virtual learning, citing parent demand and continued pandemic safety concerns.
MICHIGAN – Increased Revenues Allowed for Equal Per-Pupil Funding This Year
Record amounts of federal and state education funding will allow Michigan schools to receive the same amount of money per student this fall, a step up following "decades of unequal funding." According to lawmakers and other advocates, this rise in funding is not a result of "hard political work" — but more existing money that is available for investment. Doug Pratt, spokesman for the Michigan Education Association stated, "It's something that lawmakers have long wanted to do across both sides of the political aisle and there resources were there to finish the job."
SOUTH CAROLINA – New Funding Reserved for Early Childhood Programming:
South Carolina education officials announced they will direct nearly $15 million of the state's COVID-19 relief funding towards expanding early childhood programs in the state. South Carolina First Steps Executive Director Georgia Mjarten said the funding would help transition programs, after-school and summer pre-school programs, parent engagement programs, and early childhood health programs reach as many as 25,000 more students and families over the next three years.
IDAHO – Teachers Union Urges Governor to Direct Portion of State Budget Surplus Towards Schools
Idaho Gov. Brad Little announced that the state's budget surplus is projected to reach $900 million this year. Following the announcement, the Idaho teacher union urged lawmakers to invest some of the surplus towards education programs. Their recommendations include increased funding for mental health services and staff, increased pay for teachers and paraprofessionals, and decreased class sizes. Idaho Education Association President Layne McInelly believes that a strong public school system will draw more families and businesses to the state, "public education funded properly will only help everybody succeed."
KANSAS – State Education Agency Directs Some Federal Funding to Early Literacy
The Kansas State Department of Education is putting $15 million toward a "literacy initiative" to drive learning progress following the pandemic. The Language Essentials for Teachers of Reading and Spelling program provides teachers with "specialized training in the science of reading." A main objective of the initiative is to provide teachers with the proper tools to know when a student is struggling and how to intervene. Like many other states, Kansas' students faced academic difficulties last school year that are reflected in test scores.
IOWA – Summer Programs Reengage Kids with Learning, Prepare Them for New Year
Expanded summer school programs in several Iowa school districts are drawing attention for their use of federal and state relief funding to provide meaningful enrichment for students before the start of the new school year. Educator Sarah Lyons, who taught at the We Believe Summer Learning Academy at Fred Becker Elementary in Waterloo, said many of her students missed school last year due to coronavirus-related absences and that, thanks to the expanded summer programming, are now better prepared to re-engage this school year.
NEVADA – Reno Goes All In on Career and Technical Education
The city is going all in on Career and Technical Education as its schools emerge from the worst of the pandemic. Citing how the pandemic's K-shaped economic recovery is driving greatly different outcomes for high earners compared to low earners, The 74 reports Reno is attempting to adjust its education system to align with its success in attracting a number of technical startups and corporations, including Tesla and other robotics and energy companies. "Reno's success in reinventing itself as a high-tech hub and attracting associated growing industries is great," says Amy Fleming, a representative of the Nevada Governor's Office for Workforce Innovation, writes. "But looking further out, the key to true long-term economic health is whether regional officials — and the school system — can nourish Reno's blossoming startup sector."
This update on pandemic recovery in education collects and shares news updates from the district, state, and national levels as all stakeholders continue to work on developing safe, innovative plans to resume schooling and address learning loss. It's an offshoot of the Collaborative for Student Success' QuickSheet newsletter, which you can sign up for here.
Get stories like these delivered straight to your inbox. Sign up for The 74 Newsletter