Black Parents Open to New Forms of Schooling, Polling Suggests
Whether it's microschooling, charter schools, or ESAs, a new survey from advocacy group EdChoice shows that African American families are getting more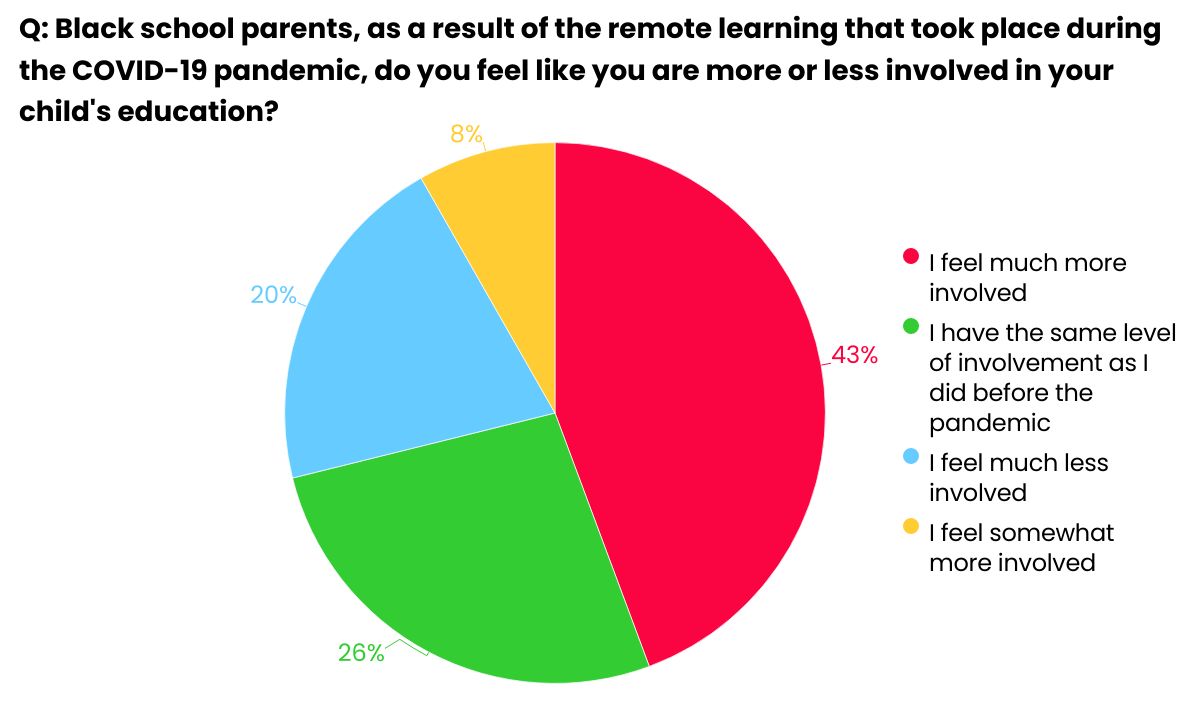 Support The 74's year-end campaign. Make a tax-exempt donation now.
Black parents say they play a much more active role in their children's education than they did before the pandemic, according to a new poll released this month. Large majorities look favorably on policies like private school vouchers and education savings accounts, and comparatively few want the K–12 experience to remain the same.
The results come from a survey of African American parents of school-aged children conducted by the research and polling company Morning Consult. Its findings, while capturing only a moment in time, may reflect educational preferences that have shifted significantly away from traditional public schools in the COVID era.
Morning Consult's survey was administered to roughly 1,300 respondents across January and February on behalf of EdChoice, an Indianapolis-based advocacy group that backs school choice. During the pandemic, the organization has maintained tracking polls of parents and teachers on general perceptions of K–12 education. Black adults, including parents, have been included both in those ongoing efforts and in separate surveys as districts adjusted to the demands of remote instruction and virus mitigation.
Overall, 57% of respondents said they supported education savings accounts — a financial vehicle that offers families money to spend on educational costs of their choosing — even without being provided a description of their function. Even higher proportions supported school vouchers (62%), open enrollment of public schools (66%), and charter schools (68%).
Paul DiPerna, EdChoice's vice president of research and innovation, said he found it notable that families' attitudes toward such policies have remained "fairly stable" even as the circumstances surrounding schools have changed dramatically. In a similar poll conducted in the fall of 2021, for example, two-thirds of African American parents said that COVID had made them more open to the idea of homeschooling; 65% said they were supportive of homeschooling today.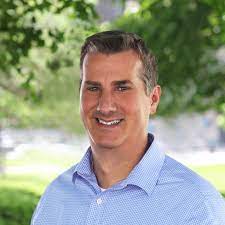 "At the time [of the previous poll], the pandemic looked a lot different for parents and schools," DiPerna said, invoking the Omicron wave that closed or severely disrupted schools in early 2022. "But some of these levels of support are still high for other modes of learning besides the traditional district school."
Black respondents in other public opinion research, including a February survey commissioned by the school choice advocacy group Yes. Every Kid., have demonstrated high levels of support for policies like vouchers and education savings accounts. Although such polls can provide substantially different findings depending on how questions are worded, African American parents' somewhat more favorable attitudes toward school choice could be related to their relative satisfaction with local schools, which has been lower than that of white parents in some previous polls.
That openness to alternative modes of education could be somewhat greater than for parents of other backgrounds. In all, just 39% of African American parents said their post-pandemic preference would be for their children to spend the entire school week completely outside the home. By comparison, EdChoice's February tracking poll of all K–12 parents found that a slightly greater figure, 41%, said they favored such an outcome.
Black families have clearly demonstrated a greater willingness to experiment with learning outside traditional schools over the last few years. According to 2021 figures from the U.S. Census, the percentage of African American students classified as homeschoolers leapt from just 3.3% to 16.1% over the first COVID year. That explosive growth was undoubtedly powered by the adaptation to online learning, but updated federal figures are expected to show that participation in homeschooling has remained elevated among American families in the years since.
Support for other forms of non-traditional schooling were also shown to be high, mostly in line with the attitudes of other demographic groups. Sixty-two percent of Morning Consult's respondents said they had a favorable opinion of microschools (defined as a public, private, or homeschool learning environment that enrolls 25 or fewer students); somewhat surprisingly, 9% of respondents said their children were presently enrolled in a microschool.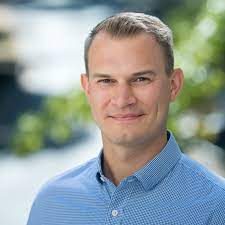 Alex Spurrier, an associate partner at the nonprofit research and consulting group Bellwether Education Partners, said that while it's difficult to gather real-time enrollment data on just how many families are experimenting with learning opportunities outside of traditional districts, the responses "show greater interest and participation" in programs like microschools.
"I think the openness and interest in some of these different options is one data point showing that there's pretty strong demand among [African American] families for different kinds of education options than what their kids might be accessing currently."
Black parents were also likely to say they were more involved in their children's education than in the pre-COVID era, with 43% saying they felt "much more involved. Among those with annual incomes over $75,000 — more than two-thirds of respondents said they were either somewhat or much more involved than before.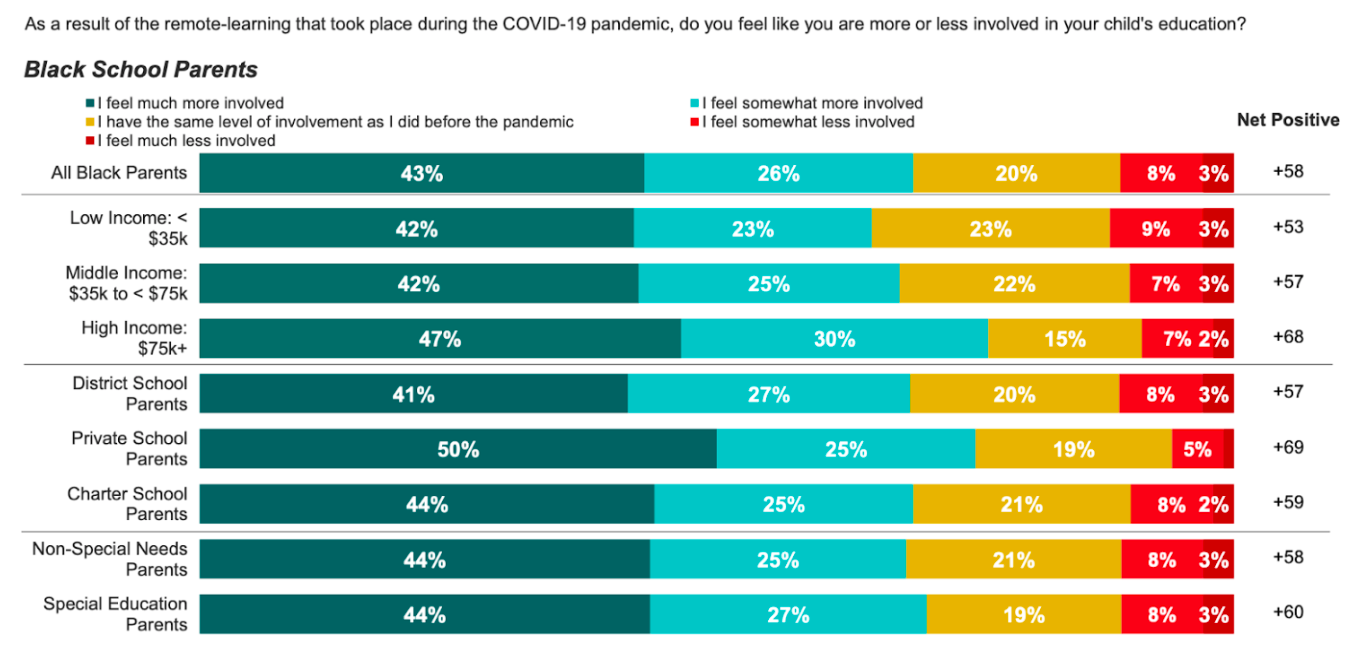 But the direction forward still isn't clear. Asked whether they wanted their children's general K–12 experience to either change or stay the same, 62% said they sought some kind of change. While 38% reported that they were looking for something new, however, a sizable minority (24%) said they wanted things to revert back to the pre-COVID status quo. Just under one-quarter of parents said they preferred that schooling stay as it is now.
DiPerna said that the evidence clearly pointed to an openness to new educational experiences — either through school choice policies like vouchers and charters — or initiatives like microschools, pods and tutoring that can be implemented in a variety of settings. That curiosity exists among families of all backgrounds, he argued, and even in spite of the fact that roughly half of parents (including 57% of African American parents) said that their own local schools are on the right track.
"Even with the overall satisfaction levels with schools, you still see that there's an underlying preference for different types of schools — non-trivial numbers, by any definition, especially if you extrapolate to the full population of students around the country."
Support The 74's year-end campaign. Make a tax-exempt donation now.