Biden's Pick for Deputy Ed Secretary Faces Senate Panel Amid Unusual Scrutiny of her Tenure as San Diego Chief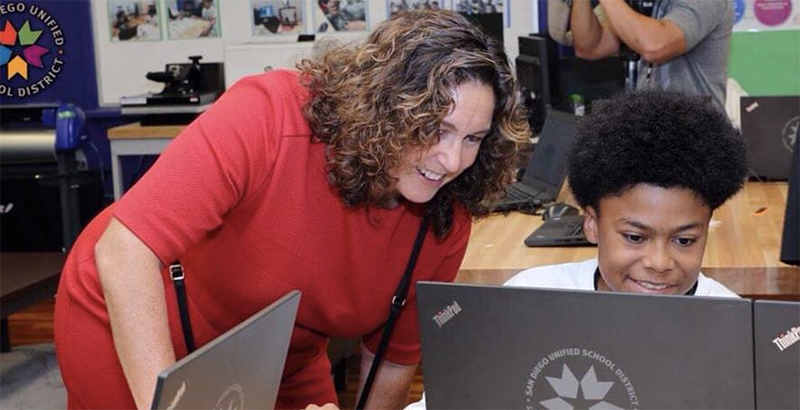 Cindy Marten, the Biden administration's pick for deputy secretary at the U.S. Department of Education, faces a Senate confirmation hearing Wednesday amid uncommon pushback for one nominated to the number two spot.
Like Education Secretary Miguel Cardona, Marten would bring local school- and district-level experience to the department. But the hearing comes after weeks of mounting opposition to her nomination from parents and advocates that has spread from local groups to national organizations. Complaints include discipline disparities in her California district of San Diego Unified as well as Marten's handling of open records requests.
Scheduled for the same day as Cardona's Safe School Reopening Summit, the hearing also draws attention to the fact that Marten's district hasn't reopened, even though several in San Diego County have. The district is scheduled to bring students back in a hybrid schedule in mid-April, but some districts, such as the Cajon Valley Union schools, have been mostly open since September.
"We were hopeful when she was nominated to this team, it would [speed up reopening] for us here locally, but our kids are not in school," said Emily Diaz, a parent involved in Reopen SDUSD, which advocates for more in-person learning. "There is this targeted date, but it hangs on all these contingencies."
Reopening is just one topic that might surface during questions from the Senate education committee. Cardona's nomination was largely well received among unions, charter school supporters and advocacy groups — and his Senate hearing was mostly congenial.
But the prospect of Marten as second-in-charge stirred controversy from the start. It's unclear, however, whether opposition from parent groups would be enough for any Democrats to object to her confirmation.
"It seems like folks are still figuring out where they stand on her nomination," said Julia Martin, legislative director of Brustein and Manasevit, a Washington-based education law firm.
Meanwhile, organizations such as the National Parents Union, with its #NoMarten hashtag, has made its position clear. It produced a video featuring San Diego parents who don't want to see Marten at the department.
One of those is Tasha Williamson, a former San Diego mayoral candidate and mother of a special education student. Williamson has watched Marten's career since she served as a successful principal at Central Elementary, a low-income school in the City Heights neighborhood.
"She was calm and considerate. She thought about her students," Williamson said. "When she became superintendent, she somehow got lost."
Williamson noted low performance at the city's Lincoln High School and concerns that the district didn't act quick enough to report sexual abuse of a student by a teacher.
The district did not respond to requests for comment.
'A working relationship with unions'
Others who worked with Marten since her days as principal said she has skillfully navigated the politics of running a district in a state with strong unions and the most charter schools in the country.
Ian Pumpian, a professor emeritus in educational leadership at San Diego State University and CEO of Health Sciences High School and Middle College, a charter school, said he saw "no evidence" that her relationship with the union affected her ability to collaborate with charter leaders.
"There is no possible way a superintendent of a large school district can be effective in managing and leading schools without establishing a working relationship with unions," Pumpian said, "and she has done that effectively."
Some charter advocates note that she has aligned herself with the union's position on limiting charter growth, but sent her son to a high-performing charter school in San Diego, High Tech High.
"That her son attended a charter school means she is willing to deny other parents the school choice she readily took advantage of for her own child. That's hypocritical." said Margaret Fortune, who leads a network of nine charter schools in California serving mostly Black students and served with Marten on a charter school task force in 2019.
Organizations such as the National Parent Union support charter schools and receive funding from foundations supporting choice and homeschooling. Even though critics are concerned about Marten's views on charters, the district notes that the majority have been renewed over the past seven years.
"If she is confirmed, there will be a significant amount of work to do to earn the trust of parents and grandparents like us, who are fighting every day for fairness on behalf of children nationwide," reads a statement from the Powerful Parent Movement, another advocacy organization.
Get stories like these delivered straight to your inbox. Sign up for The 74 Newsletter