Cardona, in Mostly Gentle Prodding From Senate, Offers Views on Testing, Transgender Students and Reopening Schools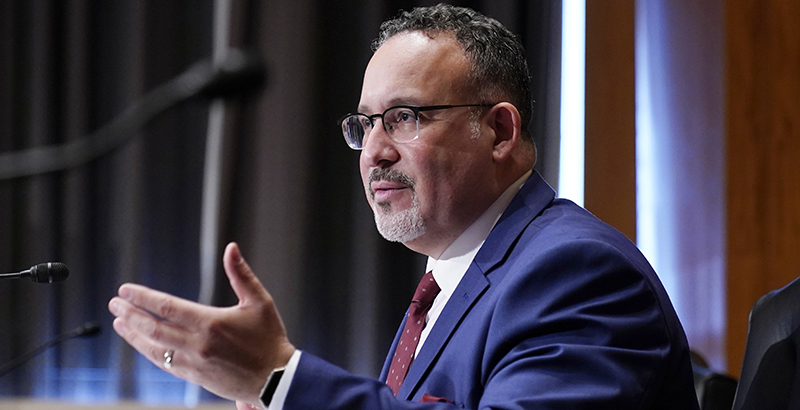 Vowing to "forge opportunity" out of the tragedy of the pandemic, education secretary nominee Miguel Cardona faced mostly friendly questioning from senators Wednesday in a confirmation hearing that focused largely on reopening schools, but also touched on the divisive question of whether transgender students should compete against girls in sports.
Sen. Patty Murray of Washington presided over the hearing as incoming chair of the education committee. She used the event to not only push for Cardona's swift confirmation, but to advocate swift passage of President Joe Biden's $1.9 trillion COVID-19 relief plan, which includes $130 billion for schools.
Cardona, who began school as an English learner living in public housing, has had what some senators called a "meteoric rise" from classroom teacher to Connecticut state commissioner. He addressed the committee in Spanish with the words "in unity, there is strength," and said that while students have shown resilience during the pandemic, many are still hurting because they've lost family members.
"The funding that's being considered now is to make sure that we recover," he said, noting that students' well-being should be "at the core" of reopening plans. "We're going to need more counselors in our schools."
Pandemic & equity concerns
Murray also highlighted how the crisis has caused the most damage for students already behind.
"We know the pandemic is setting back learning for all students, and compounding longstanding inequities in our education system," she said. "We know remote classes can make learning more difficult — impossible even, for the one-in-four students who have no access to the internet at home, and families of color are significantly more likely to experience limited internet and device inaccessibility."
She highlighted his efforts to ensure that all Connecticut students have a device and an internet connection, while Republican Sen. Roger Marshall of Kansas asked for Cardona's "secret potion" in reopening the state's schools. Cardona emphasized clear communication regarding sanitation practices to prevent spread within schools and working with health officials.
His approach to reopening may prove more challenging on a national stage. North Carolina Republican Sen. Richard Burr, soon-to-be the committee's ranking member, noted the recent statement from the Fairfax, Va., teachers union president that schools should not fully reopen until all students and teachers are vaccinated, which could take until 2022.
"Do you agree with the Fairfax Education Association?" Burr asked.
Cardona appeared to sidestep the question. Instead, he voiced support for increased COVID-19 testing in schools and prioritizing educators for vaccines, but noted examples of schools across the country "that are able to reopen safely and do so while following mitigation strategies."
In terms of his overall approach to running the federal department, Burr encouraged Cardona to follow the example of former secretaries Richard Riley and Lamar Alexander and said, "just because you have a good idea doesn't mean everybody should follow it."
Cardona will be the seventh member of Biden's cabinet if his confirmation goes as smoothly as the president's other picks.
His nomination seems assured. The congenial tone among most members of the committee offered a stark contrast to former Secretary Betsy DeVos's reception four years ago when her responses on issues such as guns in school and special education law showed a lack of familiarity with federal policy. Former Vice President Mike Pence had to break a tie in order for her confirmation to pass, with Republican Sens. Susan Collins of Maine and Lisa Murkowski of Alaska voting against her.
Testing and learning loss
Cardona noted that summer school and an extended school day are key ways to address the gaps in students' learning because of school closures, but also emphasized the role of strong teaching and curriculum. He urged teachers to use "high-quality materials" to help students catch up, whether they're teaching in-person or remotely.
But the best way to help students recover, he said, is to reopen schools. "There is no substitute for a classroom experience for our students, being in front of their teacher," he said.
Burr said he wanted to have an "adult conversation" with Cardona about whether states should conduct assessments this spring, arguing that he's leaning toward pausing the use of tests in state accountability systems for another year.
His views contrasted with those of Rep. Bobby Scott, chair of the House education committee. States have a responsibility under the Every Student Succeeds Act to conduct assessments and develop a "credible plan to deal with achievement gaps," he told reporters Tuesday. "If you don't do assessments, how are you going to know who needs summer school?"
Cardona told Burr, "I don't think we need to be bringing students in just to test them on a standardized test," but agreed it's important to collect accurate measures of student performance. He added that he would allow states to weigh in on whether to include assessment results in rating school performance.
Burr cautioned Cardona against granting waivers from testing in exchange for implementing specific policies, alluding to former Secretary Arne Duncan's approach under President Barack Obama.
Transgender rights
If any senator votes against Cardona's nomination, it would likely be Kentucky Republican Sen. Rand Paul. The hearing's only tense moment came when Paul challenged Cardona on his views about whether transgender students should compete with girls in athletics.
It's an issue he's faced in Connecticut. The U.S. Department of Education, under DeVos, told the state that its policy allowing such competition violates the rights of female athletes and that it might withhold funding if the practice continued. If confirmed, Cardona would be responsible for implementing a new executive order that seeks to end discrimination based on gender identity.
Cardona told lawmakers he's listened to advocates on both sides of the issue and supports all students having opportunities "even if they are transgender."
Paul described that notion as "bizarre" and accused Cardona of being afraid to answer his question.
"I'm disappointed in the answer and I just can't imagine we're going to have a policy like that nationally," he said.
Republican Sens. Mitt Romney of Utah and Robert Marshall of Kansas supported Paul's comments.
Student debt, school choice
Other issues covered during the two and a half hours of questioning included career and technical education, school choice and student loan debt.
While higher education is not Cardona's area of expertise, Sen. Elizabeth Warren of Massachusetts quizzed him on how he would revamp the federal student aid office to prioritize the needs of borrowers over loan servicers.
Cardona told Sen. Mike Braun of Indiana that it's important to highlight universities that are freezing tuition costs and taking other strategies to help students reduce debt.
Burr, the ranking member, indicated he would be open to some loan forgiveness, but would oppose efforts to "move debt from borrowers to the taxpayers."
Sen. Robert Casey of Pennsylvania, a Republican, expressed concerns over the struggles students with disabilities have pursuing higher education and being successful once they're enrolled. He has sponsored legislation that makes qualifying for special education in K-12 sufficient criteria to receive extra help in college as well.
Cardona said such a process requires better coordination across K-12 and higher education.
"That cultural shift is a prerequisite to any technical strategies," he said, noting that he agrees with holding colleges and universities accountable for how well students with disabilities perform once they're enrolled.
In K-12, full funding for special education, as Biden has proposed, would be "game changer," Cardona said. The law requires the federal government to pay 40 percent of the costs of special education, but currently the rate is about 13 percent.
Several senators also voiced strong support for career and technical education and changing the law to allow Pell grants to pay for tuition in those programs.
Cardona, who attended a technical high school where he studied automotive services, emphasized beginning career pathways in middle and high school and exposing students to the "jobs of today." He voiced pride that his son, a junior in high school, is taking a community college course for-credit, and said more students should have such opportunities.
The issue of school choice didn't receive as much attention as some might have expected. As he did in Connecticut, Cardona emphasized his focus on improving traditional schools so there's not "a system of winners and losers."
"There are excellent examples of charter schools. There are also phenomenal examples of neighborhood schools," he said. "Our public schools can't be a poor alternative."
Support The 74's year-end campaign. Make a tax-exempt donation now.