Opinion: As Biden Signs Orders Addressing Systemic Racism, Why Isn't He Listening to What Black Parents Have to Say About His No. 2 Ed Department Pick?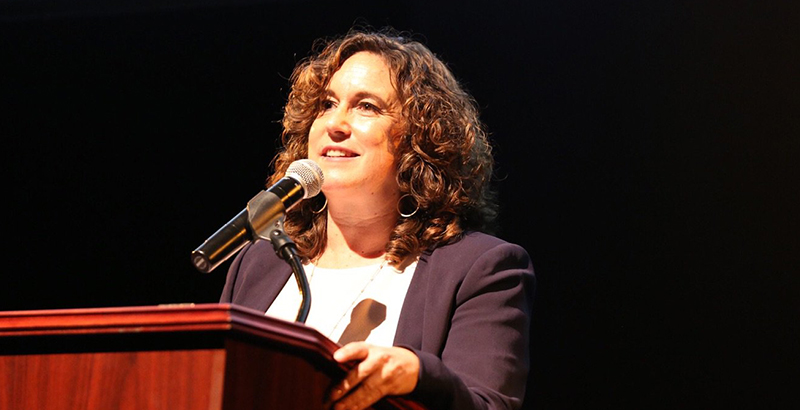 President Joe Biden tapped San Diego Superintendent Cindy Marten for the number two spot in the U.S. Department of Education, a position that requires Senate confirmation. While Marten's appointment has been lauded by some local powerbrokers in San Diego's elected class, the San Diego NAACP says, not so fast. And they are not alone.
I voiced my own opposition to Marten's nomination, based in large part on my personal experience working with her on Gov. Gavin Newsom's charter school task force in 2019. While it would surprise no one that Marten and I are ideologically of different opinions on the subject of charter schools, I want to emphatically state that my concerns about her nomination go well beyond that. In fact, her record on civil rights and the education of Black children is what really gives me pause.
Marten has a truckload of complaints, not from the education reform community, but from parents, students and employees in her own school district.
In a statement opposing Marten's nomination, the NAACP San Diego Branch called Marten an "ineffective leader when it comes to the academic advancement of African-American children in San Diego public schools." Calling their opposition to Marten's nomination "firm and resolute," San Diego NAACP President Francine Maxwell said, "During her administration, African-American students and families have not only been deprioritized, but key programs and resources to support African-American student success have been stripped."
President Biden called for racial justice in his inaugural address and signed executive orders aimed at racial equity for Americans, saying "Our soul will be troubled, as long as systemic racism is allowed to exist." If that is truly President Biden's intent, shouldn't we listen to the voices of Black people on the ground about their experience with his nominee? Shouldn't we examine the record of what Black folks have said about Marten, not just now when the political pressure is on, but over time?
What do the people who are the subjects of Biden's well-meaning push to address systemic racism have to say about their experience with Cindy Marten?
In 2019, when the San Diego Unified School Board extended Marten's contract, there was one vote against the extension. It was that of board President Sharon Whitehurst-Payne, the only African American on the board. According to the San Diego Union Tribune, Whitehurst-Payne said she voted no because the district had failed to improve Lincoln High School, which she said should be the district's top priority. Lincoln High serves San Diego's Black community, south of the 8 Freeway, which is the dividing line between San Diego's affluent and low-income communities. The school has been the site of violence, including the troubling sexual assault of a severely disabled Black boy — an incident his mother and teacher have alleged Marten mishandled as superintendent.
Whitehurst-Payne went on to say "paying attention only to district-wide progress causes people to become lackadaisical about making sure every child's needs are met, especially disadvantaged students."
Cindy Marten's track record on equity for African-American students bears out Whitehurst-Payne's point. According to publicly available data from the California Department of Education, 62 percent of Black students in San Diego Unified can neither read nor write at grade level and 72 percent are not at grade level in mathematics. The district has yawning achievement gaps between Black and white students: 38 percentage points in English Language Arts and 42 percentage points in math. The LA Times reports,
Racial disparities are evident in other aspects of San Diego Unified schools, including national test scores that President Joe Biden's team cited as one reason for choosing Marten. In 2019 San Diego was one of two large, urban districts nationwide to outperform the average national test scores for math and reading for fourth- and eighth-graders. Despite that record, achievement gaps for Black and Hispanic students compared to White students remained largely unchanged from 2013, the year Marten became superintendent, according to NAEP, the Nation's Report Card.
According to the San Diego Union Tribune, in the 2018-19 school year, Black students in San Diego Unified were suspended more than three times as often as white students and they made up 18 percent of students suspended, despite making up only 8 percent of the student body. Furthermore, a 2019 report called, "When They Teach Us: The Education of Black Children in San Diego" found that the suspension rate for Black boys in San Diego Unified is 206 percent higher than the district average and represents the highest suspension rate of any racial or gender group.
President Biden demonstrated on the campaign trail that he understands that these types of racial disparities in school systems are a part of the problem. In his only debate with Donald Trump, then-candidate Biden said, "Yes, there is systemic injustice in this country in education, in work, and in law enforcement."
It's puzzling then why President Biden would nominate a superintendent from a school district with well-documented racial disparities to be his deputy education secretary. Perhaps he received bad advice?
Regardless, it's a problem President Biden has to fix. In his victory speech, after he won the presidency, Biden said, "I mean it. Especially in those moments when the campaign was at its slowest, the African-American community stood up again for me. You all had my back and I will have yours." President Biden's statements during the campaign, and his promises to Black voters since, reflect a commitment to care about kids and families living in neighborhoods like the ones in San Diego, south of the 8 Freeway. In nominating Marten, it appears President Biden is forgetting that promise.
What a lost opportunity it would be if a nominee with such troubling blind spots, if not outright indifference, to problems facing Black communities under her purview would bring that regressive mentality to national impact.
One way to understand how some of San Diego's grassroots communities regard Cindy Marten's tenure as superintendent is to observe how the conversation is evolving among equity groups on how to replace her. "We want to make sure we don't have another superintendent that fails to address the academic achievement and opportunity gaps that have been plaguing our communities of color," said Tom Keliinoi, president of Parents for Quality Education. Since the announcement of Marten's nomination, a chorus of critics from the community that knows her best have raised their voices.
President Biden should quietly withdraw Cindy Marten's nomination to avoid the mounting criticism of Marten playing out on a national stage at her Senate confirmation hearing.
Support The 74's year-end campaign. Make a tax-exempt donation now.