As Many Public Schools Fight to Retain Students Amid Pandemic, Washington, D.C.'s Charters Are Closer to Meeting Fall Enrollment Projections Than DCPS's Traditional Schools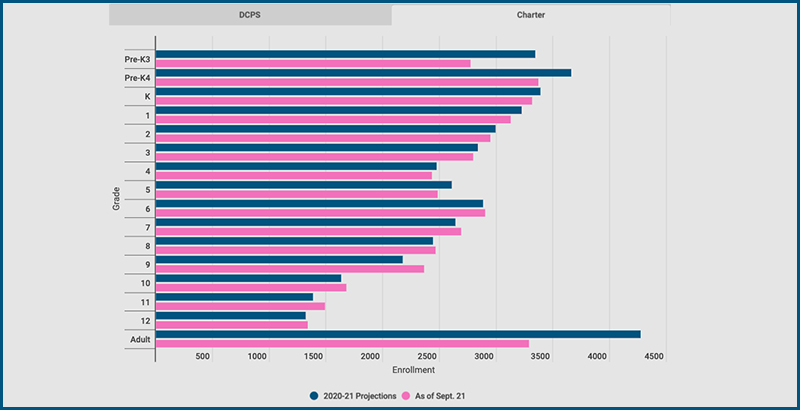 As of last week, D.C. charter schools are closer on the whole to closing fall enrollment gaps in the mandatory K-12 grades than D.C. Public Schools — days out from a citywide enrollment count that will determine future school budgeting.
Charters, which serve about 46 percent of the city's public school population, were about 1,020 students below total 2020-21 projections for K-12 on Sept. 21, according to data analyzed by The 74.
DCPS, meanwhile, recorded about 3,650 fewer students than budgeted for.
Factoring in non-compulsory pre-K and adult education, which have seen the largest enrollment lags, the public school system that day was about 7,600 students short of projections — a scenario many districts across the country are grappling with to some degree, especially with younger grades, as virtual learning continues.
"It's critical to find out who those students might be," said Chelsea Coffin, director of the Education Policy Initiative at the D.C. Policy Center, who has studied enrollment trends in the past. "We need to be thinking about who's not present and why they're not present."
Experts posited that charter agencies' smaller sizes and subsequent nimbleness, different enrollment processes and more immediate funding pressures helped drive what appears to be a more successful enrollment process overall so far.
Unlike DCPS, charters can lose funding as early as next month if Oct. 5's Count Day tallies don't match up to projections. (Count Day is when the city takes a snapshot of public school enrollment and uses it to create an audited enrollment total for the year).
And with more than 60 separate D.C. charter networks as of last year, they also deal with much smaller communities than DCPS, a 51,000-student district. Some charters told The 74 they were able to provide more one-on-one supports to families, like helping them download scanner apps to complete enrollment virtually.
"When your [network] is 400 kids, you can call all of your kids and make sure" they're there, said Mary Filardo, executive director of the 21st Century School Fund, who helped lead an external analysis of D.C. enrollment projections in 2018.
If schools "are off by [thousands] of kids … those are millions of dollars" lost to districts, she added.
The data aren't static: Public schools enrolled more than 10,000 students between Sept. 10 and Sept. 21. City officials like Deputy Mayor for Education Paul Kihn have said they believe the delays are attributable in part to confusion around the virtual enrollment process.
A spokesman for Kihn's office noted too that because DCPS is the city's "by right" school system — meaning every neighborhood student has a guaranteed spot — it always projects enrollment at the "highest level" in anticipation of some kids entering midyear.
Nationwide, though, cities such as Cleveland are also missing thousands of students. Virtual learning has pressed families to rethink where their kids attend school, and locally, non-public school education options in D.C. such as homeschooling and private schools have reported upticks in interest. Online schooling has also exacerbated existing opportunity gaps for low-income students of color especially, as access to learning hinges more and more on reliable access to technology.
Experts like Coffin and Filardo are taking the data seriously — and want more data, like breakdowns by school for both sectors, to get a clearer picture: Have missing students moved? Enrolled elsewhere? Dropped out? Who are they, and what do they need?
Why charters are faring better on enrollment
The charter sector's elementary grades on Sept. 21 were largely within 100 students of 2020-21 projections, and middle school grades looked to be even slightly over the cusp. DCPS, respectively, was down a few hundred students across both elementary and middle school.
(High school grade-level data for both charters and DCPS were recorded differently between the city's projections and the Sept. 21 count, making direct comparisons difficult.)
Friendship Public Charter School's enrollment efforts tied in robust family engagement "through webinars, e-newsletters, surveys … social media, Instagram morning meetings, one-on-one conversations, and our WeCare hotline," spokeswoman Candice Tolliver-Burns told The 74 earlier this month. She credited that in large part to why the charter network, which serves more than 4,500 students across 16 schools, started the year with 220 more students enrolled than expected.
KIPP D.C., which had a 1-1 student device ratio in the spring, had been "working in overdrive" with families to "download a scanner app on their phone and download all the appropriate paperwork" for enrollment, spokesman Adam Rupe said. KIPP is currently "fully enrolled" at about 6,900 students across 18 schools.
DCPS's outreach in past weeks has consisted primarily of robo-texts and emails, along with phone banking, which reached more than 3,000 families in mid-September. The district also sent postcards to every family who had enrolled last year but hadn't finalized enrollment this year.
Experts said factors beyond nimbleness may also account for the enrollment gaps shown Sept. 21. Coffin from the D.C. Policy Center noted that some families "might not be signing up [for DCPS] as urgently as you would at a charter" because every child has a guaranteed right to their neighborhood school at any time — whereas families must enter charters through a lottery system.
Charters are also held more immediately accountable for matching enrollment projections by Count Day "because it could be really catastrophic to their budgets" if they don't, said Alyssa Noth, education policy analyst for the D.C. Fiscal Policy Institute.
Charters receive funding in quarterly payments and still have 65 percent of their funding left to be distributed this school year. If schools' counts next month end up being lower than initially projected, those charters would receive less money starting in late October. (To note, some D.C. charters received PPP loans during the pandemic.)
For D.C. Public Schools, audited numbers from Count Day won't affect funding already budgeted for 2020-21. But they will influence the district's future enrollment projections — and, therefore, its allocated school funding — for the following academic year.
Joe Weedon, the Washington Teachers Union spokesman, told The 74 earlier this month that when kids who were expected to enroll at a DCPS school haven't shown up on the rosters, some teachers who had established close relationships with their families have been reaching out to check in. But not every teacher, he added, is in a position to do that.
"If you don't have the relationships or you're a new teacher to that school, what's that system [in place] if that kid isn't there?" he asked.
Continuing lags in pre-K
There is an area where charters and DCPS are dually lagging: pre-K enrollment.
Pre-K enrollment across charters on Sept. 21 was about 12 percent lower than projected; DCPS enrollment landed nearly 15 percent under.

Districts nationwide are seeing similar trends, including with kindergarten students in cities from Los Angeles to Philadelphia. DCPS's kindergarten enrollment that day was markedly lower than projected as well — by nearly 500 students, or a 10 percent gap.
D.C. Policy Center has been canvassing communities, and it "seems like the virtual learning we have right now is very challenging for our youngest learners" to pay attention and stay engaged, Coffin said. Filardo noted that parents keeping their kids in child care so they can work is also likely.
While both women believe enrollment in the compulsory grades takes top priority in this moment, they're wary of the lasting ramifications on D.C. schools if the pre-K gap continues into the year.
From an ongoing "growth perspective … losing pre-K3 and 4 is a problem," Filardo said. "A kid who starts in one school is likely to stay in that school, so they may [now] lose that family for the entire" education career of that student.
It's also "really important that early learners have a strong start" to their education, Coffin said. "It's important we don't lose track of them."
Get stories like these delivered straight to your inbox. Sign up for The 74 Newsletter