Youth Vote Could Be Key In Too-Close-to-Call Arizona Governor's Race
With Democrat Katie Hobbs and Republican Kari Lake narrowly separated, left-leaning youth vote could be decisive in highly watched race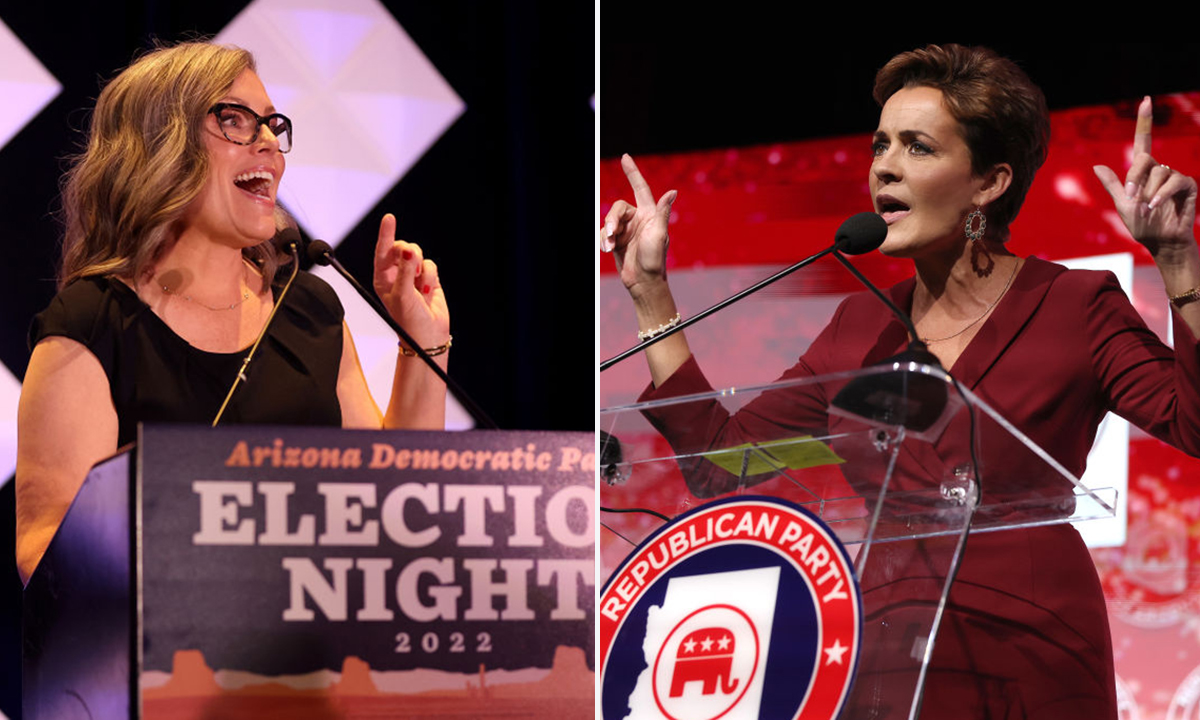 No paywall. No pop-up ads.
Updated, Nov. 15
Democrat Katie Hobbs has won the Arizona governor's race, according to The Associated Press. After a ballot count that lasted almost a week past Election Day, Hobbs, the secretary of state, narrowly beat out far-right Republican election-denier Kari Lake by 19,382 votes with 98% of the votes reported. Lake, a former local TV anchor who made attacks on the media a central part of her campaign, has not conceded and has alleged without evidence that the election was botched. Hobbs's victory and that of Democratic secretary of state candidate Adrian Fontes are seen as crucial in a 2024 presidential battleground state that has been a focal point of false claims about the 2020 election.
The youth vote could prove consequential for the Arizona governor's race, which remained too close to call: Democrat Katie Hobbs was barely leading Republican star and former Fox news anchor Kari Lake Wednesday evening in a contest that continued to tighten.
Exit polls show 76% of Arizona voters ages 18-29 cast their ballots for Democrats this year while 20% voted Republican — a wider margin than in any other battleground state for a group that leans left.
Results may not be known until Friday morning as more than 275,000 unopened ballots are counted, the Arizona Republic reported late Wednesday afternoon. The paper also quoted several GOP consultants who said other recent voter trends in the state could mean more of those votes go to Lake, an unapologetic election denier and a staple in Arizona households for more than two decades.
Meanwhile, youth voter turnout has been skyrocketing in the state for years. It climbed 16 percentage points — from 10% to 26% — between 2014 and 2018, and 18 points — from 33% to 51% — between 2016 and 2020, according to the Center for Information & Research on Civic Learning and Engagement at Tufts University.
Records show young Arizonans favored Joe Biden by a 31-point margin in 2020. Biden won the state by the slimmest of leads with fewer than 11,000 votes. Arizona Democrat Mark Kelly won his U.S. Senate race by 2.4 points that year, Tufts found. Kelly was ahead of Republican Blake Masters in his re-election bid this year with 51.2% of the vote to Master's 46.6%
But young people's loyalty to the Democratic party is not guaranteed, said Kei Kawashima-Ginsberg, the center's Newhouse director. While progressive groups have stirred civic engagement among youth as they promote everything from the environment to civil and abortion rights, young people remain underemployed and, in some cases, saddled with debt. Any candidate who promises tax and other financial relief may win a sizable portion of their vote moving forward, Kawashima-Ginsberg said.
"Just because they voted for Democrats in the past doesn't mean they always will," she told The 74. "That straight ticket voting is over for young people."
Approval of a ballot proposition that would allow undocumented Arizona high school students and other non-citizen residents to qualify for in-state tuition rates at Arizona state universities and colleges had a slight lead Wednesday, with 50.6% of voters favoring it and 49.4% voting no.
The outcome of the race between Hobbs and Lake, who were separated by 4,094 votes Wednesday evening, could be highly consequential for the nation: Arizona will no doubt play a pivotal role in the 2024 presidential election — one in which former President Donald Trump might soon announce his candidacy.
Hobbs, who has served as Arizona's secretary of state since January 2019, defended challenges to the 2020 election by Trump and his supporters. This election season she was roundly criticized for her refusal to debate Lake, a poised, polished speaker who had a slight edge going into Tuesday's election.
Known for being non confrontational and considered by some to be a poor debater, Hobbs said she made the decision because she did not think her opponent, a conspiracy theorist, deserved to share her views on such a large stage. Lake, a Trump favorite, counts Steve Bannon among her supporters. Her campaign mocked Hobbs, taunting her with the quip, "Where's Katie?" and calling her a chicken.
Lake, who called for Hobbs's imprisonment over false voter fraud claims, has said she would only accept the results of her own election if they were "fair." She did not say if she would abide by the voters' will if she lost.
Get stories like these delivered straight to your inbox. Sign up for The 74 Newsletter