As Voters Pick Next Governor, Arizona Cements 'Education Savings Accounts'
The culmination of a decades-long campaign has seemingly secured private school choice in Arizona for thousands of families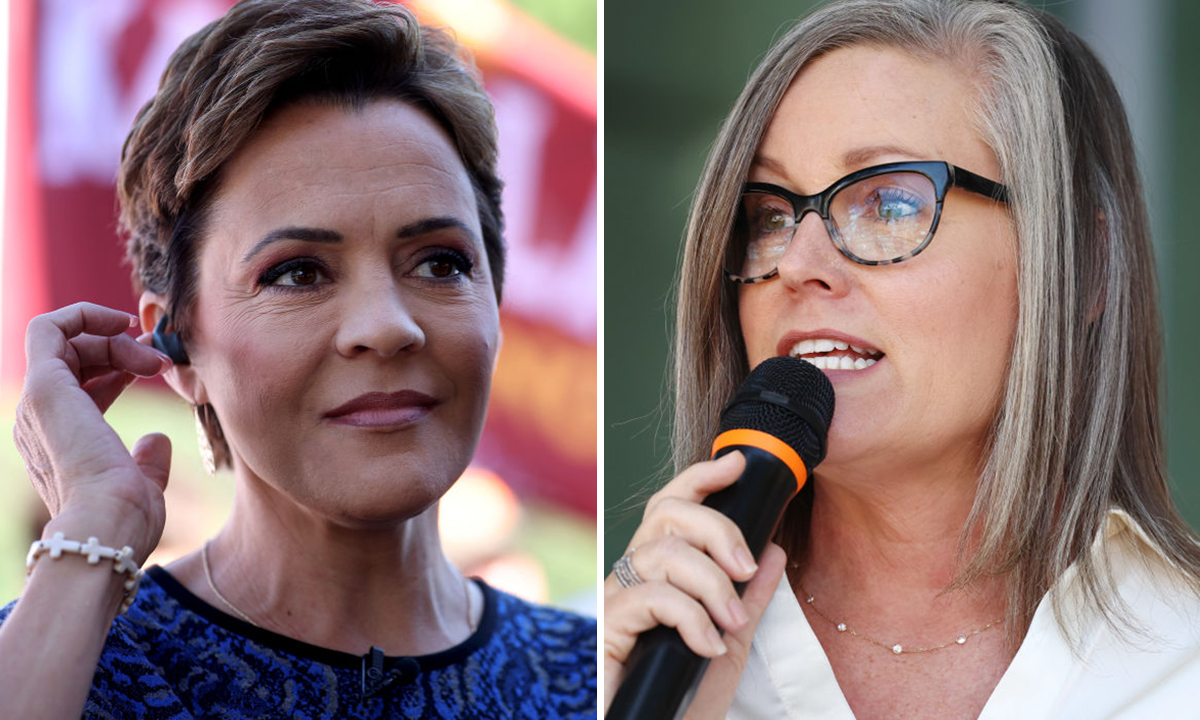 Get stories like these delivered straight to your inbox. Sign up for The 74 Newsletter
Updated Nov. 15
On Monday night, Arizona's Democratic secretary of state, Katie Hobbs, was declared the winner of the state's gubernatorial election by the Associated Press. After nearly a week of tallying, Hobbs led Republican Kari Lake by over 18,000 votes, a margin too large to overcome given the small number of outstanding ballots. In a race that reportedly saw over $40 million of campaign spending, the two nominees were separated by less than 1 percent of all ballots cast.
Lake, one of the most prominent denialists of the outcome of the 2020 presidential election, has not yet conceded .
Amid debates this summer around parental rights, the teaching of controversial subjects, and LGBT issues in schools, Arizona politicians resolved the state's longest-running education dispute.
In a move that generated a fraction of the attention dedicated to Florida's "Don't Say Gay" bill, Republican Gov. Doug Ducey and his allies in the state legislature pushed through an expansion of education savings accounts to all of the state's 1.1 million students. The shift was the latest, and possibly the last, development in a lengthy war over school choice in the state. And as a political event, it may signify more than the hotly contested state elections this fall.
Those campaigns are headlined by the gubernatorial bout, viewed as one of the closest in the country. But even though that race will serve as a bellwether on Election Day, delivering a rare battleground verdict on how well Democrats staved off Republicans' midterm ambitions, its result likely cannot change the trajectory of school policy in Arizona, which will now feature more direct competition between public and private schools. Such sizable growth in ESAs has the potential to reshape the K-12 environment in one of America's few remaining competitive states.
The change was cheered by Republican gubernatorial nominee Kari Lake, a charismatic former news anchor who has been dubbed the "leading lady of Trumpism" for her right-wing views and growing national profile. It was reviled by Democratic hopeful Katie Hobbs, who has captured her own national headlines over the last few years as the state's top elections official. The contest between the two women will decide who leads the way for a newly altered school system.
The local debate over private school choice can be traced back to the 1990s, with escalating skirmishes fought over the past decade. Only four years ago, voters delivered an emphatic rebuke by defeating a similar expansion in a statewide ballot initiative. But Republicans, and particularly the term-limited Gov. Ducey, have kept their heads down and kept pushing in an effort to bring a voucher-like system to Arizona.
This cycle, their persistence was matched by favorable political winds. While the GOP's once-commanding hold over the state legislature has weakened in recent years, the party has also been buoyed by a growing call during the Biden era for more parental control over school governance and practices. The result has been a kind of inversion of the 2018 "Red for Ed" movement, which saw outraged teachers take to the streets and effectively force Ducey to approve a massive increase in school spending. This year, it is defenders of traditional public schools who are seeking to manage the other side's advance.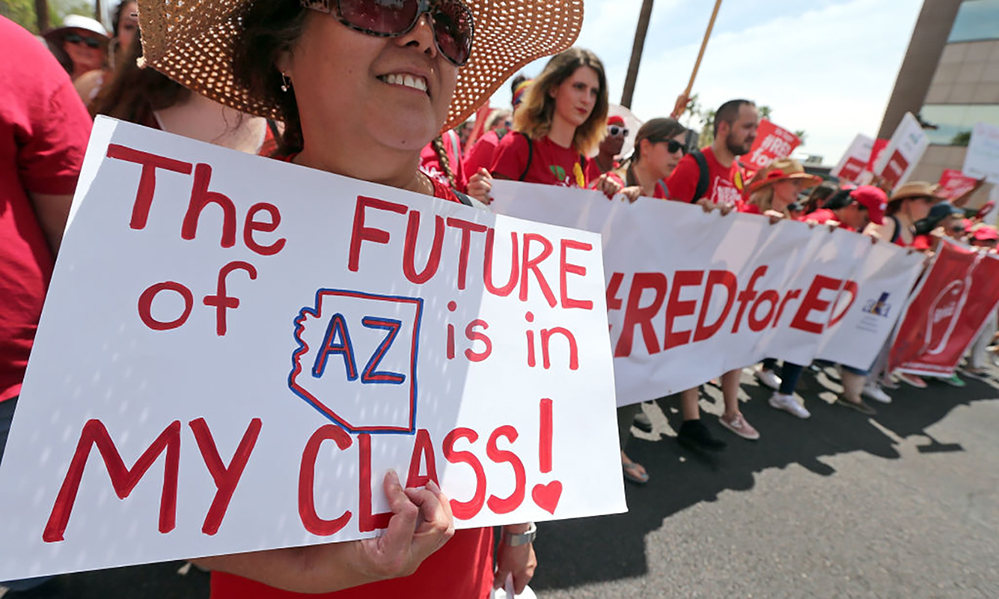 Paul Bentz, a Republican pollster at HighGround Inc., said that Arizona Republicans' dissatisfaction with schools had also sped the ascent of Lake, who has warned against what she characterizes as the political indoctrination of children by teachers. Even if Hobbs overcomes a recent polling swoon to become the state's first Democratic governor in over a decade, he added, the momentum of school choice would be difficult, if not impossible, to reverse.
"For the moment, it feels like they're taking a victory lap," Bentz said. "They've accomplished what they want to accomplish, and it seems like the fight is over."
Chris Kotterman, director of governmental relations at the Arizona School Boards Association, went further, arguing that the fundamental premises of education policy had changed over the last half-decade.
"It used to be that we all agreed that public education is a net positive, and what we were really talking about were the terms under which schools operate — whether there should be more choice or more money spent on them," Kotterman recalled. "Now we see a lot more of, 'The public schools are corrupt, they can't be trusted.'"
'It's hard to argue against'
First enacted in 2011, education savings accounts initially offered a limited number of students — among them, those assigned to persistently underperforming schools, living in foster care, or with parents serving in the military — up to $2,800 per year to spend on schooling, so long as they were not enrolled in traditional public schools. The initially modest amount earmarked through the accounts was steadily increased by the GOP-controlled legislature to about $6,800 today, and parents were allowed to direct it to either private school tuition or other educational costs, such as tutoring or homeschool curricular materials. Within a few years, the credits had dispensed over $100 million to thousands of families.
The most significant change to the policy came in 2017, when Gov. Ducey signed a bill that allowed any family, no matter their circumstances, to apply for an ESA. Though the legislation still included a cap in the overall number of accounts through the year 2022, it was seen as a giant leap forward in the accessibility of the state's school choice environment — and a threat to the funding of traditional public schools, which would increasingly have to jostle with private competitors for education dollars. Within months, teacher-led groups like Save Our Schools Arizona began massing in the state capital to demand salary increases and higher overall education spending, which had dipped substantially since the budgetary crunch following the Great Recession.
Not only did the Red for Ed protests bring Ducey to the bargaining table, securing a gradual pay bump of 20 percent over several years; they also generated a potent counterweight against further experiments in school choice. In the fall of 2018, after gathering hundreds of thousands of signatures, ESA detractors succeeded in putting the previous year's expansion on the ballot, where it was thoroughly rejected by voters.
At the same time, however, Ducey won his bid for a second term, and Republicans maintained control over both chambers of the state legislature in 2018 and 2020. Their majorities intact, conservative lawmakers again voted to extend eligibility for the accounts to any family in Arizona. Paired with an $800 million increase in K-12 funding to bring aboard wavering Republicans, the measure proceeded to Ducey's desk in July, the final validation of the departing governor's education agenda.
An effort by teachers' groups to once again kill the law through the ballot initiative process fell short when they failed to gather sufficient signatures by the legal deadline. Beth Lewis, one of the founders of Save Our Schools Arizona, said the years-long campaign to broaden private school choice was meant to drive families from traditional public schools.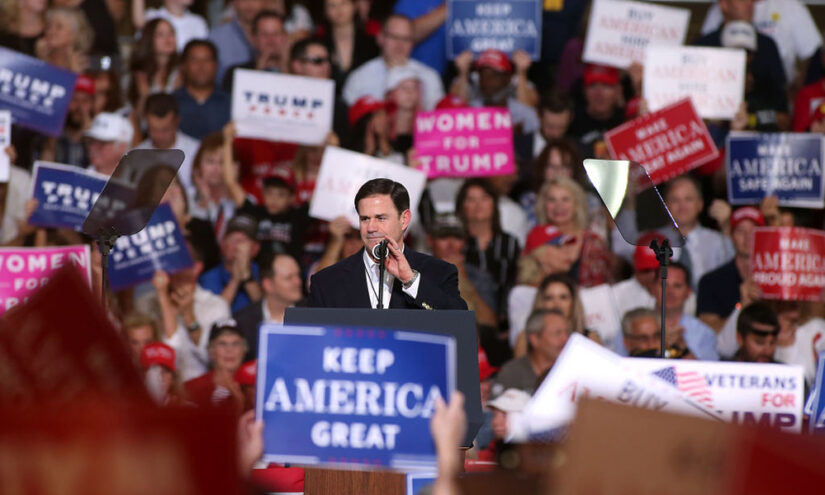 While Republicans added millions of dollars to the state education budget, Lewis argued, "all of that is going to be drained out by universal vouchers, which they passed the same week. They will never give more than they get when it comes to public education."
Mike O'Neill, a Tempe-based pollster and longtime observer of local politics, said that Republicans had hit upon a compelling midterm message in emphasizing their support for more educational options for families. While Democrats have become increasingly formidable in state elections since 2018, flipping both U.S. Senate seats and approaching parity in the statehouse, their prospects for rolling back the tide of reform looked slim, he added.
"Of course, even within the public school system right now, parents have a lot of choice. But if you frame the argument that way — giving parents choice — on the face of it, it's very hard to argue against."
The shadow of Trump
That hasn't stopped Democratic nominee Katie Hobbs, Arizona's secretary of state, from making the case. In her campaign's position statement on education, Hobbs vows to "roll back" the ESA expansion, which she argues is responsible for "defunding public schools."
First elected to her current position in 2018, Hobbs is a former minority leader of the state Senate who generally takes a progressive, if conventional, stance on most K-12 issues. Her policy portfolio on schools is generally broader than Lake's, replete with proposals to increase the number of school counselors statewide, offer more affordable child care and preschool options, and push forward on necessary repairs to crumbling school infrastructure.
A bolstering of the state education budget is also at the heart of Hobbs's vision. Her campaign particularly targets the so-called Aggregate Expenditure Limit, a quirk in the state constitution that caps the total amount that local districts can spend on schools. In a kind of echo of the federal debt limit, hundreds of superintendents have warned that if lawmakers don't vote to raise the cap by next spring, the provision could force them to shave more than $1 billion off state funding — at exactly the moment when, if anything, greater-than-usual resources will be required to restore academic losses resulting from the pandemic.
Such heady policy discussions haven't received much play in the general election campaign thus far. To the extent that education has been discussed, it has sometimes focused on symbolic issues. Lake's campaign has groundlessly accused Hobbs of trying to ban the Pledge of Allegiance and National Anthem from classrooms while serving in the statehouse, but otherwise kept relatively quiet about the more granular aspects of education governance.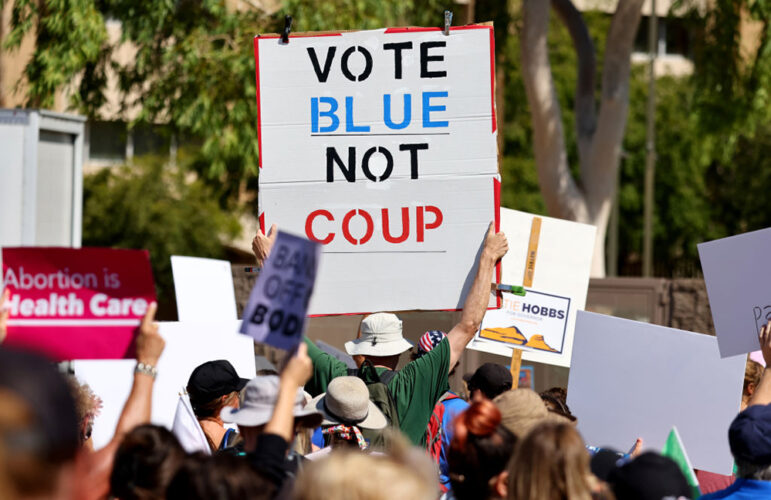 Among the non-education controversies to dominate the campaign has been revisionism over the outcome of the 2020 presidential election. As the state's top authority on elections, Hobbs was charged with certifying President Biden's ultra-tight win two years ago; she has also gained a measure of national fame while contending with a persistent effort among local Republicans to cast doubt on the facts through a long-running and contentious "audit" of ballots in heavily populated Maricopa County. By contrast, Lake has openly called the election stolen and won Trump's support in the gubernatorial race.
In a midterm political environment that is thought to favor Republicans — few local analysts believe Democratic legislative candidates can expect to claim majorities in either chamber this cycle, for example — polls have indicated a close campaign that may be nosing in Lake's direction.
HighGround's Bentz, who has spent years working on K-12 campaigns like bond issues and tax overrides, said he once felt he'd "cracked the code" of communicating with Republican constituencies by emphasizing schools' role in improving quality of life, enhancing property values, and lowering crime. In the aftermath of 2020, however, that messaging had lost some of its effectiveness.
"After Trump lost, some of that dissatisfaction and negativity surrounding the election really found a home in these social issues surrounding schools," Bentz said. "It's created a negative vibe for Republicans around public education."
Choice as a 'bludgeon'
To add to the Democrats' worries, they are struggling to halt the emergence of a potential Republican star in Lake.
The former journalist leveraged her existing celebrity to seize the mantle of conservative populism in the Republican primary, narrowly dispatching Ducey's more moderate lieutenant governor after winning the early endorsement of former President Donald Trump. Along the way — and echoing other Republican candidates this cycle — she has made explicit commitments to rein in what she characterizes as left-wing indoctrination in classrooms, including through the adoption of the Trump-approved 1776 Curriculum. She has even pledged to install video cameras in classrooms to monitor teachers' lessons for political content on controversial issues.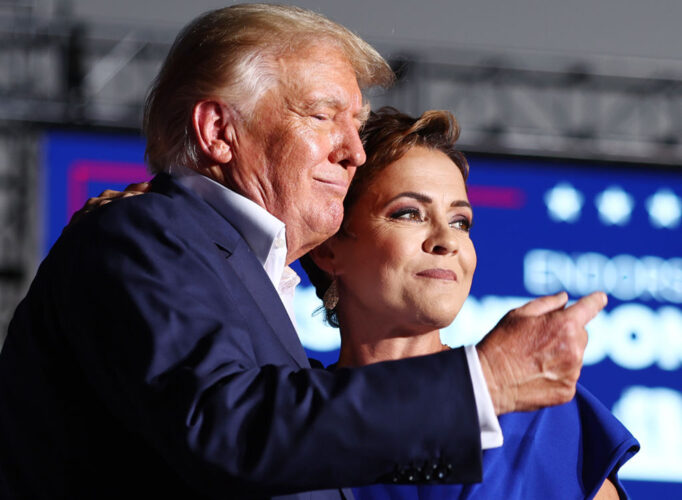 The skeptical outlook on public schools, and the overwhelming focus on social issues, reflects the attitudes of Republican voters, said O'Neill. Since the early months of the pandemic, grave dissatisfaction with local schools has bubbled up from parent activists and reshaped much of the existing education discourse in the state. Not only is private school viewed by conservatives as a valid option among many; it is now seen by some as the only alternative to woke overreach.
"I think what's really behind this is culture wars: 'We don't want critical race theory, and we think the schools are teaching things we don't agree with,'" O'Neill said. "Choice is being used as a bludgeon for that agenda.
And as in other states, where battles over school board seats have become vastly more heated than in previous cycles, education politics has assumed an even greater prominence in local campaigns. In Scottsdale last year, parent activists claimed that their personal information had been gathered and shared by the local board president in a kind of "enemies list." More recently, Charlie Kirk — a nationally known Republican gadfly who leads the Phoenix-based group Turning Point — has helped organize for right-leaning board candidates in otherwise nonpartisan races, and a Republican state Senator unsuccessfully filed a bill earlier this year to allow board candidates run with party labels.
The ASBA's Kotterman said that the surge in education-related pressure had already had its effects on education governance, driving some longtime board members to retire rather than face grueling, ideologically inflected reelection campaigns. Still, he added, the task of steering Arizona's education environment further right would be the work of more than one election, even if Lake succeeds.
"It'll take another two years of sustained energy for this movement to grab majorities on these boards," Kotterman said. "I don't want to say it can't be done because it certainly can, but it's going to be interesting to see how this plays out after this cycle, when we have to get into the business of actually governing school districts."
Get stories like these delivered straight to your inbox. Sign up for The 74 Newsletter