Analysis: The Chicago Teachers Union Election Isn't Until May. But Already, It's Hip-Deep in Drama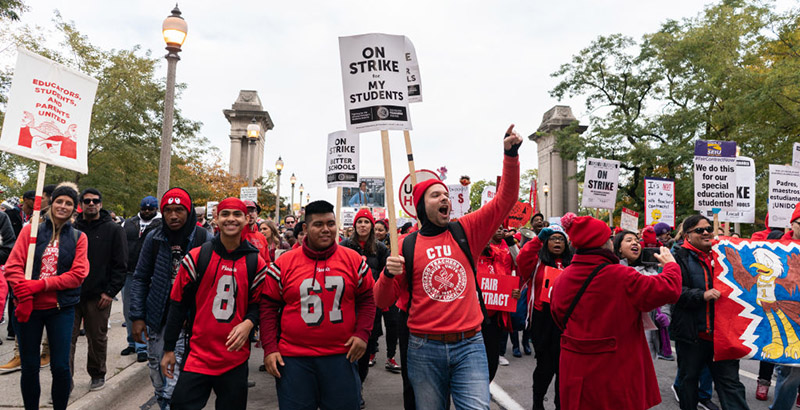 No paywall. No pop-up ads.
Mike Antonucci's Union Report appears most Wednesdays; see the full archive.
You rarely find news about union elections in the mainstream press. This is understandable, since few elections are contested or in any doubt. Public interest is also low, because it is usually difficult to make the case that a change in officers will lead to a change in the union's relations with the school district, lawmakers and the citizenry.
Chicago, however, is different.
For decades now, the Chicago Teachers Union has found it easy to make headlines. Its officers are political players on par with the city's mayor and are often rumored to be mayoral hopefuls. Unlike most teachers unions, CTU has a robust history of internal opposition caucuses that have successfully challenged incumbents for leadership positions.
The latest attempt is by Members First Chicago and its presidential candidate, Mary Esposito-Usterbowski. Jesse Sharkey, the incumbent president, is not running for re-election. Vice President Stacy Davis Gates is seeking the top post.
Members First thinks the strikes of 2019 and 2022 have harmed the union more than they have helped and seem to want a more productive relationship with the mayor and the district. The incumbent Caucus of Rank and File Educators (CORE) counters by pointing to its record of pay raises, class size limits and COVID safety protections.
The all-member election, set for May 20, is already hip-deep in drama. The latest chapter concerns a social media campaign supporting Members First. It is run by Lisa Schneider Fabes, a school board member in Wilmette, a town 14 miles north of Chicago. She oversaw Mayor Lori Lightfoot's transition team in 2019.
Everyone involved denies any current connection among Schneider Fabes, the mayor and/or Members First. CORE sees it differently. A CTU member discovered the role of Schneider Fabes and the union tipped off the Chicago Sun-Times, which ran a lengthy story on it. CORE called the outside campaign an "obvious and craven attack on our internal democracy."
The perception that forces allied with the mayor are supporting Members First make it difficult for the caucus to claim it is for, well, members first. Unfortunately for CORE, it has a few problems of its own.
For one, the union reported to its house of delegates that it was running a $3.5 million budget deficit. And Substance News, which has been covering internal conditions at CTU for 30 years, reported this week that CORE has fractured.
A new caucus of former CORE members was just formed and evidently will be running candidates in May. Called the REAL Caucus, its platform-in-progress states that "the current leadership has lost touch with the difficulties that educators face in our schools."
Katie Osgood, one of the founding members of REAL, posted on Twitter that "the reason many of us have broken from CORE is we see how business unionism & union bureaucracy have crept into CORE's leadership style. We are trying to propose an alternative that gets us back on the path of REAL rank & file unionism."
REAL also noted, "We are not here to play spoiler in this election. We are here to win! CTU rules state that if nobody gets 50% of the vote, there is a runoff so the winner has to get more than half the union's support regardless."
This is a crucial point, since CORE owes its initial accession to power to the runoff rule. In 2010, four opposition caucuses challenged incumbent President Marilyn Stewart and her United Progressive Caucus. Stewart eked out a win in the first round with 32.3 percent of the vote, but Karen Lewis and CORE were able to unite the opposition in the runoff, which Lewis won easily.
It's impossible to gauge the overall strength of the opposition in this election, never mind the relative strength of the opposition caucuses to each other, so who can tell if this will lead to a close race?
Regardless of what outsiders think of the Chicago Teachers Union, members should be heartened that they at least get to choose among differing visions for its direction, and have a realistic opportunity to discard one in favor of another. Too many teachers union members never get that chance.
Get stories like these delivered straight to your inbox. Sign up for The 74 Newsletter