Analysis: Schools Are Open, and Unvaccinated Adults Are Around Your Children. Are There Vaccine Mandates Or Not? And Is This a Problem?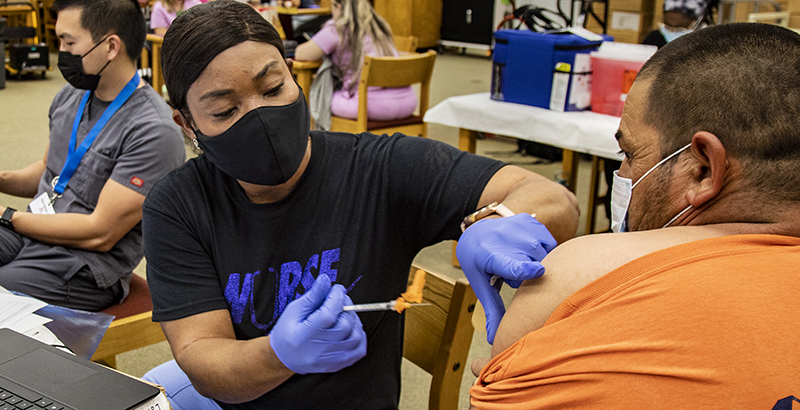 No paywall. No pop-up ads.
Mike Antonucci's Union Report appears most Wednesdays; see the full archive.
According to the Centers for Disease Control and Prevention, about 96 percent of school districts are now offering full-time, in-person instruction. Stakeholders, including the two national teachers unions, are on board with vaccine mandates for school employees. So after more than a year of battling, everyone should be relieved that those major issues have been resolved.
Not a chance.
It turns out to be relatively easy to issue a vaccine mandate and an entirely different matter to implement and enforce it. In many places, the mandate is accompanied by bargaining, cajoling, exemptions, injunctions and jurisdictional complications — all of which make it virtually certain that your children are spending at least part of their school day indoors with an unvaccinated adult.
You might find this alarming because the whole point of school closures was to eliminate exposure of children to COVID-19 in classrooms. Or you might not find it so alarming, because the Centers for Disease Control and Prevention has consistently found that "staff-to-staff transmission is more common than transmission from students to staff, staff to student or student to student."
Even President Joe Biden might wonder why a vaccine mandate issued from the White House has had so little effect. The president directed that any employer with more than 100 employees would have to require vaccines or weekly testing. This would seem to affect most school districts in the United States. But as Nat Malkus points out in The Hill, the mandate covers no public school teachers in 24 states because of the jurisdictional limits of the federal Occupational Safety and Health Administration.
The option of weekly testing is also a poor substitute for vaccination, since an employee could have already spread the virus before receiving a positive test result.
In New York City, a federal judge issued a temporary injunction against a vaccine mandate. An appeals court lifted the injunction, but lawyers representing teachers who brought the suit said they will petition the U.S. Supreme Court. The city's Department of Education reports that about 29,000 school employees have yet to upload proof of vaccination.
Over at Chalkbeat, Matt Barnum reports, "Even in the strictest districts, the timeline allows teachers to be in the classroom for a month or two before being fully vaccinated."
With all the media attention on vaccine mandates, one reality has been largely overlooked.
"In fact, it doesn't appear that any large school district started this year with a full vaccine mandate in place, though the vaccine was available beginning last spring and teachers often were provided with early access to it," wrote Barnum.
Research by the University of Washington's Center on Reinventing Public Education shows that the majority of school districts do not require teachers to be vaccinated. Even so, they are now being given priority access to booster shots.
"That is a major unresolved problem," said CRPE Director Robin Lake. "Why do we keep giving teachers priority access to the vaccine without requiring they all do their part to protect kids?"
No one thinks these policy choices are easy, but they should adhere to some sort of internal logic. If vaccinated employees are an absolute requirement for schools to operate in person, then there should be no exceptions. The unvaccinated should not be in contact with students or other staffers. What to do with them instead is a matter for each school district (and probably union) to decide.
If, on the other hand, we are going to allow unvaccinated staffers to interact with students and other employees, then why were schools closed for 18 months?
Get stories like these delivered straight to your inbox. Sign up for The 74 Newsletter