School Reopening, By the Numbers — How 100 Top Districts Are (and Aren't) Adapting: Huge New Demand for Remote Learning, Rethinking Bans on Virtual Options & More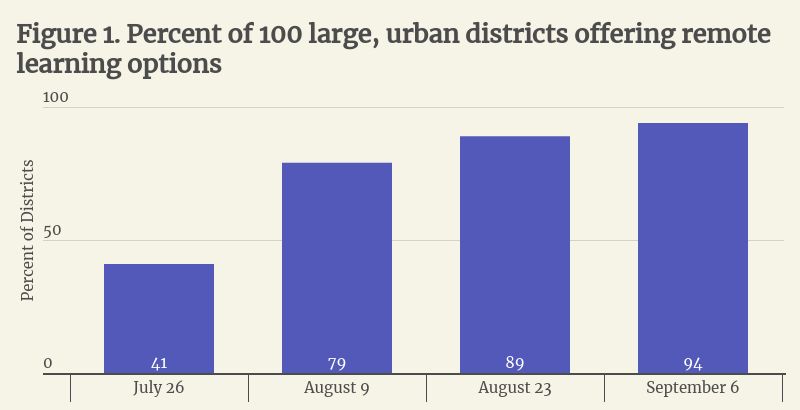 Support The 74's year-end campaign. Make a tax-exempt donation now.
This the latest in a series of weekly analyses of COVID-19 policies in 100 large and high-profile school systems, produced by the Center on Reinventing Public Education at the University of Washington, Bothell. You can see the full archive here. 
During the spring, COVID-19 cases were on the decline, vaccines were being distributed and most states made bold commitments to fully reopen schools in the fall. In a bipartisan rush to incentivize in-person learning, some states restricted virtual options. New Jersey barred districts from operating online programs, and the Tennessee State Board of Education approved a permanent rule preventing districts from offering remote learning except during declared emergencies.
These well-intentioned plans quickly became outdated over the summer, as the Delta variant caused spikes in COVID-19 cases and the more contagious strain meant children, especially those too young to be vaccinated, were more likely to become infected.
This fall, districts across the country are pivoting to create remote options for families facing complicated health decisions and those not yet comfortable sending their unvaccinated children back to school. Still, these options are not available to all students. And many districts are setting enrollment caps on online classes, meaning some students who want access to an online option might not be able to enroll in one.
Local demand for virtual learning options increases
Between July and September, the number of districts in our nationwide review of 100 large and urban school systems offering remote learning more than doubled, from 41 to 94.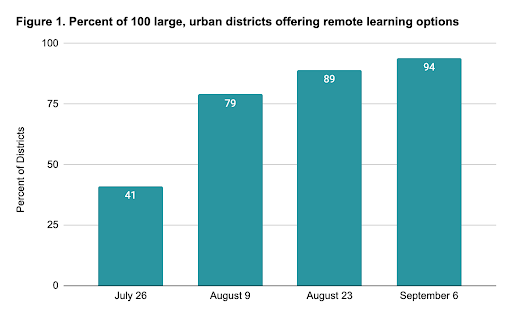 While many districts anticipated the need to continue offering virtual options and started planning for them over the summer, some remote programs rolled out as recently as this month.
San Antonio Independent School District, for example, just announced a virtual program for up to 700 students with medical challenges, their siblings and students who have undergone trauma during COVID-19.
Districts that created or expanded online learning options earlier in the year saw a greater-than-expected rush of demand. Charlotte-Mecklenburg Schools, for example, had a little over 600 students enrolled in elementary and high school virtual learning options as of mid-August. In the following weeks, enrollment nearly quadrupled to over 2,300 elementary, middle and high schoolers, with 183 on the wait list. Gwinnett County in Atlanta saw a similar surge, with online enrollment actually declining from June (3,400 students enrolled) to July (3,300 students) and then escalating to 5,300 students in August.
Of the 100 districts in our review, at least 29 have set enrollment caps or introduced wait lists for virtual options.
Some districts were not prepared for the volume of students seeking these programs: Sacramento City Unified only had enough teachers for a quarter of their registered virtual learners a week into the school year. The Hawaii Department of Education is looking to hire out-of-state teachers to satisfy the increased demand.
Some state leaders have caught up to these districts' actions and are providing more options for remote learning this school year, but others still face pressure from districts and families to authorize more virtual instruction.
In late August, Tennessee Commissioner Penny Schwinn announced she would grant seven-day waivers to districts that submitted plans to shift specific schools to remote learning in response to COVID outbreaks. Schwinn has since approved eight district plans in response to a groundswell of requests from advocates, including parents and local leaders, for virtual learning options this fall.
In New Jersey, the Bridgewater-Raritan board of education is asking state leaders to reconsider the ban on online instruction. The board passed a resolution that is heading to the governor's office, the state Department of Education and the New Jersey School Board Association.
In Texas, the legislature recently approved a bill that would allow state funding to support district remote learning programs. This came after large school districts, such as Austin and Dallas, launched virtual options with the intent to use American Rescue Plan funds to cover operating costs.
Still, many remote learning programs are struggling to accommodate demand or are not accessible to all students. In addition to removing barriers to remote learning programs, states should ensure that districts are providing all students access to high-quality remote learning options.
Remote learning partnerships are helpful, but rare
Most virtual options reviewed are standalone programs, meaning they provide a remote alternative to in-person instruction. While most districts we track are staffing remote lessons with their own teachers, some are forming partnerships with external programs offered by the state or independent organizations.
Indianapolis Public Schools is contracting with Paramount Schools of Excellence (K-8) and Phalen Leadership Academies (K-12) to operate online schools that offer small-group instruction, tutoring, social-emotional resources for students with disabilities and English learners, enrichment and electives. District leaders have said they want the schools to develop online learning programs that improve upon the low quality and lack of student engagement that plague many virtual charter schools.
However, most of these arrangements are all-or-nothing. Parents can either enroll their children as alternatives to in-person learning or keep them in brick-and-mortar schools. Only a fraction of districts in our review (5 of 100) are using their virtual school or a similar program to support learning for students who are temporarily out of class due to school closures or quarantines.
Arizona State University Prep Digital announced a partnership with an Ohio charter school in which the online school will provide small-group instruction and tailored assignments for students in quarantine or isolation, so they can pick up where they left off when they return to class. ASU Prep Digital plans to implement similar partnerships with other schools around the country. Still, these types of arrangements remain rare.
Remote learning programs vary by instruction type and availability of supports
Many districts have limited information about their remote offerings and do not mention whether real-time instruction, academic support such as tutoring, or enrichment options will be available to virtual learners.
Since some districts offer multiple remote learning options, our review covers a total of 105 programs. Of those, about half (53) communicate plans to serve both students with disabilities and English learners. Another 1 in 4 (25) describe how they will serve students with disabilities, but not English learners.
Some restrict which students with disabilities can participate, though, with these children usually assessed on a case-by-case basis. Kansas City Public Schools, for example, states that a student's disability accommodation team will meet to decide whether the virtual academy is appropriate before the child can enroll.
Among the remote programs we reviewed, the most common type of intervention or support was the opportunity to check in with teachers. More than half (60 of 105 remote programs) committed to offering this resource. Less than half mentioned academic interventions, such as tutoring, extra learning time or small-group instruction. Though the majority of remote learning programs (67) offered some combination of electives or enrichment activities, less than a third (31) offered both.
Though many districts had 18 months' worth of preparation and experience designing virtual learning experiences, a large number provide few details about what parents and students can expect. Just 29 of the 105 programs we reviewed explain how they plan to support students' mental health or social and emotional learning.
Three ways states and districts can prioritize quality virtual instruction
Surveys show parents are divided about the role of remote learning. While the National Parents Union reports that 53 percent of parents support sending their children back to in-person learning, another survey finds that 48 percent of elementary parents and 64 percent of high school parents support remote learning options.
These parents' preferences reflect the dual realities school districts are contending with this year. On the one hand, remote learning was less effective than full, in-person instruction last year. The longer schools were closed, the greater the academic and social-emotional toll for students. On the other hand, remote learning can provide an essential stopgap for schools facing COVID-19 outbreaks or needing to accommodate students who are forced to quarantine. And long term, it has the potential to give schools and families new flexibility around where and when learning happens.
First, states and districts must establish standards and goals that ensure online learning programs provide high-quality instruction. Colorado, a long-time leader in virtual instruction, established a detailed rubric for approving online learning programs that operate across district lines, covering critical issues like governance, curriculum quality and transparency.
Second, states must provide districts with clear and consistent rules for remote learning programs. The South Carolina State Board of Education has approved 51 district-operated virtual programs based on a set of regulations and guidelines modeled on pre-existing charter school regulations to ensure teachers are certified, that schools provide access to live instruction and that students actively participate in online classes.
Third, schools and districts must ensure that all students have equitable access to the services and support they would receive if attending in-person school. Denver Public Schools stands out for outlining detailed information about what parents should expect for multilingual students and children with disabilities. For example, the district recommends that students with Individualized Education Plans should reevaluate their learning goals and instructional programs if they choose to move to remote learning.
The pandemic has prompted an explosion of new and expanded online learning programs across the country. New virtual schools are opening and more students are flocking to established online programs. States and districts are reconsidering how they regulate, measure and account for remote learning programs.
The decisions state policymakers make this year will reshape the future of online learning. Will they create a world in which snow day interruptions are a thing of the past, and districts harness the potential of virtual instruction to give students and teachers more freedom to decide where and when learning happens? Or will the raft of new and expanding online schools simply lead to more students in virtual classrooms with low levels of engagement and poor academic outcomes?
For now, one thing is certain: Schools cannot afford to repeat the failures of remote learning that did not work for students or teachers during closures last year.
Christine Pitts is a resident policy fellow at the Center on Reinventing Public Education. Cara Pangelinan is a research assistant at the Center on Reinventing Public Education.
Support The 74's year-end campaign. Make a tax-exempt donation now.