Analysis: Police in Schools, Critical Race Theory and a Plummeting Delegate Head Count at NEA's 2021 Virtual Assembly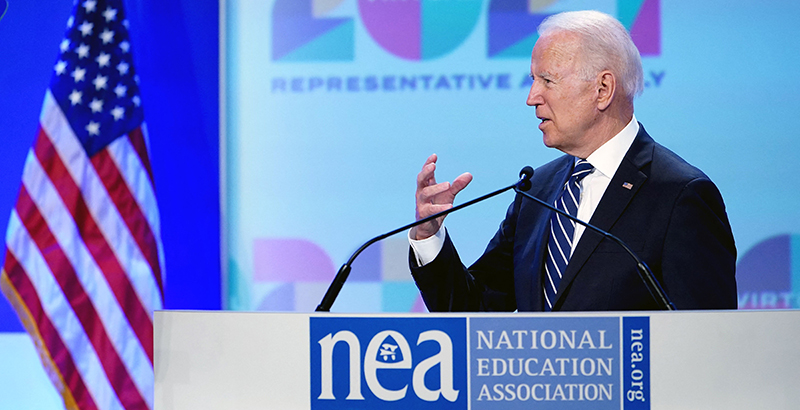 Mike Antonucci's Union Report appears most Wednesdays; see the full archive.
For the second consecutive year, the National Education Association was compelled to organize a virtual representative assembly in lieu of the mammoth in-person convention it customarily holds. Last year's agenda was extremely limited. Delegates could only listen to speeches and presentations online, and then vote by mail on union officers and the budget.
This year, improved technology enabled NEA to schedule a full slate of business. Delegates were able to wait in a phone queue to debate or ask questions, and an online system allowed instantaneous up-or-down voting on all measures. Pursuant to federal law, voting for officers cannot be conducted online, and so delegates will choose union officers by mail during the summer.
Certainly there were difficulties in trying to manage such a large crowd online, but the proceedings were no more confused than is the norm at the union's annual in-person events, and overall, the technology seemed to work satisfactorily.
Other problems, technology couldn't fix.
Delegate attendance at NEA conventions has been falling for years, from a high of almost 10,000 at the 1998 assembly to the low 6,000s more recently. Without the need for travel, out-of-pocket expenses or even a brief absence from home over Independence Day weekend, the time was ripe for attendance to improve. The numbers looked good initially, as 6,702 delegates signed up.
But when opening day arrived, only 5,591 logged on. Even this number was inflated when it came to debating and voting. Most votes totaled in the 4,000 to 4,500 range.
At least publicly, NEA chose to ignore the relative lack of interest.
"Nearly 8,000 delegates from across the country gather to fairly and democratically elect officers, approve resolutions and consider amendments, paving the way forward for our union," read a July 3 NEA tweet.
That's making "nearly" do some heavy lifting.
Delegates submitted 160 new business items in 2019. It wasn't surprising that a June 15 deadline this year reduced the number to 66. However, considering the ultimate outcome, one wonders if the money and time spent on the technology to hold a virtual assembly was worth it.
Of the 66 items, 11 were ruled out of order or withdrawn. Ten were voted down. A full 22 were referred to an NEA standing committee without a recommendation. That left only 23 that were approved. Of those, nine called on NEA to use its print and social media outlets to publicize something.
The substantive policy initiatives were generated by the union's board of directors and executive committee. NEA formed a "Task Force on the Future of Assessments" and released a set of five principles for "ensuring that all students have access to an equitable, robust system of asset-based assessments designed by educators in partnership with stakeholders that values the full breadth of their knowledge and skills."
Evaluate NEA's principles for yourselves, but I think the key phrase is the one seeking a system that "decouples student assessment from tracking, promotion/retention and graduation decisions."
Another new business item created a task force to identify criteria for "safe, just and equitable schools, including exploring the role of law enforcement in education." It also called for a campaign to teach critical race theory in classrooms and oppose efforts to ban it. That resolution was posted on the NEA website delegate page but later taken down, along with the budget document, membership reports and everything else.
Perhaps the task force will do some good work, but initiatives like these are also a way to forestall more immediate and radical measures. One defeated new business item from an Oregon delegate called for NEA to form a committee to "make recommendations to the labor movement on what role we should play in putting an end to police unions' ability to protect violent cops, harmful policing practices and racist policies that too often lead to the terrorizing and deaths of our students and their family members."
NEA has been riding the fence on the question of police unions and the presence in schools of sworn officers, many of whom are NEA members.
It's also useful to note that back in 2015, NEA passed a new business item vowing to battle institutional racism. Six years later, I defy any education policy person to identify a single NEA accomplishment relative to it.
It won't be the policies coming out of NEA headquarters or from delegates that will determine the immediate future of public education. It will be whether 1.5 million K-12 students return to the fold after missing more than a year of school. Not a single new business item mentioned this startling enrollment drop or what to do about it. As long as the teacher hiring continues, the unions are not worried.
Support The 74's year-end campaign. Make a tax-exempt donation now.