New Federal Data Confirms Pandemic's Blow to K-12 Enrollment, With Drop of 1.5 Million Students; Pre-K Experiences 22 Percent Decline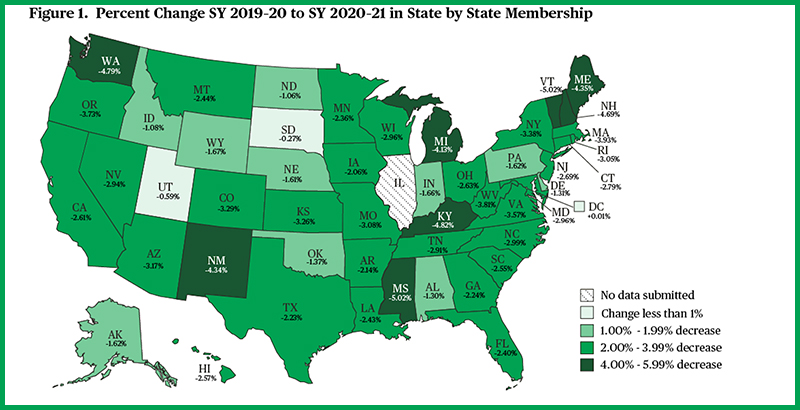 Updated June 29
Get essential education news and commentary delivered straight to your inbox. Sign up here for The 74's daily newsletter.
Data released Monday revealed a startling decline in the number of American children attending public schools: Total K-12 enrollment dropped by roughly 3 percent in 2020-21 compared with the previous school year.
The overall number obscures an even more dramatic drop among the youngest children. According to the data circulated by the National Center for Education Statistics — the federal agency charged with analyzing and disseminating information about schools and education — the combined number of preschool and kindergarten students decreased by 13 percent last year. All told, the decline is the largest since the turn of the century.
U.S. Secretary of Education Miguel Cardona said that in order to help students recover from the setbacks of the last year, educators needed to re-engage with families whose ties to schools had been frayed by COVID-related upheaval.
That work, Cardona added in a statement provided to The 74, "includes preparing to fully re-open schools for the fall, providing summer learning and enrichment opportunities, and investing in high-quality preschool, which we know is crucial for connecting children with necessary supports—particularly our youngest learners with developmental delays and disabilities."
The NCES findings, based on figures collected from state education authorities, were characterized as preliminary, and final results will be made available next spring. While 49 states and multiple U.S. territories submitted all the relevant data, Illinois missed NCES's deadline, and a handful of other jurisdictions did not provide statistics for pre-kindergarten.
Still, the overall picture of diminished enrollment confirms some of the impressions formed by education observers over the last year, as the disruptions triggered by COVID-19 and remote learning drove many families to switch to private schools or homeschooling. While final numbers are yet to be released, it is believed that thousands of high schoolers may have dropped out of school since their classrooms were shuttered last spring.
A 3 percent decline, measured against a national public school population of 51.1 million during the 2019-20 school year, amounts to a drop of roughly 1.5 million pupils.
While the softening in enrollment was seen in every area of the country, NCES's figures show that it was felt much more severely in certain states than others. Twenty-nine states lost between 1 and 3 percent of their students year over year; Utah and South Dakota, along with the District of Columbia, the Virgin Islands, and American Samoa, saw decreases of less than 1 percent; the rest of the country lost more than 3 percent — including Vermont, Mississippi, and Puerto Rico, which each saw declines of more than 5 percent.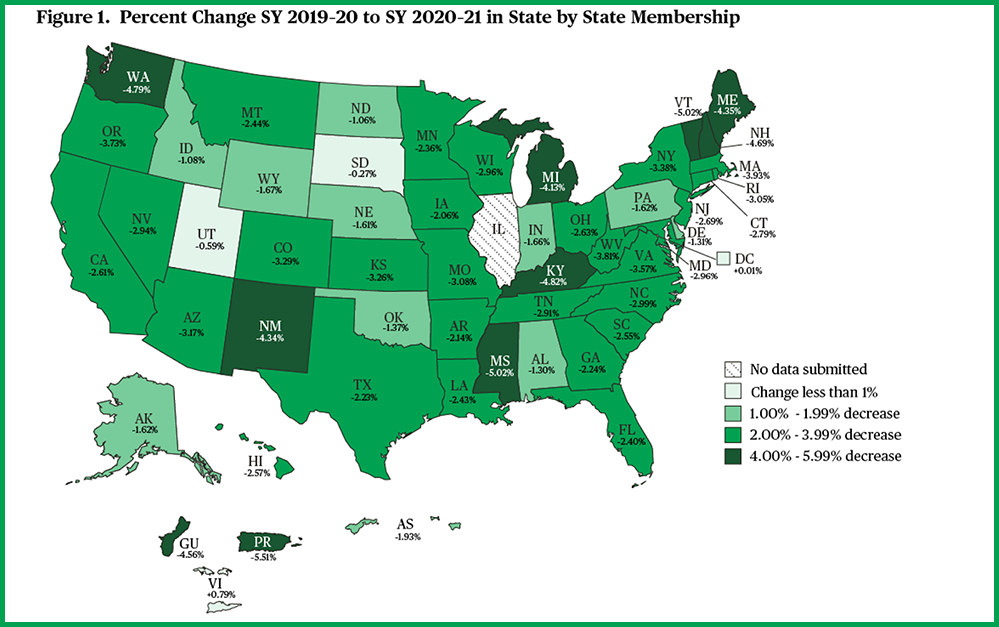 Ross Santy, the agency's associate commissioner for administrative data, highlighted the rarity of American classrooms losing students.
"K-12 enrollment in our nation's public schools has been slowly increasing almost every year since the start of this century," Santy said in a statement. "Before this year, in the few recent years where we have seen enrollment decreases, they have been small changes representing less than 1 percent of total enrollment."
Shrunken enrollment was also concentrated in specific age bands. The number of high schoolers fell by just .4 percent, while elementary and middle schoolers accounted for a 3 percent decrease. By contrast, enrollment of kindergarteners declined by three times as much, while the pre-K population plunged by an astonishing 22 percent. Those results confirm prior media reporting, which indicated that many families were choosing to keep their young children home longer than expected rather than sign up for virtual learning in the early school years.
Robin Lake, director of the nonpartisan research organization Center on Reinventing Public Education, said that the fall in K-12 enrollment, while somewhat predictable, still left questions about whether the families who have exited school systems over the last 16 months would return by September. The number of families choosing to homeschool their children reportedly doubled during the past school year, while applications to both virtual and brick-and-mortar charter schools has also spiked in many areas.
For kids making their way back to school, or enrolling for the first time after a "redshirt" year, it would be vital to make up for the missed opportunities to learn and interact with their peers, Lake remarked.
"Not only have a lot of these kids not been in school, they haven't been in normal play situations," she said. "They're coming in having to learn how to engage with other kids appropriately, and so having supports in place to help navigate those realities will be important."
Many districts now expect to see a "kindergarten surge" in the fall, as millions of children from the ages of 4-6 enroll in school for the first time. Lake said that districts would have to be prepared to meet the rush of young kids with the necessary staff, classroom space, and teaching resources.
"These kids are owed a lot in terms of the time they've missed learning things, playing with other kids, all of that stuff. So we're encouraging school districts to put those kinds of supports in place this summer and try to reach as many kids as possible to address some of those foundational skills."
Support The 74's year-end campaign. Make a tax-exempt donation now.