Analysis: By Paying Stipends to Schools' Teaching Staff, Districts Can Add Learning Time Without Breaking the Bank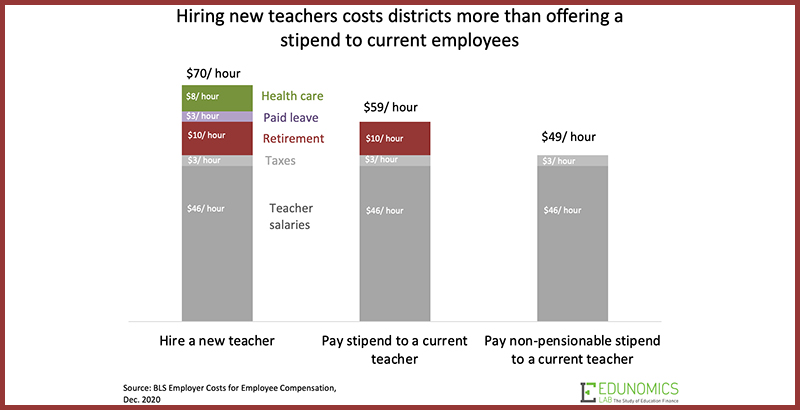 Get essential education news and commentary delivered straight to your inbox. Sign up here for The 74's daily newsletter.
The $190 billion in federal relief funds presents school district leaders with a conundrum. They might want to add time for students, whether through tutoring, summer school or an extended school day or year, but this is one-time federal money, and programs like these often entail taking on recurring labor costs.
So how do districts get more labor without locking themselves into long-term financial obligations?
As my colleague Marguerite Roza has suggested, one option is to start by offering existing teachers a stipend to take on additional hours. Some might want the extra paid work, and, since districts have already paid for a full year of health benefits, the hourly rate would be less than hiring a new employee would cost.
Let's do the math.
According to the latest data from the Bureau of Labor Statistics, districts spend about $70 per hour per teacher. But teachers receive an average of only $46 per hour in salary; the rest goes mainly toward benefits.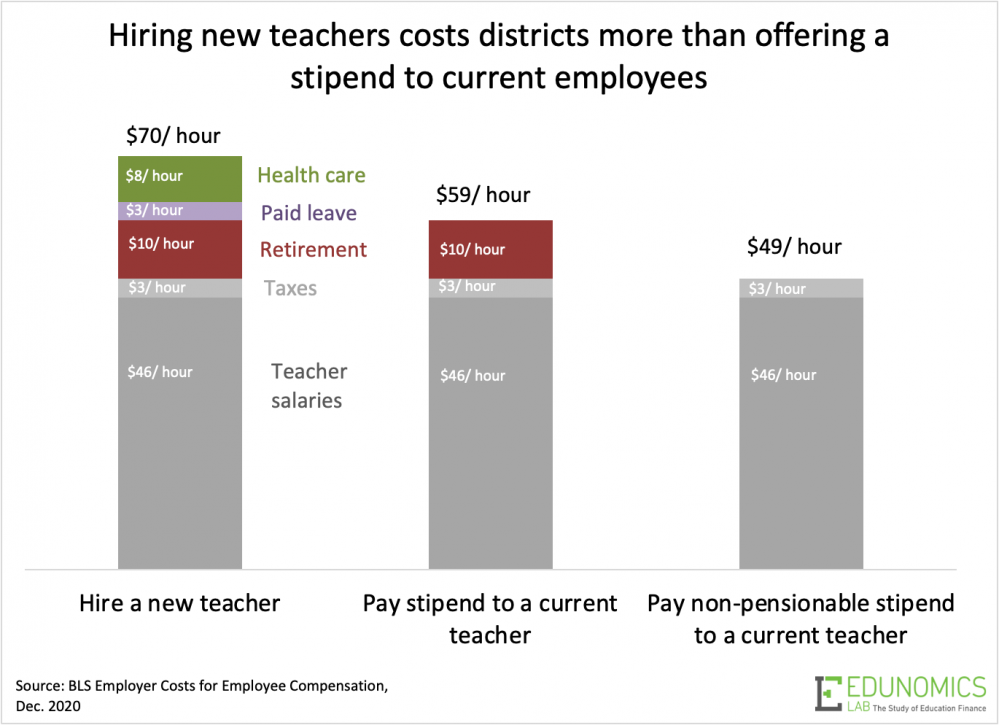 That presents districts with an opportunity. Teachers, for example, are more likely than other workers to take on second jobs. This year has been hard and stressful, but some educators might be willing to provide additional learning time for students and appreciate the extra income.
Our Edunomics Lab Certificate in Education Finance program asks district leaders to run the per-hour calculations to see how stipends for current staff can help them get more for their dollar than making new hires. That's because while most teachers work a 10-month contract, district health benefits cover a full year. If a district were to add time for students by offering stipends to existing staff, those would not come with any new health care costs.
That represents a significant saving, and it offers a way for districts to provide significantly more services for students. If a district hired new staff with health benefits, for every $1 million the district spent, it could afford to "buy" 14,310 hours of programming. If instead the district used existing teachers at the same hourly rate, it could offer an additional 2,648 hours of programming to students (18.5 percent more) for the same $1 million cost.
Stipends for teachers are relatively common, but there's an additional step districts could take to stretch their dollars even farther: As Roza and Hanine Haidar, a former Edunomics Lab research fellow, modeled in another paper, districts could designate the stipends as non-pensionable. That is, neither the district nor the employee would make pension contributions based on the stipend amount, and the stipend would not add to the employee's retirement benefit.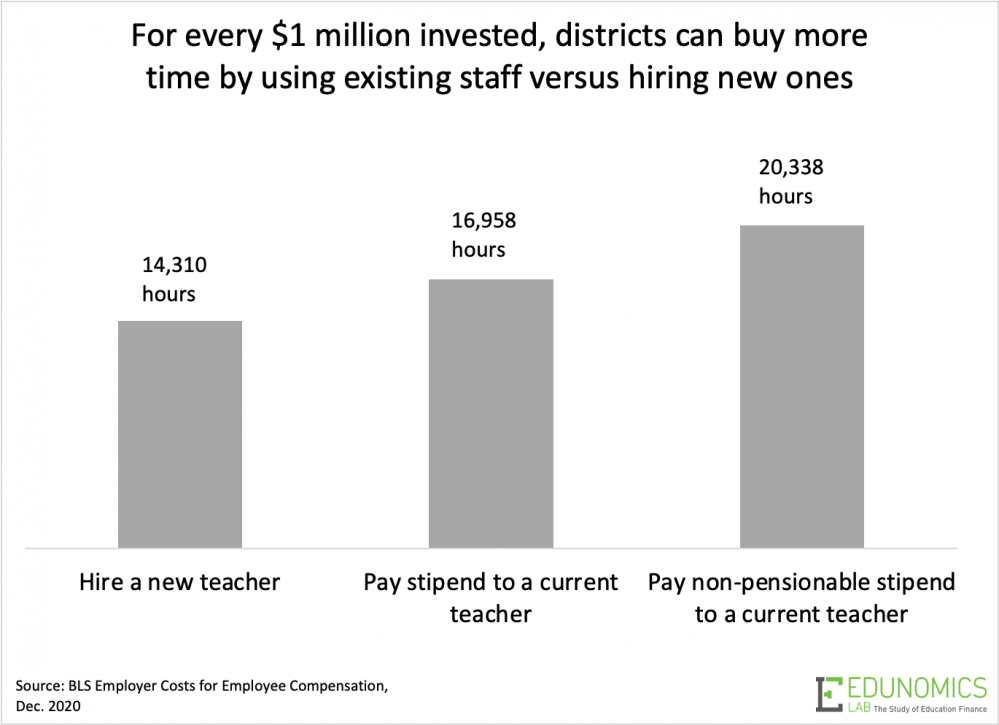 At first blush, this may sound unnecessarily stingy, but hear me out. Pension formulas in most states look only at an employee's final three or five years of salary. That is, if someone earned a pensionable stipend but was more than five years away from retirement, the stipend would not affect the pension. In fact, offering a non-pensionable stipend would save money for everyone who wasn't in those final years, because they also wouldn't owe employee contributions on the money.
And there's more: Allowing one-time stipends to enhance the pensions of late-career teachers carries a long-term financial impact for all other educators. In a 2014 paper, my colleagues estimated that every $1,000 used to boost late-career teacher salaries adds $10,000 to $16,000 in new obligations to a state's pension plan. In turn, those obligations raise the amount owed by everyone else, which effectively passes the costs on to the next generation of teachers.
There's also precedent here. Over the years, large districts such as Newark, New York City and Chicago have offered bonuses, retroactive pay or other one-time payments that were non-pensionable.
If districts were to offer stipends to their current staff, and make them non-pensionable, they could stretch their dollars even further. For every $1 million the district spent to add time, it could afford to "buy" 6,000 more hours (42 percent more) if it used non-pensionable stipends than if it hired entirely new staff.
Teachers would also benefit from the extra stipends. Not only would they get a chance to make more money, but all of that money (save for taxes) would go directly into their pockets.
There are other alternatives, of course. Most tutoring companies charge far less than the average teacher earns per hour. Districts could select high-quality contractors to stretch their dollars to serve even more students.
In short, districts looking to add more time for students have several options, and stipends to current staff offer a number of advantages. Educators could earn more money doing the job they love, students would get the benefit of more time with their teachers and districts would maximize their federal relief funds without adding to their long-term financial obligations.
Chad Aldeman is policy director of the Edunomics Lab at Georgetown University.
Get stories like these delivered straight to your inbox. Sign up for The 74 Newsletter