Jackie Goldberg, Former California Assemblywoman and Los Angeles City Council Member, to Rejoin LAUSD Board After Decisive Victory in Tuesday's Special Election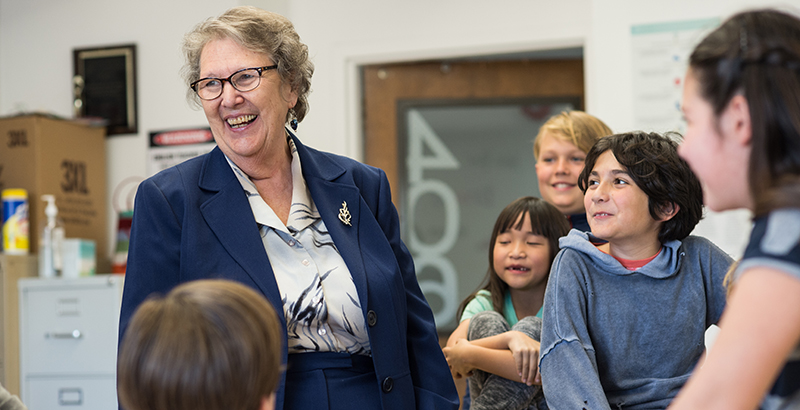 This article was produced in partnership with LA School Report
Jackie Goldberg will rejoin L.A. Unified's school board after a decisive win Tuesday in the Board District 5 runoff election.
Goldberg, who represented the board district three decades ago, clinched 72 percent of the vote while former mayoral aide and L.A. Unified parent Heather Repenning took 28 percent, according to semi-official results announced by the county late Tuesday. The Los Angeles Times reported that Repenning had called Goldberg to concede.
"I do believe in the deepest part of my heart that it was the strike of the teachers … who woke up the public to what has happened to public education," Goldberg told the Times. She was United Teachers Los Angeles's pick and has aligned with the union on calls for new funding for district schools and increased scrutiny of independent charters.
She quickly rallied her supporters to continue to fight for schools by getting out the vote to pass Measure EE, the parcel tax on the June 4 ballot that would raise $500 million a year for L.A. Unified schools.
"We need a movement to make the changes we need," Goldberg told supporters Tuesday night in a video posted by Kyle Stokes of KPCC and LAist. "And that's why, as soon as this campaign ends, we're starting tomorrow on EE."
Goldberg is expected to swing the board toward a more pro-union majority as members contend with the district's deep ideological divides on charters' future role in public education, its growing need for new revenue sources and a lack of consensus on how to improve student learning.
Goldberg has said that a main driver of her running for school board was keeping the seat away from charter school proponents. UTLA poured $1.28 million in outside expenditures into her campaign as of May 10, according to city ethics commission data.
Superintendent Austin Beutner, whom Goldberg has criticized for his "lack of transparency," tweeted his congratulations Wednesday morning. "Congratulations to Jackie Goldberg on her successful campaign to represent the students, families and communities we serve in Board District 5," he wrote. "I know Ms. Goldberg will be a strong advocate for students and I look forward to working with her."
Beutner and Goldberg visited Micheltorena Elementary School together early Wednesday — Goldberg's first school visit as "board member-elect."
Voter turnout as of Tuesday night stood at 7.69 percent, marking a notable dip from March's 10.7 percent showing in the primary election. School board elections typically have lower voter turnout. A total of 24,159 ballots were processed and counted, the county reported. Of those, Goldberg took 17,218 votes to Repenning's 6,824.
Elections results won't be official until the county registrar certifies them, which is scheduled for May 24 "barring any unforeseen circumstances," a county spokesman told LA School Report on Tuesday. After that, Goldberg will join the seven-member school board, which decides on policies, budget and approval of charter schools in L.A. Unified.
Throughout her campaign, Goldberg touted her deep roots and connections in L.A. education and politics. Goldberg taught in the once infamously embattled city of Compton for 16 years before an eight-year tenure on the school board from 1983 to 1991. She also served on the L.A. City Council from 1993 to 2000, then in the state Assembly from late 2000 to 2006. She earned bachelor's and master's degrees from UC Berkeley and the University of Chicago, respectively. Goldberg lives in Echo Park, in the northern, more affluent part of Board District 5, known as BD5. She is married to longtime partner Sharon Stricker, with one adopted son.
Goldberg nearly won outright in the March primary, which came just weeks after January's six-day teacher strike where she'd been a prominent face on the picket lines and had criticized charters. She secured about 48 percent of the 33,777 primary votes cast, despite a crowded 10-candidate race. That was just shy of the more than 50 percent needed to avoid a runoff. Repenning had received about 13 percent of the vote, narrowly beating Huntington Park councilwoman Graciela Ortíz.
As Goldberg read the semi-official results Tuesday night — showing a similarly gaping lead — her supporters cheered, chanting, "Yes we did."
As the new board member, Goldberg will represent nearly 100,000 traditional and charter school students, who have not been represented on the board since former member and education reformer Ref Rodriguez resigned last July following money laundering charges. BD5 enrollment is nearly 90 percent Latino, with about 67,000 students attending school in the more immigrant-heavy, lower-income southeast region. Seven schools in BD5 were recently identified in the bottom 5 percent of schools in the state, and all seven are in the district's southeast section. Nearly 4 in 10 of the board district's elementary and middle schools are in the lowest categories in both math and reading on the state's dashboard.
Goldberg is white and doesn't speak Spanish — something that 84 percent of BD5 parents in a recent poll said was an important characteristic for their next representative.
Serving minority students and boosting student achievement weren't the central tenants of Goldberg's platform. She directed her energy on demanding enhanced charter school scrutiny and accountability, along with calls to tax the wealthy to mitigate statewide underfunding of schools. Goldberg's positions align with UTLA in many cases: She believes L.A. Unified's "fiscal cliff" is an exaggeration, supports the $500 million Measure EE parcel tax, opposes categorical cuts to costly pensions, and denounces the idea that more funding should be tied to higher accountability standards.
On Monday, Board President Mónica García told LA School Report one of her top priorities for the new board member was expanding equity. "Some places have been served very well, some places have not," García said, noting that she'd ask the newcomer: "Are you going to support increased equity in supporting the highest-needs schools, or are you going to perpetuate a system that allows only for some people to get the highest services that the district offers?"
Former BD5 board member Yolie Flores in a Monday op-ed added that the new representative has to make "an explicit commitment to addressing the unique socioeconomic challenges" within L.A. Unified, such as addressing the "unacceptable third-grade reading proficiency problem" and supporting "the expansion of dual-language instruction."
Read more: Commentary: An open letter to LAUSD's school board candidates before Tuesday's vote — and a plea to address Board District 5's educational disparities
Much of that is on Goldberg's radar. When asked, she said she backs bilingual education expansion and more equitable supports for English learners. She believes undocumented immigrants should be allowed to vote in school board elections — something already happening in San Francisco. In a February interview, she also suggested ideas for improving reading, such as getting "rid of hours of testing-based curriculum and have [teachers] actually teach kids to love reading, by giving them fun books to read, to enjoy and to talk about in class" and doubling up the number of teachers and teaching assistants based on a school's budget.
One of her Day 1 priorities is visiting school sites in the southeast too. "I'm the least familiar with them," she told LA School Report in March. "That's really the best way to know what's going on in the district — to get up out of your chair and go visit schools."
Goldberg was endorsed by the CHIRLA Action Fund, which supports immigrant rights, as well as prominent Latino political figures Hilda Solís, an L.A. County supervisor and former U.S. secretary of labor, and activist Dolores Huerta. Other backers include the California Federation of Teachers, Congresswoman Maxine Waters and state Superintendent Tony Thurmond.
Her most powerful ally, however, has been UTLA, which poured $1.28 million into her campaign before Election Day. Repenning, conversely, was heavily backed by SEIU Local 99 — a union representing non-teacher staff such as cafeteria workers — which spent about $1.1 million supporting Repenning and about $140,000 opposing Goldberg.
Both SEIU Local 99 and the California Charter Schools Association Advocates, which didn't endorse any candidate this election cycle, congratulated Goldberg on her win in press releases sent out Wednesday morning.
Goldberg's ties to UTLA largely cost her the Los Angeles Times's endorsement, which went to principal Cynthia González in the primary and Repenning in the runoff.
To view the election results, go here. To see when the county will be updating results, go here.
Get stories like these delivered straight to your inbox. Sign up for The 74 Newsletter