After Parkland, Young People Led the Way in Protesting Gun Violence. Now Some Are Saying We Should Let 16-Year-Olds Vote, Too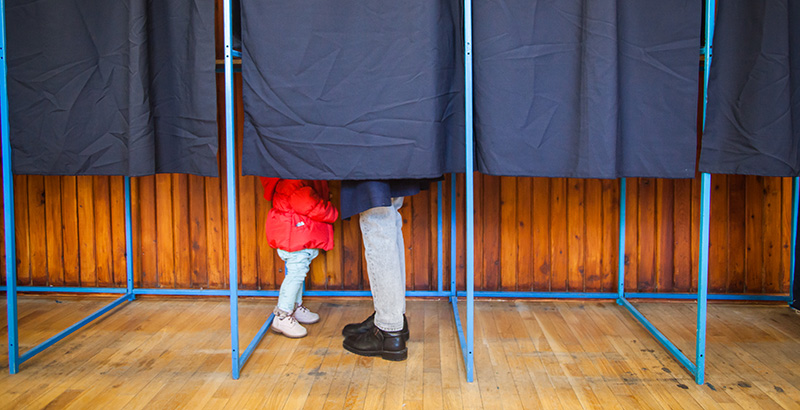 Last month's massacre at Marjory Stoneman Douglas High School has unlocked a groundswell of possibility around youth activism. After nearly a million students walked out of school on March 14 to protest gun violence, hundreds of thousands more are expected to gather this weekend for the March for Our Lives in Washington, D.C., and in smaller-scale "sibling marches" in communities around the world. Teenagers like Emma González and Cameron Kasky have emerged as the most visible faces of a movement that is only beginning to gain momentum.
Meaningful gun control, a political pipe dream that has widely been dismissed as unworkable, suddenly seems like a live issue in state and federal elections going forward. And it's not the only one: The surge of democratic mobilization led mostly by children has triggered calls in the mainstream press to lower the voting age.
The idea has floated around the margins of political acceptability for a while, favored by a few influential libertarians and voting rights advocates but few others. But it has gained steam in the wake of the Parkland shooting, with recognizable figures like former Obama administration speechwriter Jon Lovett and law professor Laurence Tribe taking up the cause.
Asked at a candidate forum whether he would support reducing the voting age to 16, Chris Kennedy — the son of liberal icon Robert F. Kennedy, and a candidate for governor in Illinois — answered, "You can't do any worse for the country than what older people did when they elected Donald Trump.… I don't see any reason why not to."
But youth voting isn't just a plank in theoretical future Democratic Party platforms. It's a policy priority that national and local activists are organizing for in the real world — and they've already won big victories. Three Washington suburbs have lowered the voting age to 16 for local elections in the past five years. A 2016 referendum allowing 16-year-olds to participate in school board elections passed with 70 percent of the vote in Berkeley, California, and a similar measure was narrowly defeated in San Francisco the same year.
With teenagers leading Twitter crusades against the National Rifle Association and scoring points against U.S. senators in televised debates, the political role of adolescents seems to be up for reconsideration. Bizarrely, six teenagers are running for governor this year in Kansas, even though several won't be able to vote for themselves in their respective party primaries. More are beginning to wonder: Why not?
Why not?
Jason Brennan, a political philosopher at Georgetown University, has been deemed a "democratic skeptic." In his most recent book, Against Democracy, he writes that universal suffrage is overrated as a method of governing human affairs: Most people are fundamentally ignorant of basic questions of public policy, and enfranchising them leads to inept government.
Still, he argues, if we're willing to accept the tyranny of adult prejudices and misapprehensions, we should allow kids to weigh in as well.
"People say, 'Well, 16-year-olds are typically very ignorant, they don't know what they're doing, they're not well informed about politics, they don't reason about politics very well,' and all of those claims are true," he told The 74. "But the problem is, neither do most 18-year-olds or most 24-year-olds or most 50-year-olds. They're usually ignorant and misinformed and irrational as well. So why are we holding teenagers to a higher standard than we hold adults?"
American history has generally followed a long progression of expanding suffrage, with periodic setbacks. Courts have gradually cast aside restrictions like literacy tests and poll taxes, which were used historically to restrict minority participation in elections, and the public supports making it as easy as possible for citizens to cast votes.
But if we subjected adults' political assumptions and tendencies to the same scrutiny as we do teenagers', many would be barred from entering the voting booth. Study after study has shown — indeed, the University of Pennsylvania's Annenberg Public Policy Center makes it an annual event — that most Americans can't list the three branches of government, name the chief justice of the Supreme Court, or describe the freedoms enumerated in the First Amendment.
As George Mason University law professor Ilya Somin shows in his book Democracy and Political Ignorance: Why Smaller Government Is Smarter, election polling makes the point even more starkly. During the highly contentious 2000 presidential election, 57 percent of respondents to the American National Election Studies Survey correctly stated that Al Gore was more liberal than George W. Bush. But majorities could not identify him as more committed to environmental protection, abortion rights, or expanded social services for members of minority groups.
"They understood that the 'liberal' label attached to Gore, but they didn't understand what 'liberal' connotes in American politics," Brennan said.
Why?
Brennan advances what could be called the libertarian case for lowering the voting age — that it is wrong to restrict young people from voting on the faulty assumption that older people are better equipped to do so. But most proponents of youth voting don't see themselves as skeptics of democracy, or of broadening democratic participation. They see voting as a positive good that should be shared by 16- and 17-year-olds.
To make their argument, they point to places that already allow it. Austria, for instance, became the first developed nation to allow 16-year-olds to vote over a decade ago. Brazil and Argentina have done the same, along with some federal states in Germany. Sixteen-year-olds were allowed to vote in the 2014 referendum on Scottish independence. Mayhem hasn't been the result, advocates observe.
In fact, as research has shown, giving adolescents a say in local and national affairs can produce a range of ancillary impacts on democracy that most would describe as positive. Social scientists agree that showing up for elections — particularly for obscure local votes that are conducted off-cycle — is a kind of self-perpetuating civic ritual; if you participate in elections as a young adult, you're more likely to vote down the line.
Even parents of kids who vote in mock elections have been found to be more likely to vote themselves.
"Part of being a voter is habitual," explained Daniel Hart, a professor of psychology at Rutgers University. "People who vote the first time they're age-eligible tend to be lifelong voters. So it's a habit that it's in our interest as a society to inculcate early on."
Voters between the ages of 18 and 30 account for the weakest turnout in elections at all levels, a melancholy truth sometimes used as an argument against allowing even younger people to vote. But 18 is typically the age at which children leave home; many have only just enrolled in college, often in states far away. A 16- or 17-year old, still able to ride with mom or dad to the polls or discuss issues with classmates, might be more likely to exercise the right.
"There's a lot to be said for giving 16- and 17-year-olds the opportunity to vote in an election while they're still in that community and can talk about it with their classmates, and there are issues at stake that can be discussed in civics class," said Hart.
How has it gone?
Patrick Paschall is a passionate advocate of lowering the voting age. As a city councilman in Hyattsville, Maryland, he pushed for a successful 2015 vote to allow 16- and 17-year-olds to vote in municipal elections. Though he's since left local government, he has watched as the initiative has been rolled out. So far, he says, he's pleased.
"All the evidence points to engagement at an earlier age, and doing so before they leave the home increases their likelihood of voting, being a repeat voter, and having a collateral effect of later roommates being voters," he told The 74. "These are all good things for democracy, and I can't find a shred of evidence that says this won't have a net impact of increasing voter engagement over a generation or two. So I do think the national voting age should be lowered to 16."
Indeed, voter turnout was much higher for teenagers than for the populace overall in neighboring Takoma Park in the first election cycle after it lowered its voting age. Paschall said that about 40 newly eligible teenagers registered to vote for the 2015 round of local off-year elections, and about 10 showed up. (He noted that turnout is generally lower for local elections than for national ones.) Those are modest gains, but he's proud of them.
"The reason we [lowered the voting age] in Hyattsville was never that we expected to see an immediate jump in 16- and 17-year-old voting turnout, nor did we expect that it would have a substantive impact on swinging elections," he said. "We did it to make sure that residents in our area know that we want to specifically cultivate the voices of those who've been less represented in our government to make sure they know they have a voice, and they're welcome to come to their elected officials in order to make their voice heard."
Get stories like these delivered straight to your inbox. Sign up for The 74 Newsletter