After One City Experiments With Toddlers Wearing Recorders and Sees the Number of Words They Hear Grow 50%, 5 More Mayors Will Pilot Innovative 'Word Gap' Program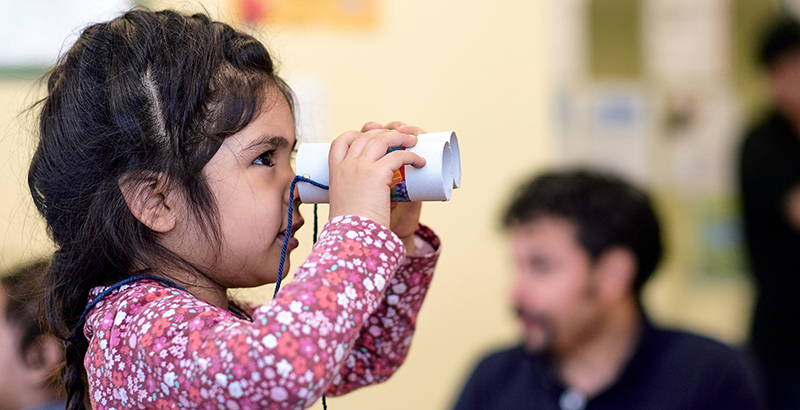 For Jorge Elorza, a ball used to just be, well, a ball.
Then Elorza was elected mayor of Providence, Rhode Island, in 2014, had a son, and visited Providence Talks, an early childhood program aiming to develop toddlers' language skills. The program helps parents and caretakers increase the number of words their children hear and the number of conversational turns they take, which are two foundational pieces of early literacy.
Now in his second term, the 42-year-old Elorza narrates vivid descriptions to his 1-year-old son, Omar, whom he takes to work so regularly — from City Hall press conferences to meetings with the governor — that it's made national news.
"It's not just 'ball,'" he said. "Now it's 'red ball' or 'big ball.'"
Backed by promising research and a nearly $12 million investment from Bloomberg Philanthropies, the Providence Talks model is expanding to five cities across the country, the Bloomberg foundation announced in September. Over the three-year span of the new grant, more than 4,500 children are expected to participate in versions of the program in Birmingham, Detroit, Hartford, Louisville, and Virginia Beach.
In 2013, the Bloomberg foundation chose Providence Talks as the grand prize winner of its inaugural Mayors Challenge, which funds innovative ideas proposed by mayors nationwide (Elorza's predecessor submitted the application). More than 3,000 children, mostly from low-income backgrounds, have participated in the Providence program, and researchers have watched as the first cohorts of students entered kindergarten and made dramatic progress.
Kenneth Wong, a professor at Brown University who directs its Urban Education Policy Program, is evaluating Providence Talks's impact. He's been struck by how children who were only hearing about 8,000 words a day at the onset of the program were hearing about 12,000 words a day after eight months, an increase from the 11th percentile to the 42nd percentile. Wong said the median number of words children hear a day is about 15,000.
"What we found is that the parents who spoke much fewer words … those parents actually make the most gains because of the intervention," Wong said. "They made tremendous progress because of this home visitation and coaching support."
The Providence Talks model targets children between six months and 3 years old, the most formative time for brain development. Once a week, children wear a vest that includes a pocket for a listening device officials refer to as a "word pedometer." The device, made by the nonprofit LENA, syncs with an online program that counts how many words the children hear each day, but it does not recognize which words are exchanged. The system works with any language, and it can differentiate between words broadcast by a TV or computer and those spoken by a person. It can also count the number of turns children take in a conversation. A LENA video makes a point of saying "no one can ever listen to the audio."
Participating children and their caretakers attend weekly playgroups (or a home visitor comes to their house every other week). As some program staff lead activities and distribute books to promote reading, their colleagues download (and then delete) data from the listening devices and meet with families to review the results and set goals for the following weeks. The goals include strategies to expose children to more words; Democratic presidential candidate Joe Biden referred to one rather antiquated technique in the September debate by telling parents to "make sure you have the record player on at night."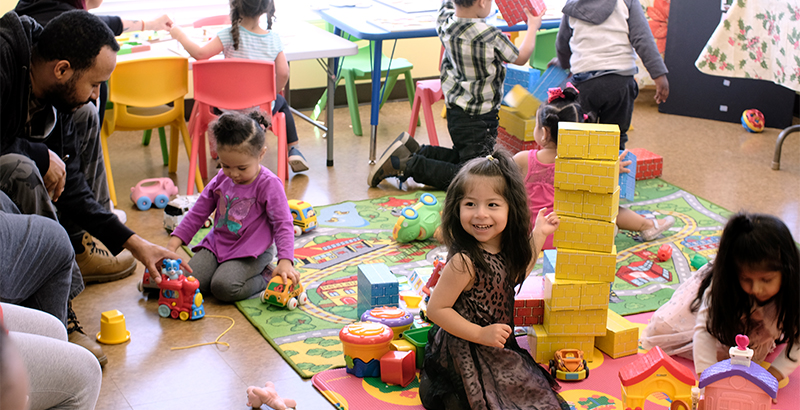 The first iterations of the playgroup model ran for six weeks, but it has since increased to eight weeks and is planning to extend again to 10 weeks, said Kimberly Fernandez, executive director of the Federal Hill House, a community-based organization that won the contract from Elorza's office to run Providence Talks. The goal is to instill habits of speech with everyday tasks, like getting a child a snack.
"If you're handing them a graham cracker or a cheese stick," said Fernandez, the mother of two young children, a caretaker could say, "'Would you like a graham cracker or a cheese stick?'"
"If they point at one," she said, the caretaker could follow up with, "'Oh, you want a graham cracker? Wonderful. Would you like me to break it in half? Okay, let me break it for you.' You can have that back-and-forth conversation. While it might seem silly to you for a moment, it's really building those early language skills."
There is some debate over just how much of a word gap exists. A landmark 1995 study found that children growing up in low-income households hear 30 million fewer words than their peers from high-income backgrounds. A study last year raised questions about the extent of the gap, but the science is clear that children's first three years are the most critical time for brain development.
Given that precious window, mayors are increasingly focusing on early childhood education, said Katie Appel Duda, who leads the government innovation program at Bloomberg Philanthropies.
In Virginia Beach, one of the expansion sites, Mayor Bobby Dyer said the program will live in the Department of Economic Development.
"If we want to have successful economic development in this city, we want to provide the best possible education, that people want to not only work here, but want to live here," he said. "These are the types of things that are going to pay major dividends going forward."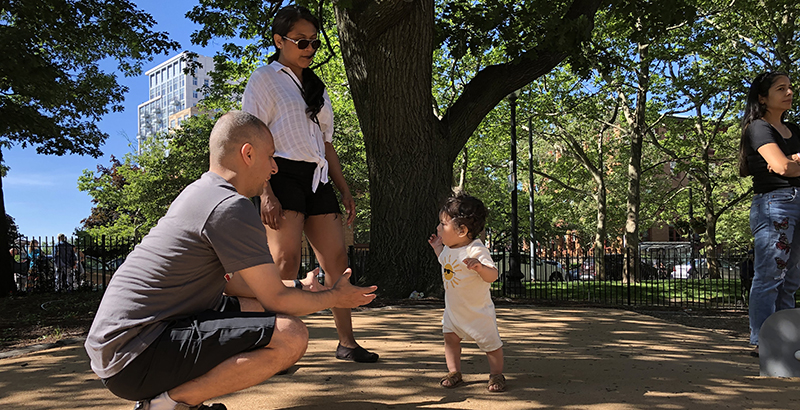 Ultimately, Elorza, the Providence mayor, thinks children and parents will both benefit from the program.
"Parenting is hard — it is real, real hard," he said. "As a parent, you are a child's first and most important teacher, but you don't have the training as a teacher. There are a number of helpful parenting tips that, unless you're exposed to, you just would never know."
Wong, the researcher, sees the program's benefits extending beyond its littlest participants.
"I look at this not only as a language acquisition program, but I also look at this as a parent empowerment program," he said. "As parents get more involved, as parents get access to some of the learning tools that they otherwise would not have received, they kind of empower themselves."
Jenifer Bolvito Jolón agrees that both she and her daughter are learning because of Providence Talks. She enrolled Sofia, the older of her two children, after hearing about the program at a health clinic. Before that, Bolvito Jolón said, she made Sofia sit still when they read books, and as a result, neither of them like reading very much.
By attending the playgroups, Bolvito Jolón learned ways to make reading more engaging. She now asks her daughter about what's happening in the book and to make predictions based on the illustrations. Bolvito Jolón said the experience has been transformative for both of them.
"It actually has made reading a lot more fun and easier for me," Bolvito Jolón said, "and [Sofia] actually loves to read now. Now we read the same book probably 15 times a day."
Disclosure: Bloomberg Philanthropies provides financial support to Providence Talks and The 74.
Support The 74's year-end campaign. Make a tax-exempt donation now.