Williams: The Fight to Boost Student Literacy Is Happening Years Too Late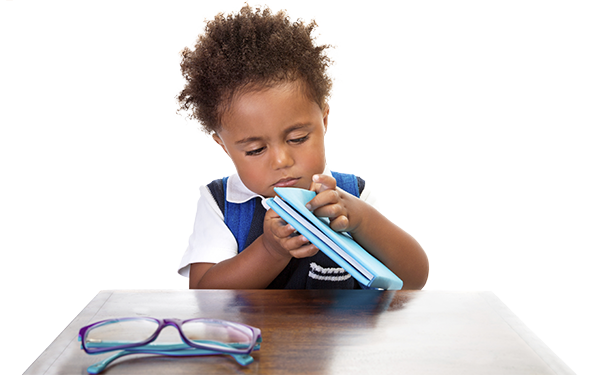 I'm reasonably decent at a few things in life. I can run at least a half-dozen seven-minute mile splits in a row. I bake bread regularly. I have a crowd of
Twitter followers
and a Klout score that are both good enough for someone in my profession.
But God gives every person a thing or two they're just meant to do. And I was simply born to be a dad. (Which, let's be clear, is still no promise that I'm perfect on a daily, or even hourly, basis.) It's my favorite thing about being alive. That's why the 2.5 years I spent as my kids' primary caretaker were, I'm quite sure, the very best years of my life. No amount of sweat, tears, and diapers could ruin the profoundly fulfilling work of goofing around in a pillow fort with blocks and Dr. Seuss helping my kids develop into the best humans they can be.
It's a critical part of kids' lives — but education reformers frequently see the early years as an afterthought or misunderstand them entirely. This is a mistake. Ever since Betty Hart and Todd Risley's landmark study showing that wealthy children hear millions more words than low-income children in the early years, we've known the enormous influence parents have on their children's linguistic development. Specifically, their research showed that the so-called "30-Million Word Gap" presages later linguistic gaps between wealthy and low-income children.
Since then, our understanding of early language development has continued to grow. We've learned that the number of words young kids hear is just part of the conversation. Infants and toddlers don't just need to hear words; they need to participate in conversation. That is, children need adults to engage in back-and-forth conversation. Ideally, children aren't just hearing words spoken at (or near) them, they're learning all sorts of nuances about how communication works. When adults pause their chatter to let infants to process and respond, this gives early learners a chance to participate — and move their linguistic development forward. University of Washington researcher Patricia Kuhl describes this sort of talk as "serve and volley." Instead of talking to kids, adults should talk with them.
In her recent book on early language development, Thirty Million Words: Building a Child's Brain, University of Chicago neurosurgeon Dana Suskind says it's about taking turns: "The key, whether a parent has initiated interaction or is responding to a child's initiative, is for the parent to wait for the child to respond." At the beginning, this is as simple as treating babies' different noises as cues for conversation. For older toddlers, it's a matter of plugging into their interminable curiosity — answering and asking "why?" to keep their brains whirring away.
Education discourse is a long way from responding to the challenge posed by early word gaps. It should define so much of how we talk about reforming education policies, but it rarely gets that sort of attention.
Here's one example: a few years ago it was fashionable for governors to pass laws raising the stakes for getting all kids reading on grade level by third grade. This made — and makes — sense, since research shows that third-graders who are weak readers are less likely to graduate from high school. But if early word gaps presage later achievement gaps, it follows that efforts to get students reading on grade level in elementary school should address children before they start kindergarten at age five. Consider: for all the focus on third-grade reading levels, just one in ten first-graders who are reading below grade level will ever catch up. The point isn't that we should convert third-grade reading laws into first-grade reading laws. It's that defining a desired outcome (grade-level reading) isn't the same as designing effective programs that start early enough to help schools, educators, and students reach it.
In other words, lots of reforms to improve students' literacy start too late. It's not that (for example) targeted literacy instruction in late elementary school has no effect. It's that, as Nobel laureate James Heckman (and others) frequently remind us, literacy interventions that start earlier get better returns.
Here's another example of how education conversations inadequately address the early word gap: sometimes the early word gap research gets interpreted as a call for more public investment in pre-K. And that's appropriate, since we have a considerable research base demonstrating that pre-K programs help close achievement gaps and improve educational outcomes. But pre-K isn't a complete answer, since much of the research demonstrates that these early word gaps begin well before pre-K programs begin at three- or (usually) four-years old. That is, pre-K programs might still start too late to fully address early achievement gaps.
Does this mean that pre-K investments are unwarranted? Of course not — especially if the alternative is allowing word gaps to continue growing until kids start school and arrive in kindergarten or first grade. It just means that pre-K programs are just one part of a comprehensive response to responding to the achievement gap at its roots. Pre-K investments should be coupled with strong programs to support infants' and toddlers' healthy language development.
The upshot? We have a long way to go in seriously engaging early language development in our education debates. But for now, you'll have to excuse me. Recent research suggests that talkative dads play an important role in early language development, so I've got some important conversations about dinosaurs, ballet positions, and the solar system to attend to.
Get stories like these delivered straight to your inbox. Sign up for The 74 Newsletter