Adams: Think Replacing NYC Gifted & Talent Programs With Magnet Schools Will Fix Low Student Achievement and Segregation? Think Again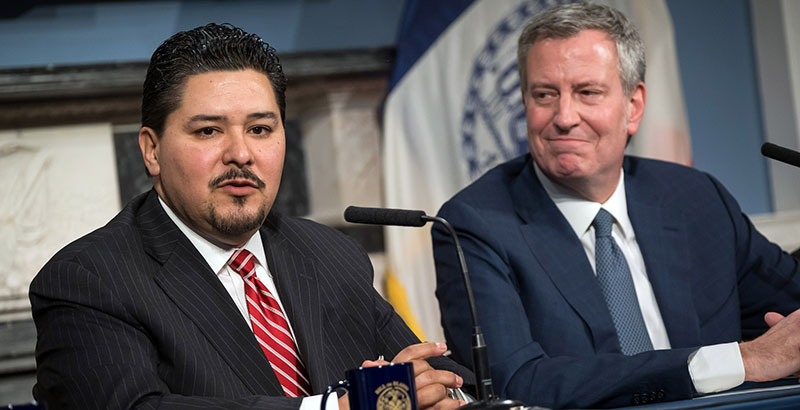 On Aug. 27, New York City's School Diversity Advisory Group released a proposal that formally called for the closing of all gifted and talented (G&T) elementary school programs.
In their place, the advisory group suggested opening magnet schools focused on various areas of interest. The goal, as with all recent NYC school initiatives, has nothing to do with raising the academic achievement of all students and everything to do with achieving the mayor's and schools chancellor's definition of diversity — to the exclusion of everything else.
Currently, while the majority of NYC public school students are black and Hispanic, the majority of those in G&T programs are white and Asian. (In addition, more than half of students of all races who qualify for the program don't get a seat because there aren't enough to go around.)
Removing G&T screening, according to the above proposal, would allow students of all abilities to gain admission to any magnet school that caters to their interests. Once students of all academic abilities are learning side by side, the low achievers will magically absorb high achievement through their peers via osmosis, and high achievers will benefit, too … somehow.
"Simply put, there are better ways to educate advanced learners" than G&T programs, according to the just-released report. The best being themed magnet schools specifically geared to applicants' interests.
If that were the case, then all students at the NYC magnet schools that already exist should currently be performing at or above grade level, right?
Let's take a look:
At The Magnet School of Global Studies & Leadership — there's a name that brings to mind high achievers! — 44 percent of elementary school students were at grade level in English Language Arts and 27 percent were at grade level in math.
At the Joseph Pulitzer Magnet School of Innovation and Applied Learning, a middle school, the stats were 41 percent proficient in English and 38 percent proficient in math.
At the Young Diplomats Magnet Academy, it's 30 percent for English, 22 percent for math.
At The Magnet School for Math and Science Inquiry — another name that suggests it's the perfect fit for kids passionate about both topics — it's 51 percent performing at grade level in English, 47 percent in math. Which, to be fair, is around city average. This elementary school isn't worse than other NYC schools. But it also isn't better. And with math scores actually lower than English, it suggests that the aspirational theme isn't exactly fulfilling its potential.
There are other examples, but I'll leave it at that. Magnet schools are clearly not a magic bullet when it comes to raising student achievement.
Then there's the issue of admissions. Right now, the majority of NYC students attend their zoned elementary school. Due to housing patterns, those schools are de facto segregated, with most white students congregated in a minority of high-performing schools. (I say de facto because it's not as if a black or Hispanic student residing in the zone would be turned away; it's just that very few low-income students of color live in high-income, mostly white neighborhoods.)
When it comes to admissions, magnet schools would operate more like unzoned schools. These are open to all children in a given district, or sometimes even in the entire city, and admission is by lottery, so parental income and educational level shouldn't be a factor.
Parental income and educational level are always a factor.
The fact is, because unzoned schools, by definition, have no attendance zone, families need to first know that these schools exist. Then they have to know how to apply. And, finally, they have to know how to work a waiting list when they don't get in on the first round.
Even if every single elementary school in NYC were unzoned and theoretically open to every single NYC family, do we really think that those parents with the time and resources to research schools wouldn't have an advantage over families who'd simply write down the school closest to them, or the one where their kids have all gone historically?
This level of citywide choice is blamed by experts for segregation at the high school level. So why would it be the solution to segregation in K-5? (Here's how a similar proposal worked out in San Francisco.)
Furthermore, because unzoned schools don't use residency or a test score as the basis for admission, how can anyone prove that all admissions were done on the up and up?
An example from three years ago:
District 4's unzoned Central Park East I was founded in 1974 to bring the children of East Harlem a hands-on, progressive, art-focused education. Now, in 2016, only 24 percent of the student body resides in District 4. In fact, 29 percent live in District 3, and only 25 percent of the school's enrollment qualifies for free lunch, at odds with the district's broader demographics. District 4 parents have even gone so far as to accuse the school of deliberately keeping local families away in favor of more affluent ones from other districts via a manipulated waitlist. The school responded that it was committed to enrolling parents who were in sync with their progressive model. 
Does anyone really believe that won't be the case if all NYC schools are turned into unzoned magnets?
With the heightened possibility of corruption and no evidence whatsoever that magnet schools would, in fact, increase diversity or raise student achievement, why should NYC parents accept that this change would be any kind of improvement over the current system?
Alina Adams is a New York Times best-selling romance and mystery writer, the author of Getting Into NYC Kindergarten and Getting Into NYC High School, a blogger at New York School Talk and mother of three. She believes you can't have true school choice until all parents know all their school choices — and how to get them. Visit her website, www.NYCSchoolSecrets.com.
Support The 74's year-end campaign. Make a tax-exempt donation now.