Adams: Masks, Dyslexia, English Learners — Why NYC Families Like Phonics Plan
NYC parents explain why they favor mayor's proposal to mandate phonics instruction in all schools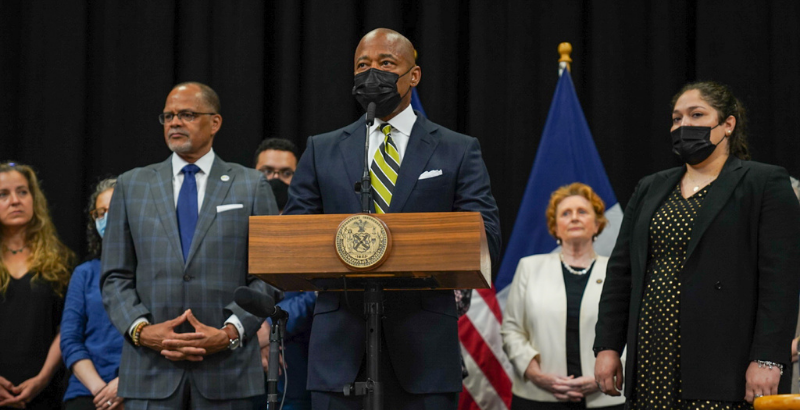 Get stories like these delivered straight to your inbox. Sign up for The 74 Newsletter
When New York City parents were asked why they'd lost faith in public schools, one mother explained: "In many top-rated schools, the curriculum is subpar and inadequate, so parents are expected to supplement on their own. As a result, test scores are high and the school uses that to prove their curriculum is good. Parents leave because they don't want to continuously supplement and do the teacher's job. This is not a criticism of teachers, this is a criticism of the curriculum/system, especially the Teachers College reading and writing program that doesn't teach phonics, grammar, handwriting."

That may be about to change. On May 12, Mayor Eric Adams announced, "We're going to start using a proven phonics based literacy curriculum that's proven to help children read."
Schools Chancellor David Banks elaborated: "Over the next year, all schools will be asked to switch … to a phonics-based literacy curriculum. We are committed to supporting all of our students. And I just want to make sure that you know that we are getting back to the basics to ensure that every single child can read."

In addition to mandating explicit reading instruction in kindergarten through second grade, the city will train staff at 80 elementary schools and 80 middle schools in how to screen and identify students at risk for dyslexia, followed by targeted intervention for those so identified.

Kim Sweet, executive director of Advocates for Children of New York, was enthusiastic: "The plans announced today could have a transformative impact if implemented well."

Debbie Meyer, a member of the Dyslexia Alliance for Black Children, emailed this: "When we teach struggling readers and dyslexic students to read, we will mitigate school anxiety, depression and frustration among these students that lead to behavior IEPs (Individualized Education Plans) and mental health issues. Many dyslexic kids and struggling readers could be helped within gen ed frameworks and never need … IEPs. … So there will be more room in our special education programs for the students that need special education." She did, however, caution that, "Literacy and dyslexia advocates are not phonics-only advocates. Phonics are necessary but not sufficient. We know language comprehension, background knowledge, vocabulary, semantics and fluency are very important parts of reading."

Finally, of parents queried, the majority expressed their support, albeit for a variety of reasons.

Danyela Souza Egorov was pleased about the benefits phonics instruction would offer the very youngest learners. "This is wonderful news and long overdue," she wrote. "It comes at a time that we are facing unprecedented challenges in early literacy in NYC, given the toddler mask mandate. Several kids like my son who will start kindergarten next fall have had his entire pre-school experience in masks and are delayed in their language acquisition and getting ready for kindergarten."

John Lee agreed: "I started both of my kids on phonics at 3 years old. By the time they entered pre-K, both of them could read at 1st grade level. My son is in 1st grade now and he is reading 3rd and 4th grade books. Weekly spelling tests are easy for him with a little knowledge of the different spelling rules. I think phonics-based teaching will benefit especially young children."

Another parent, Dee Kay, saw the benefits for English learners: "Phonics is the way to go for early and developing readers. I am an anecdotal data point of an immigrant child speaking almost no English, learning in 2nd grade with phonics to speak and spell. Won the class spelling bee by 5th grade."

Isabella Goldmints concurred: "New York City has a huge immigrant population and ESL (English as a Second Language) students. Programs that teach reading by association with pictures or other words don't mean a lot for them if they don't associate the picture with the word written, but associate it with the word in their other language. In this sense, phonics is a lot more universal and effective. At least, it was for my ESL children."

Sveta Z. also spoke from experience, "Our school uses a phonics-based curriculum and leveled reading books, and we are satisfied with the results. The reading research states that a very strong foundation in phonics is an absolute must for mastery of reading, and I have seen it with our own child. In general, most kids benefit from explicit phonics instructions, so I congratulate the [NYC Department of Education] for taking that step."

With renewal of mayoral control of schools uncertain, families will need to wait and see whether Adams will be able to implement his vision across every public school. In addition, some parents deliberately chose progressive public schools specifically in order to avoid what they see as an excess of testing and teacher-directed, rather than child-led, instruction. Will the principals and families at these schools go along with the new edict?
Alina Adams is a New York Times best-selling romance and mystery writer, the author of Getting Into NYC Kindergarten and Getting Into NYC High School, a blogger at New York School Talk and mother of three. She believes you can't have true school choice until all parents know all their school choices — and how to get them. Visit her website, www.NYCSchoolSecrets.com.
Get stories like these delivered straight to your inbox. Sign up for The 74 Newsletter