Adams: Chaos, not Classrooms, for NYC Parents Wanting Summer School for their Kids. What Does this Portend for September?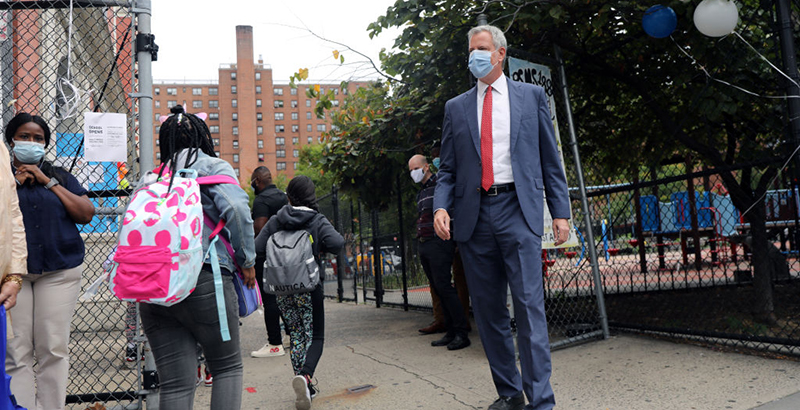 Get essential education news and commentary delivered straight to your inbox. Sign up here for The 74's daily newsletter.
In April, New York City Mayor Bill de Blasio announced the creation of Summer Rising. Per the city Department of Education website: Summer Rising programs are full day and in-person experiences. All programs will… give parents peace of mind as they return to work. All K-8 students participating in programs will have access to academic classes and enrichment programming.
On June 28, Hizzoner proudly tweeted:
More than 200,000 NYC kids are now signed up for Summer Rising, our unprecedented effort to reach young people and help them make up for time lost due to #COVID19.

There's still time to sign-up! Summer programming begins on July 6.https://t.co/YMRFbzLirI pic.twitter.com/zti5F2Yylq

— Mayor Bill de Blasio (@NYCMayor) June 28, 2021
De Blasio had promised that a Summer Rising seat would be available for every child. His tweet led many to believe he was saying all who'd applied were accommodated.
Dozens of families had found that untrue.
My in-box quickly filled up with emails from parents:
KOS: I still to this day haven't received an email response from the school and program if my son has been accepted. When I applied, it stated that it should take about 5 business days to get a response but it's been more than a week and a half. I signed on yesterday to see what's going on and the application still says "submitted."
DY: City's information suggested every child would be able to attend a program they selected. In reality, it is every child will be assigned to a program but no guarantee as to where. We applied to all the programs in our area. All programs advised us that we were either rejected because of capacity, or waitlisted.
XA: My home school told me I was supposed to apply to a specific local school. There were 4-5 schools told to apply to this same school. I got an email saying they had over 500 applicants but only 120 spaces. I emailed to find out his place on the wait list to see if there was any hope. I was told that they were entirely overwhelmed and hadn't even organized a wait list.
JJ: Yesterday I got 2 emails confirming my children's placement in Summer Rising. I did not sign up or register for Summer Rising.
After frustrated parents barraged the DOE, on June 30, the New York Daily News dropped a bombshell: All waitlisted students would now have to be accepted — but there weren't enough teachers for them all.
A little more Summer Rising chaos to go w your election chaos.

Per DOE today, schools now required to accept everyone on their waitlists, potentially doubling size of some sites + sparking big new staffing challenges 5 days out: https://t.co/LzlqxhL4X4

— Michael Elsen-Rooney (@MichaelElsenRoo) June 30, 2021
According to WABC news: Principals say many of their schools are already overcrowded and understaffed, after the city guaranteed enrollment without a plan to properly place everyone.
A teacher emailed me to confirm, "Our school had about 159 seats available to serve 5 local schools. Only 3 teachers applied. THREE. Because they're burned out and need a break. Administrators also need a break. This is so incredibly unfair and ridiculous to ask of them with 5 days to go. It's also unfair to kids — who's going to teach them? They deserve more than to just be supervised in a jumbo-sized cohort by a tremendously overworked teacher for the summer."
Families did their best to remain optimistic:
VC: I think the hours (8 a.m.- 6 p.m.) are amazing. It gives me the space and time to do whatever it is I need to get done (in terms of work, household, etc).
JK: I enrolled my girls. Now, all we have left to do is to start it and enjoy it.
That optimism lasted until the morning of the first day, Tuesday, July 6:
JL: The DOE once again overpromised but underdelivered. We were notified on July 1 our child would now have a place for the entire summer from 8 a.m.-6 p.m. He was taken there this morning only for us to find out the school had not been notified all these students from all over the [Upper East Side] would be attending and the school did not have the funding. Therefore, instead of an 8-6 p.m. program we are to pick up our child at 12:00 p.m. today. Thankfully he had breakfast at home otherwise I don't even think he would be fed.
PD: We went to school today morning. But did not find her name in the list. They asked to go here, there. No one knows where is that list. Finally one lady took our name and email copy (from DOE) and asked us to go back to home. Someone will contact us later. Not sure when will it be. We planned so many things as assumed she will be in school. God knows what is the going forward from here.
Remember when we were assured NYC schools were prepared for September 2020? They were not. Well, now we're being told they're even more prepared for September 2021. The same way we were told they were prepared for Summer Rising.
This botched rollout doesn't exactly inspire confidence. And it makes us parents of public school students very nervous about the year to come.
Alina Adams is a New York Times best-selling romance and mystery writer, the author of Getting Into NYC Kindergarten and Getting Into NYC High School, a blogger at New York School Talk and mother of three. She believes you can't have true school choice until all parents know all their school choices — and how to get them. Visit her website, www.NYCSchoolSecrets.com.
Get stories like these delivered straight to your inbox. Sign up for The 74 Newsletter