A Shift in Classroom Needs: Teachers Turn to DonorsChoose to Crowdfund Food, Clothes for Students During Pandemic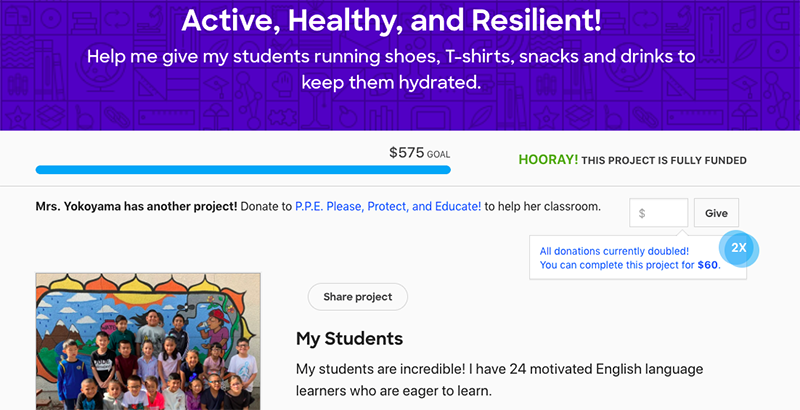 Get stories like these delivered straight to your inbox. Sign up for The 74 Newsletter
Witnessing the growth of food and income insecurity during the pandemic, teachers and districts are turning to DonorsChoose — a nonprofit crowdfunding site for public educators — to leverage financial support.
Founded in 2000 and historically utilized for instructional materials that teachers would either have to pay for out of pocket or go without, like auxiliary books, kits, games, and technology, the platform and its district partnership model have enabled teachers to raise over $670,000 in funds for warmth, care, and hunger needs for students since January 2020, according to DonorsChoose's public relations team.
New York elementary teacher Laurie Gurdal at P.S. 245 in Brooklyn, for example, wrote a project to fund a food pantry for her low-income students. "Our families are facing food shortages at this time," the project reads, "it is hard to learn when you are hungry." Two donors donated $1,108 between March 8 and April 5, 2021, fully funding the pantry in under a month.
The New York City Department of Education, Los Angeles Unified School District, and Philadelphia City School District joined DonorChoose's partnership program in 2020, which more than 180 districts now participate in, representing over 10,000 schools nationally.
Though individual LAUSD teachers have utilized the platform since about 2005, district partners are offered added support and communication. Principals are notified whenever a new project is started at their school to get a better sense of community need, and when companies offer donation matches for projects. Partners are also provided resources for training teachers to use the platform and data for district leadership.
Austin Buetner, who ended his three-year tenure as superintendent of the country's second-largest district this June, told The 74 that LAUSD's participation is part of an effort to engage the broader community in schools, particularly as housing and food insecurity becomes more widespread.
"We have to expand the scope of support for public education. There are philanthropists who can write large checks, there are active and engaged individuals who can bring intellectual capital to a school or volunteer their time. And there are others who say well actually I have limited means, but I really want to know what that classroom needs — it turns out, a $10, $20 or $30 donation can make a difference."
Since March 2020, 34 percent of all projects in LAUSD have funded technology needed for virtual learning, food, clothing, and hygiene, up from their all-time average of 28 percent. The trend is similar in Philadelphia, where about 32 percent of pandemic-era projects have requested technology, food, clothing, and hygiene resources, up from their 25 percent all-time average.
This month, Philadelphia's returning teachers will attend DonorsChoose hands-on classes as a part of their professional development training. ​​Michael Sonkowsky, the district's deputy chief of the Office of Grant Development, says teachers have been requesting support for fundraising platforms for years.
As their small office adapted to a surge of pandemic-related needs — including preparing school buildings for students' safe return — the formal partnership enabled them to streamline communications with teachers, particularly about company-match opportunities.
"We who work in development have seen a truly inspiring surge in philanthropy — both via crowdfunding platforms and via more traditional avenues — during the pandemic," Sonkowsky said in an email to The 74.
Currently, there are 976 projects on the site within the warmth, care, and hunger category that support classes with majority low-income students. The push to provide young learners with basic needs, from workable laptops to hot meals, was one felt across the country as districts rushed to adapt to hybrid and virtual learning environments and families experienced unemployment and uncertainty.
Economists now refer to the pandemic-era recession as K-shaped: high income families bounced back and, in many cases, have become more wealthy, while low-income families, typically involved in the hard-hit service industry and in-person labor, have experienced devastating economic losses. Teachers like LAUSD's Diane Yokoyama, who serves predominantly low-income children, have witnessed the recession's toll on students.
"Many of my parents work two jobs just to make ends meet. My students come to school with the bare minimum," Yokoyama told The 74 via email. "I had projects funded for clothes, food, backpacks, umbrellas, shoes … things that I could never afford on my own."
With $120 billion in American Rescue Plan pandemic relief funding heading to schools to ameliorate some of these inequities, states are proposing major investments in mental health, well-being, tutoring and data systems.
With an influx of funds, California will begin the nation's largest free-lunch program for students, regardless of family income. But in the months states and districts were planning how to allocate relief dollars, student needs were mounting.
For Yokoyama, DonorsChoose provided a path to meet urgent calls for meals, technology, and pandemic safety protections. In some cases, projects were fulfilled within weeks. Once funded, dry food, clothes, cleaning supplies, and PPE were mailed to her school, where she picked up items and delivered them to students' homes.
"I wanted to reassure the parents and children that it would be OK to return to school," she said, reflecting on her efforts to get materials into students' hands.
Yokoyama has used DonorsChoose for years, but the platform offered her "a new way to teach" during hybrid and virtual learning. Donors funded a second monitor and portable whiteboard for her home, making virtual lessons more accessible.
The projects and subsequent data given to district partners has also provided a gauge of where needs are left unmet by pre-existing budgets. Superintendent Buetner dubbed teachers' projects, "the voice of the classroom, which we can learn from."
"The best perspective of what students' needs are comes from the front of the classroom," he said, "not from some distant central office building."
Get stories like these delivered straight to your inbox. Sign up for The 74 Newsletter