A D.C. Dad Shepherded His 4 Kids Through Remote Learning by Relying on Structure. Now in Summer, That Structure Is Harder to Come By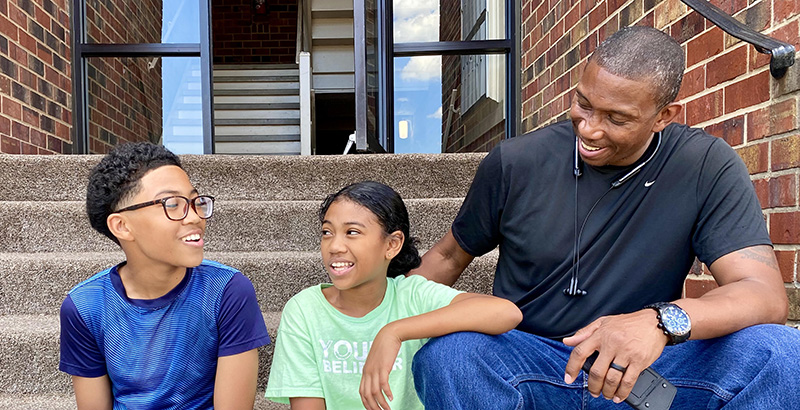 DaSean Jones lives and breathes structure.
It's what kept him and his four kids, ages 4 to 16, grounded when their D.C. public schools closed in March due to COVID-19. Even though two of his children's remote instruction was little more than printed homework packets, he'd wake them all up at 8:30 a.m. every day for about six hours of work. They'd hunker down in their rooms or at the dining room table while Jones, a peer specialist with D.C.'s Child and Family Services Agency, set up in the living room.
Such structure has been trickier to maintain during the summer. The family's once robust schedule was thin come June: His middle schoolers' daily summer camp was canceled. The swimming pool the family would frequent on late summer afternoons and the studio his 11-year-old danced at remained closed. Basketball rims were still missing from the courts where his son shot hoops. His teenage daughter, who'd nabbed a virtual summer job, longed for her walks with friends along the National Harbor, grabbing bites to eat.
"The time seems to run together just a little bit," said Jones, who lives in southeast D.C., where the kids live with him part time. "[I'm] trying not to let every day look exactly the same and go exactly the same way. … It's a challenge."
Jones, 47, whose main worry is keeping his kids on track despite projected nationwide learning loss from COVID-19, has given them books to read and the occasional essay prompts to answer. But he also reminds himself that it's summer, and the kids need a break. It's a tough balance to strike.
"I'm just trying to keep everybody busy and also just trying to give them the freedom I know they would have" otherwise, he said.
6:30 a.m.
Before the pandemic, Jones had a 30-to-45-minute commute, dropping his preschooler and middle schoolers off at school before heading to his office. Now, he still gets up around 6:30 a.m. for some quiet, and he starts work at 9 a.m., settling into a foldout chair in the living room, equipped with a lap desk and clipboard.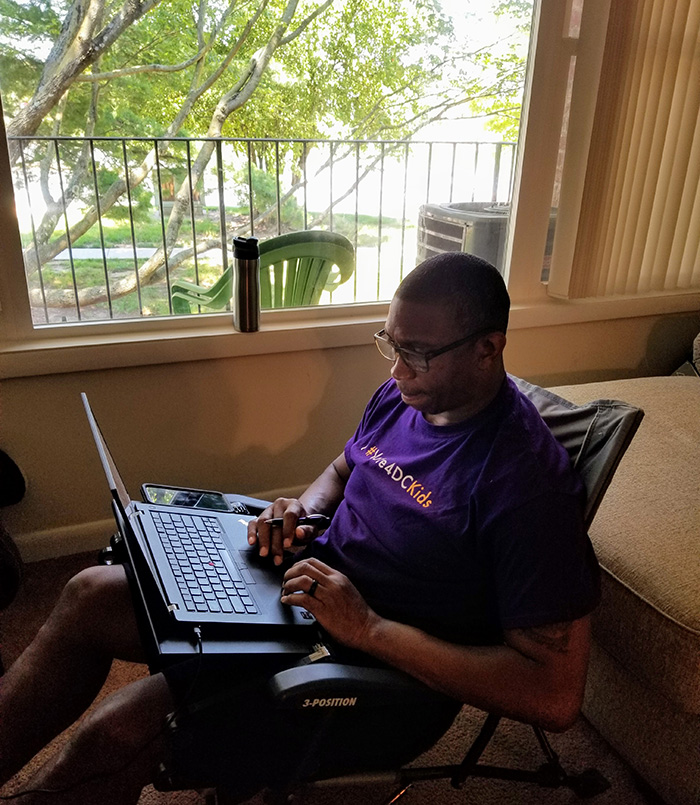 Jones feels "blessed" to have kept his job at the child welfare agency despite spiking unemployment. The families he coaches and checks in on are all fairly easy to reach by phone, making the transition to remote work doable. His workload has expanded slightly — Jones said there have been increases in investigations and child removals from homes as families battle unprecedented stress from the pandemic while "stuck in a house together."
It helps that most of his kids don't need 24/7 supervision. But Jones worries about child care and school accommodations for his 4-year-old daughter come September, when he's scheduled to return to in-person work. He spent weeks in the spring in a quasi-teaching role: reading to her, helping her trace letters and completing coloring assignments while doing his job. It wasn't a sustainable setup.
"I have to see about how that's going to work" come fall, he said. "It's really hard to say."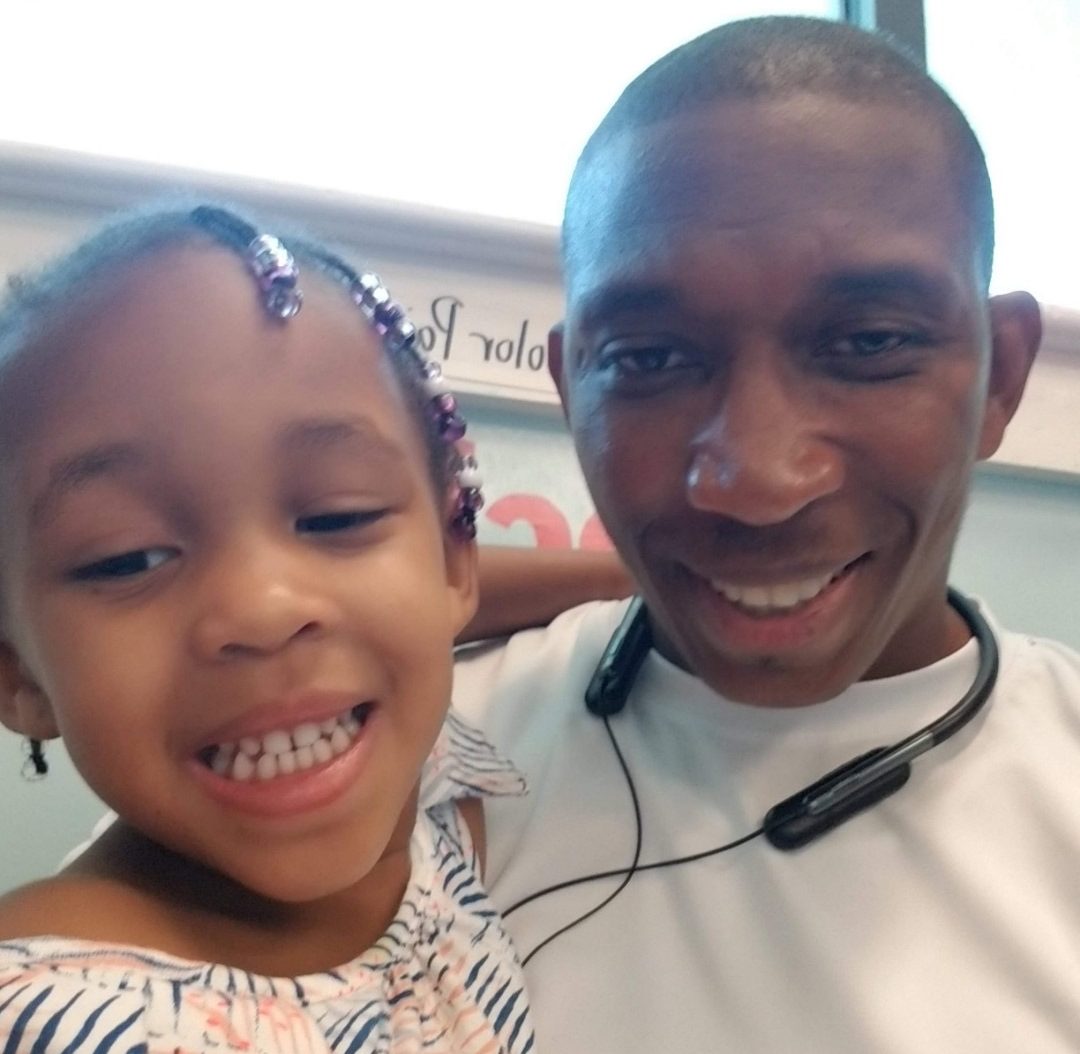 9:30 a.m.
Every weekday, 16-year-old Kayla logs into Zoom for her job with the Marion Barry Youth Leadership Institute, part of the district's hallowed summer youth employment program that's operating almost fully virtually this year.
Kayla's past two years with the program were seeped in community. Last summer, she'd worked for Uniting Our Youth, a nonprofit that hosted events like potlucks, where community members could "come down, eat, enjoy, laugh," she recalled.
Now, the rising junior rotates through completing online projects, honing essay writing and interviewing skills, and taking virtual college tours. "[I miss] being able to meet new people, creating new [friendships]," she said.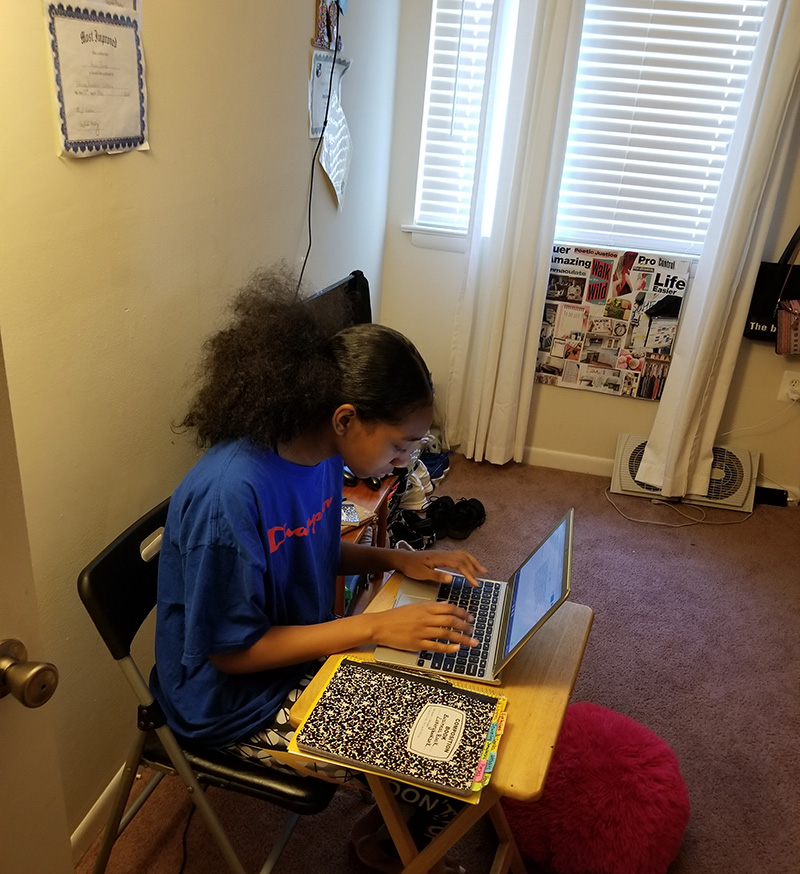 Kayla would have started visiting colleges this summer had the pandemic not hit. Being college-ready, she said, is on her mind a lot.
If high school this fall is remote again, "I wouldn't be OK with that," she said. She wants to have personalized, in-person support should she need it, especially for SAT prep. "I'll be having to take the SAT, and thinking about doing it virtually is stressful."
11:30 a.m.
If 11-year-old Kaia is reading, it's usually for 15 or 20 minutes in the late morning when she first gets up. In late June, she'd just started reading Worse Than Slavery; Jones said he shared his copy with her after she'd asked him questions about slavery and lynchings recently as they watched The Help.
"I get caught up in doing my work and I try to give them a little bit of autonomy," Jones said. "What's tough is trusting that everybody will take time out to do what I'm asking."
12:30 p.m.
D.J. rolls out of bed in time to join Kaia for one of their only set-in-stone engagements for the week.
The middle schoolers, risings seventh- and eighth-graders, spend 12:30 p.m. to 1:30 p.m. on Zoom Mondays and Wednesdays with Higher Achievement, a nonprofit aimed at closing the opportunity gap.
When it comes to learning in person, Kaia and D.J. have questions. "How will we stay safe?" if school reopens, D.J. asks. "Will we be there the whole week?" Kaia chimes in.
"I don't want to have corona[virus], so I think it would be safer to just stay home," D.J. said. But Kaia, ever her father's daughter, misses the structure. "I want to start going to school and having lunch at a certain time," she said.
3 p.m.
Summer used to be jam-packed with friends. One of Kaia's favorite afternoon activities was going to Six Flags amusement park, while D.J. would often mosey over to friends' houses to play video games or hang out outside.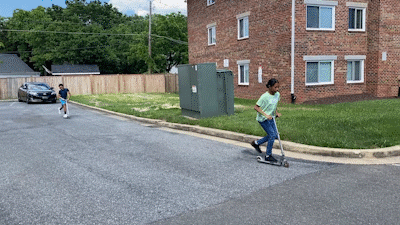 Jones's kids still can't see their friends, as a safety precaution during COVID-19. And during the day, Kayla is glued to her computer screen. So D.J. and Kaia are built-in buddies.
On hot days, they have water gun fights. On a Wednesday in late June, they raced around the parking lot on Razor scooters. A competitive, multi-game Mancala match broke out soon after.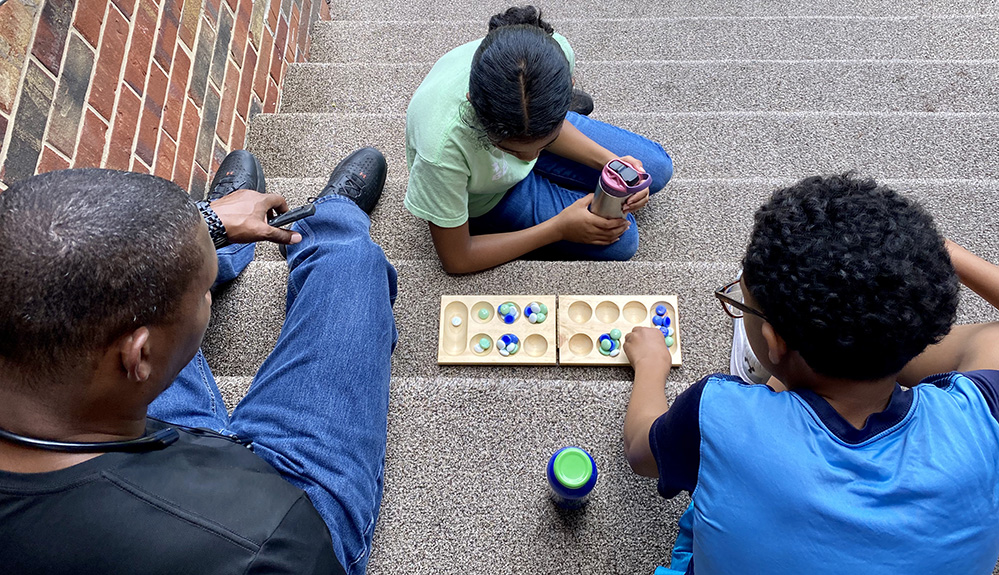 Kaia, who hasn't been to Saturday's modern dance class in months, will dance "impromptu" around the house to R&B music, Jones said.
"Daddy, when do we start dance up again? We'll be able to go back to the studio [soon]?" Kaia asks.
"I don't know how they're going to do it," he replied. "The city is opening up slowly but surely." Kaia let out a long sigh.
4:30 p.m.
Upstairs, Kayla — who finished her summer job for the day about an hour prior — is on another Zoom call, this time for a virtual STEM program. Once that's done, around 5 p.m., she'll join a two-hour virtual cheerleading practice a few times a week. In normal times, she'd be in the school gym. Now, she grabs her phone and heads outside, looking for a patch of grass to practice her flips.
Being constantly online and away from friends is "different" and difficult to adjust to, Kayla said. "I've always been around my friends — they give me that extra laugh, that extra enjoyment. Now it's boring."
But there are some silver linings. "Being able to work by myself showed me that I can get a lot done," she said.
7 p.m.
The family eats dinner together on weeknights — an uninterrupted tradition "especially now without extracurricular activities," Jones said. One June night was a leftovers smorgasbord, with fish, some turkey burgers, mac 'n' cheese and greens. Music played over the table chatter.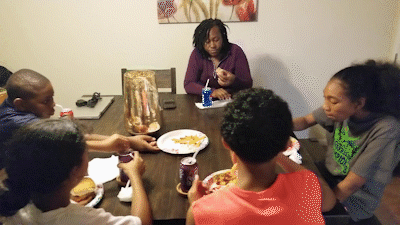 For Jones, one of the biggest changes in their evenings is not spending time out in the community. Jones loves swimming — his kids do too — and after coming home from work in past summers he'd often drive them to a swimming pool to "soak up some sunshine, kind of cool off and, you know, swim, play and have fun," he said. "Our evenings really did take a hit just with finding things to do."
Still, they bond in other ways. One evening before bed, Kaia came out of her room to play UNO with Jones. His favorite part of that day was seeing her excitement at finally learning how to shuffle the card deck properly — even if it meant a longer game so she could break the deck into three parts.
Get stories like these delivered straight to your inbox. Sign up for The 74 Newsletter