Rotherham: Cardona a Deft Pick for Ed Secretary at a Time When Political Fights Should Be Secondary to the Disaster Facing Millions of Students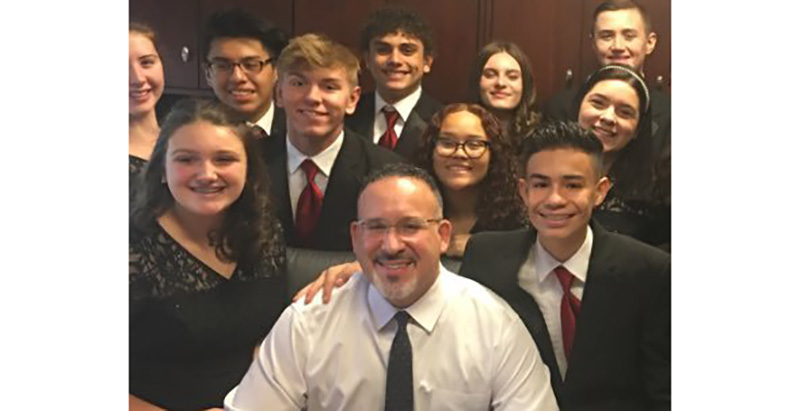 Updated, Dec. 23
President-elect Joe Biden's transition team announced late Tuesday that Connecticut Education Commissioner Miguel Cardona is the education secretary nominee. Biden will introduce Cardona at a live event in Wilmington, Delaware at 11:15 a.m. Dec. 23.
If you were told to build an education secretary for President-Elect Joe Biden in a laboratory, you'd probably come up with something like Miguel Cardona, the Connecticut education commissioner who Biden plans to nominate to run the U.S. Department of Education.
Cardona was a teacher (and principal) before becoming a state ed commissioner. So he checks that box.
He's a K-12 pick, but not a party-splitting one.
Cardona's personal story is inspiring — a first-generation college-goer who grew up in public housing and changed his course after high school to pursue a university degree. So, like the president-elect, someone who appreciates that life doesn't always go like you plan. He's not a product of elite institutions.
He's competent and established but won't overshadow incoming First Lady Dr. Jill Biden, who cuts a higher-ed profile of her own.
Cardona brings experience on big-picture issues like English learners, equity and achievement gaps. He co-chaired a state task force focused on these last two, which are especially acute problems in Connecticut. He cares about the students furthest from opportunity and equity, who are the most frequently overlooked. But he doesn't fit cleanly into the reform or anti-reform camp.
As commissioner, he's taken steps around desegregation of schools, something on the Biden agenda. And he's a Goldilocks on charter schools — not too hot or cold. He didn't champion opening new ones, but renewed existing ones while he was commissioner. Charter leaders have nice things to say about him even as he states that his focus is district-run schools.
On COVID-19 and schools, Cardona is a reopener. But the teachers unions are ok with him, so he can work with both sides of that debate to fulfill the president-elect's commitment to having a majority of schools open for live instruction in the spring. His appointment also allows Biden to sidestep any teachers union infighting.
Finally, it was an open secret that Biden and his team preferred a Hispanic nominee for the role.
I have no idea if Cardona is a gearhead car guy like Joe Biden, but if not, that would be one of the few missing pieces in a biography tailor-made for this moment.
If there is a knock on Cardona, it's that he's the rare cabinet nominee who doesn't have a relationship with the president-elect. But that's just where education lives in the Washington pecking order. Even there, you can find upside: He's a merit hire in a highly political process. There is some grumbling that the job again went to a man, given the talent pool and how few women have served in the role overall, and particularly for Democrats relative to the demographics of the education sector.
If there is a risk, it's that it's a big jump from being an assistant superintendent in a small district, which Cardona was less than a year and half ago, to U.S. secretary of education. But that's a manageable challenge for someone willing to put in the work.
Republicans were never going to get their preference here. The best they could have hoped for was someone like former National Education Association President Lily Eskelsen García, who was relatively aligned on issues of local control and flexibility. On school choice and funding, Republicans were not going to get their wish list with any Biden pick. But it's hard to see why Senate Republicans would mobilize against this nomination — especially when they have higher-profile targets.
In November, during a discussion of charter schools, I made the point that while charters, and the reform world, were girding for a fight, they should also be ready to take yes for an answer. For now, given the context of education politics, Cardona is what yes looks like. The selection could have gone in many directions far less favorable to those who seek dramatic change to our schools. Cardona seeks dramatic change, too — just with a different theory of action than some reformers. That's a productive tension and an opportunity for progress.
Essentially, Cardona is a Biden offer of a detente in the education wars, and especially in the intra-Democratic education battles — at least, until some hard questions of policy emerge. It's a deft pick. Particularly at a time when political fights should be secondary to an unfolding disaster for millions of American students.
Andrew J. Rotherham is a co-founder and partner at Bellwether Education, a national nonprofit organization working to support educational innovation and improve educational outcomes for low-income students, and serves on The 74's board of directors. In addition, among other professional work, he is a contributing editor at U.S. News & World Report, writes the blog Eduwonk.com, teaches at The University of Virginia and is a senior advisor at Whiteboard Advisors.
Support The 74's year-end campaign. Make a tax-exempt donation now.