Research Finds Pre-K Enrollment, Spending Stagnant, As Key Federal Early Learning Grants Are About to Dry Up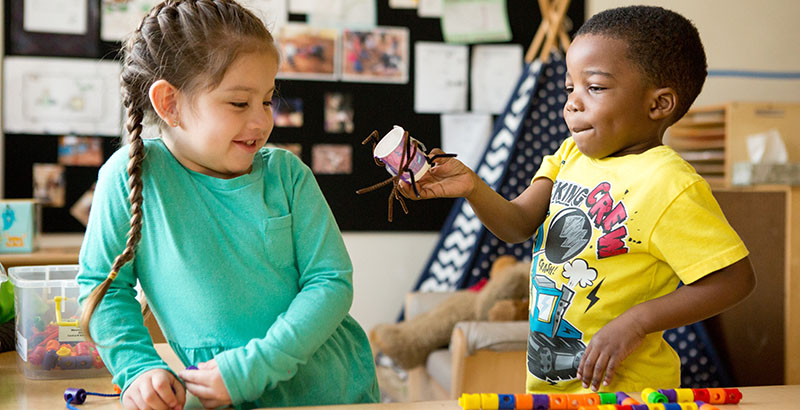 Enrollment in state-funded preschool programs has stagnated, and the federal grants that have helped expand them in recent years are ending, according to a new report.
Overall, about one-third of the country's 4-year-olds and less than 6 percent of 3-year-olds were enrolled in state-funded programs in the 2017-18 school year, according to the most recent State of Preschool Yearbook, an annual report by the National Institute for Early Education Research at Rutgers University.
Those numbers represent small increases from the previous year, with "much of the increase" in enrollment of 4-year-olds coming from federal Preschool Development Grants, the report found. Those federal funds, which went to 18 states, are coming to an end this year; the grants were announced in December 2014 and paid out over four years.
About 56,000 4-year-olds attend programs either totally or partially supported by the federal grants, according to the report.
"Those grants go away this year … States are going to have to find a way to fill that budget hole," Steven Barnett, co-director of the institute, said on a webinar with reporters Tuesday.
About half of the 18 states that received the grants, which totaled $244 million last year, have plans to sustain the funding through other sources, he said.
Ten states served more than 50 percent of 4-year-olds, and only four (Vermont, Oklahoma, Florida and the District of Columbia) served more than 70 percent.
Eleven states served fewer than 5 percent of their 4-year-olds, including six states that had no pre-K programs meeting NIEER's benchmarks.
Only Vermont and the District of Columbia enrolled more than half of 3-year-olds. Many states don't serve any.
At the current enrollment expansion rate, it would take 75 years to get 70 percent of 4-year-olds across the nation enrolled in state-funded pre-K programs, and 175 years to enroll the equivalent amount of 3-year-olds, Barnett said on the call.
Much like enrollment has largely stalled, funding also isn't keeping pace, with the average spent per child in preschool coming in at $5,170, a small decrease per child when adjusted for inflation.
"Adjusting for inflation, we've seen real spending per child decline the last two years. Even though spending's been up some, it's not keeping pace with even that slow increase in enrollment," Barnett said.
Though about a third of students nationally are enrolled in pre-K, at an average cost of about $5,000 a year, the figures vary dramatically from state to state: the District of Columbia spends more than $17,000 per student, while North Dakota spends less than $1,000.
That disparity can also influence teacher pay and benefits, a facet of pre-K the group highlighted this year: Although 25 states require teachers to hold at least a bachelor's degree, only four states require those teachers to be paid on the same salary schedule as kindergarten to third-grade teachers.
The gaps between pre-K teachers and those who teach slightly older children is as much as $20,000 to $30,000 in some states.
NIEER has released the report annually since 2002; last year's report celebrated the increase in the number of students enrolled since tracking began but raised concerns about program quality.
Support The 74's year-end campaign. Make a tax-exempt donation now.