134K Comments on Feds' Trans Sports Policy Demonstrate Difficulty of Compromise
Some experts say proposed Title IX rule leaves school districts in legal no man's land as issue winds its way through the courts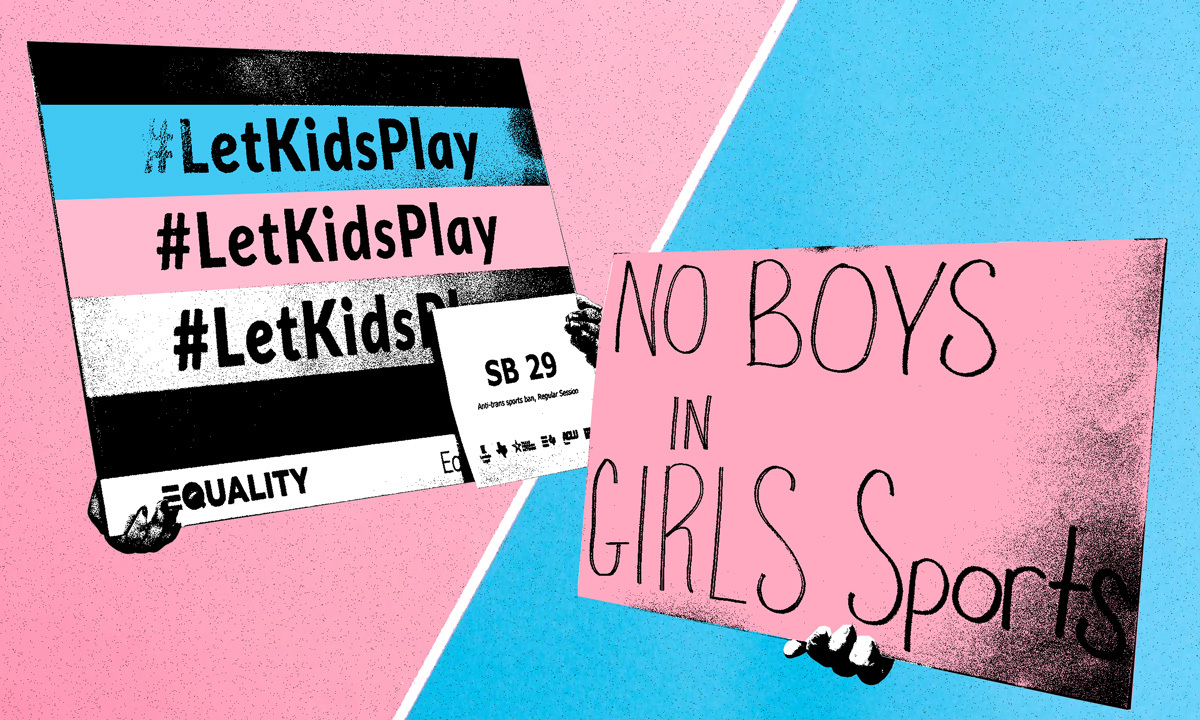 Get stories like these delivered straight to your inbox. Sign up for The 74 Newsletter
A proposed change to federal policy on transgender students' participation in school sports, released by the U.S. Department of Education in April, sought to carve out a middle ground in a debate that has grown increasingly polarized and politically charged.
Department civil rights officials eschewed either blanket inclusion of trans students in teams consistent with their gender identity or banning such policies altogether.
In a sign of the controversy the issue has generated, the department received over 134,000 comments by Monday's deadline. But if those remarks are any indication, a hoped-for compromise could remain elusive.
"No young person should ever be excluded just because of who they are — especially students who just want to play sports," wrote Tim Turbiak, a board member for the Ballston Spa Central School District, north of Albany, New York.
North Carolina state Superintendent Catherine Truitt, meanwhile, said the proposal undermines Title IX's intent.
"Under no circumstance can we assume that Congress, when crafting this important law 40 years ago, fathomed a biological male playing competitive sports in an all-female league or competition at any level," she wrote.
Such views are among the many the department must reconcile before issuing a final rule. The existing draft largely puts interpretation of the policy in the hands of individual districts. But several experts said it lacks clarity on several key issues and leaves school systems in a legal no man's land if they're in one of 21 states with a categorical ban on trans students in sports.
In a state with a ban, "What does [the Education Department] expect the recipient to do?" the Association of Title IX Administrators, a national membership group, asked in an 11-page comment.
Nineteen states have already filed a brief in the U.S. Court of Appeals for the 6th Circuit opposing the Biden administration's interpretation of Title IX. A separate case involving a transgender West Virginia middle schooler who runs track is before the 4th Circuit.
In general, the draft rule would allow elementary-age students to play sports consistent with their gender identity and likely continue in middle school. In high school, however, districts could make a case for excluding trans athletes if they can show how that decision achieves an "important educational objective."
District leaders will need clearer guidance than the department has provided so far to write those policies, according to the Title IX association's statement.
In general, the organization wants a plainly written rule allowing students to participate in athletics consistent with their gender identity. At this point, the draft addresses a "phantom fear" that trans female athletes would dominate competitive sports, wrote board Chair Brett Sokolow and President Daniel Swinton.
If the department fails to heed that advice, the association urged officials to provide examples of restrictions that would and would not comply and offer clarity on specific scenarios that are likely to arise if the draft becomes official policy.
For example, if a trans student makes a team, but is "benched" and never gets to play, would that qualify as discrimination on the basis of gender identity? They want the department to clarify exactly what rights Title IX protects.
"Is it the right to be on a team, the right to compete, the right to have the opportunity to win or play, etc.?" they asked.
'Case-by-case basis'
With the issue likely to end up before the U.S. Supreme Court, Max Eden, a research fellow at the conservative American Enterprise Institute who opposes the change, said the political debate currently favors those who oppose any restrictions on trans students in sports.
Democrats, he said, "will publicly argue that Republicans are going to the Supreme Court to defend sex segregation in mostly non-existent elementary school sports."
He argues that the administration's attempt to bridge the divide over the issue has failed.
"It appears to concede everything, because high schools can adopt policies that predicate competitive sports participation on biological sex," he said. "But actually, it concedes nothing, because [the Office for Civil Rights] reserves the right to insist that those policies change on a practically arbitrary and case-by-case basis."
When Sandra Hodgin, founder and CEO of the Title IX Consulting Group, first read the draft, her initial thought was, "Oh boy, the conservative side is going to have a heart attack." She said she's heard some district leaders in more conservative parts of California, where she's based, discuss rejecting federal funds rather than comply.
Progressive districts, she said, seem more willing to balance inclusion with respecting the concerns of conservative parents.
"They don't want to make it seem like they are just jumping on the Biden bandwagon," she said.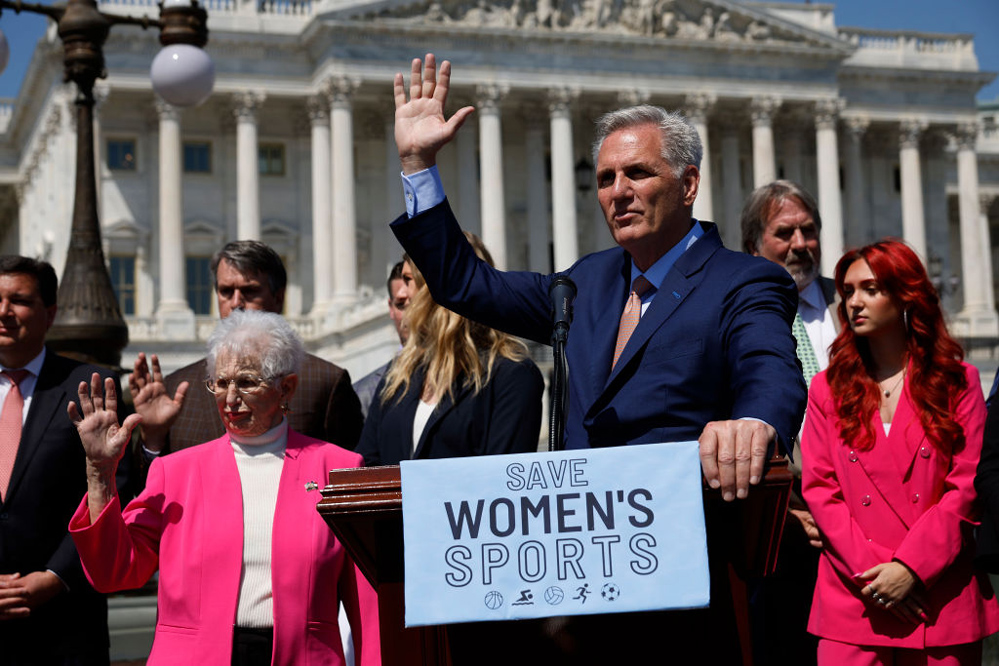 Co-ed teams
While debate over the issue focuses mostly on trans girls, an incident last fall in Florida demonstrates some of the confusion over the issue. The Duval County Public Schools denied a trans boy's request to play on the boy's soccer team, citing the state's ban on trans girls playing on a girls team. But the district later reversed its decision and apologized. 
Six states — Alabama, Arkansas, Georgia, New Mexico and Texas — require students to compete on teams consistent with the sex listed on their birth certificate, according to the advocacy group TransAthlete. Several more require documentation that a student's gender has changed before they can play on a team where they feel most comfortable.
Rules for middle school students, who often enter puberty during those years, should be more explicit, the Title IX association said, since only about a third of state athletic associations have policies governing middle and junior high school sports.
"Given the changes the body undergoes during puberty, educational objectives like injury avoidance or fairness may increase in significance after puberty," they wrote.
Finally, the association wants the department to explain vague terms such as "minimize harms to students" and clarify whether districts would have to organize or pay for alternative opportunities for trans students to play.
Districts stuck in limbo between the federal government and state law should consider adding a co-ed team, Hodgin recommended.
"I've been saying this for well over a year. It costs money, time and attention. Who is going to coach it? And who are they playing against?" she asked. "But if we're really looking at equity and ensuring there's no discrimination, that would be my suggestion."
Advocates for LGBTQ students agreed that the draft rule should be more straightforward. While the introduction notes that across-the-board bans in sports would violate the law, Olivia Hunt, policy director at the National Center for Transgender Equality, wants that statement reflected throughout the text.
Any case where a trans student is excluded has "to address a well-founded concern and not be based on over-broad generalizations. The regulation should spell that out," she said. "This is an issue where there is a lot of confusion among policymakers at the state and district level."
While large districts may have legal teams prepared to advise board members and administrators as unexpected challenges arise, the final rule, she said, "needs to be something that can apply in large and small districts."
Get stories like these delivered straight to your inbox. Sign up for The 74 Newsletter