Biden Plan Would Forbid Across-the-Board Bans on Transgender Participation in School Sports
But the rule would allow flexibility to limit trans students' participation at the more competitive high school and college levels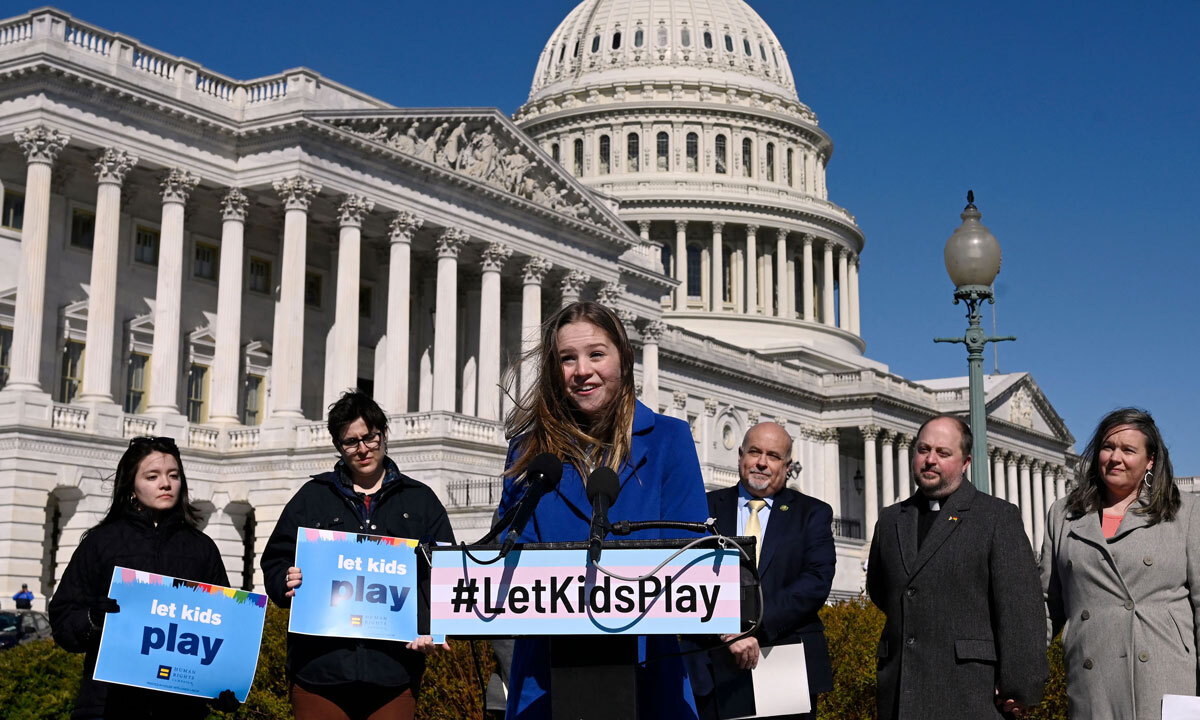 Support The 74's year-end campaign. Make a tax-exempt donation now.
School districts that ban transgender athletes in school sports risk losing millions of dollars in federal education funds under draft rules released by the U.S. Department of Education Thursday.
If adopted, school systems in 20 states that "categorically" ban transgender athletes could find themselves caught between state and federal laws, a tension that is likely to play out in the courts.
Under the proposed rule, however, schools and colleges could "adopt policies that limit transgender students' participation" in specific sports — particularly at the more competitive high school and college levels. That would effectively bar some transgender girls from participation.
"Some sex-related distinctions in sports are permissible as long as the school ensures overall equal athletic participation opportunities," a senior administration official said in a briefing with reporters, noting the department's effort to address the shifting legal landscape on an issue that has sharply divided the country since President Joe Biden took office.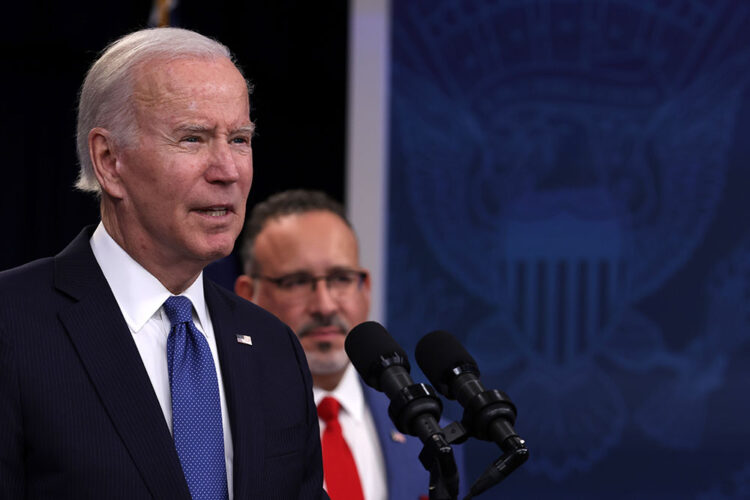 The rule will be published in the coming weeks, the official said, and available for public comment for 30 days.
"Every student should be able to have the full experience of attending school in America, including participating in athletics, free from discrimination," Education Secretary Miguel Cardona said in a statement.
The proposed rule makes good on a promise Biden issued on his first day as president, when he released an executive order stating that Title IX protections against discrimination extend to students based on their gender identity and sexual orientation. Since then, banning transgender students from competing in girls sports has become a defining issue for Republicans. Just this week, Kansas lawmakers overrode the veto of Gov. Laura Kelly and imposed a ban on transgender athletes competing in kindergarten through college. And 17 states warned the administration last year that they would sue if the department went through with efforts to "redefine biological sex to include gender identity."
But administration officials believe they've struck an appropriate compromise. "The proposed rule that we offer today is our best judgment," the department official said. "We are confident in our legal opinion."
The proposal would require schools to carefully balance issues of inclusion and fairness, and nods toward evolving understanding of how children's bodies develop during puberty. It states that most students in the elementary grades would be able to play sports consistent with their gender identity and likely be able to continue doing so in middle school. At higher levels, schools would have to consider the specific sport and competitiveness level before determining if transgender students should be excluded. Schools would be allowed to decide for themselves, the official said, whether limiting trans students' participation meets an educational goal.
"This is a high, demanding standard that will be difficult for schools to meet," said Scott Skinner-Thompson, an associate law professor at the University of Colorado-Boulder.
The administration's measure may not go far enough for transgender student activists or those who think inclusion hinders the goals of women's sports.
Conservatives who have opposed the administration's stance on the issue said it puts school districts in the middle. The proposal, according to Parents Defending Education, places "the onus on school districts" to determine whether their policy would violate the law.
Florida Education Commissioner Manny Diaz Jr. went further, promising in a statement that "we will never allow boys to play in girls' sports. We will fight this overreach tooth and nail. And we will stop at nothing to uphold the protections afforded women under Title IX."
LGBTQ advocates say conservatives are discriminating against vulnerable students who make up just 1.4% of 13- to 17-year-olds.
Some advocates welcomed the proposed rule's language that across-the-board bans on trans girls participating in girls and women's sports violate the law, but expressed concern that some trans students would still face discrimination.
Title IX "protections don't stop when a student leaves the classroom to go out onto the soccer field or a volleyball court or into a bathroom," said Sasha Buchert, nonbinary and transgender rights project director at Lambda Legal, a law firm and advocacy organization.
The draft rule also comes as the GOP-led House prepares to vote on a bill — the Protection of Women and Girls in Sports Act — that would essentially turn state bans into federal policy. The legislation is not expected to pass in the Senate.
The state bans have been the subject of numerous legal challenges. The release of the rule late in the afternoon before a holiday weekend coincided with the U.S. Supreme Court denial Thursday of West Virginia Attorney General Patrick Morrissey's emergency request to allow its 2021 Save Women's Sports law to go into effect. Becky Pepper-Jackson, identified male at birth, and her mother Heather Jackson sued the state to prevent the law from being implemented, saying that it violates Title IX and the U.S. Constitution.
The court's ruling means that Pepper-Jackson, 12, can continue participating on her school's cross country and track teams while the U.S, Appeals Court for the 4th Circuit considers her case.
The American Civil Liberties Union of West Virginia and Lambda Legal called the state's request "a baseless and cruel effort to keep Becky from where she belongs — playing alongside her peers as a teammate and as a friend."
The draft is the second part of the administration's rewrite of Title IX. Released last year, the initial draft extended Title IX protections to LGBTQ students but left unanswered questions about school sports.
The administration largely aims to reverse a Trump-era rule that required live hearings as part of investigations into sexual harassment and misconduct. The proposed rule also removes a requirement that defines harassment as "severe, pervasive and objectively offensive."
The department had to review nearly 350,000 comments on Title IX, with many focusing on sports.
"We've been very grateful to be able to take account of the very wide variety of views on this topic," the official said. Comments from students, professional athletes, teachers and others were incorporated to "inform that proposed law."
Support The 74's year-end campaign. Make a tax-exempt donation now.