13 District Schools in D.C. Are Opening as 'Student Support Centers' to Serve Needy Students — but Questions About Selection, Safety Remain. A Look at One School's Plan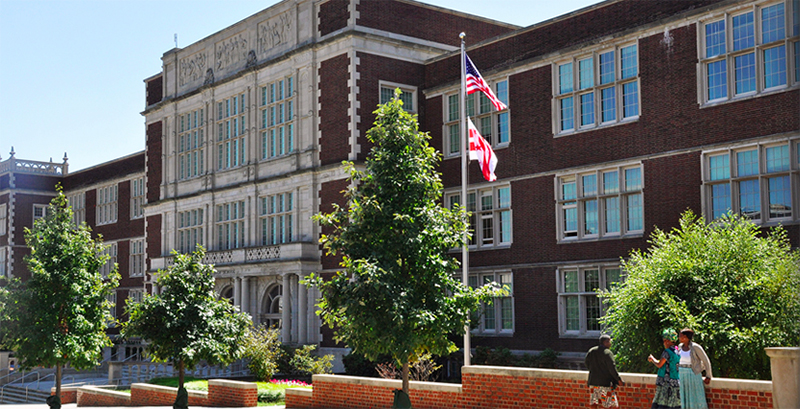 Thirteen D.C. district schools are opening for the first time since March to offer support services for some of their neediest students as city officials mull reopening school buildings districtwide in November.
These schools, which submitted proposals to become "student support centers," started opening this week for roughly 20 to 50 students a day, D.C. Public Schools Chancellor Lewis Ferebee said at a press conference Monday.
Staffed by educators who have volunteered to come in, the centers, while not a replacement for virtual instruction, will offer a range of supplementary services, like tutoring, physical education, counseling, and career and technical education programming.
DCPS's announcement of small in-person programming comes as school districts nationwide from Chicago to San Antonio to Seattle have been prepping for phased-in reopenings. A pressing focus for many has been accommodating their most vulnerable populations — young learners, homeless youth, English learners and special education students — for whom all–virtual instruction has often meant a loss of stability, socialization and personalized services.
Local DCPS expert Mary Levy said she believes "moral" and "parental" pressures spurred the district to pursue this option. The risk is "not just learning loss, it's psychological damage," Levy said. "I think of learning loss as something that can to some extent be made up later. But when kids are traumatized by this lack of interaction, that can be harder to overcome."
Ballou STAY Opportunity Academy was the first to open Monday for students studying barbering and cosmetology. Tyler Elementary has plans for outdoor-only activities, like playground playdates and a garden club for students in the special education program, principal Jasmine Brann said on a Facebook Live stream. Another, Cardozo Education Campus, will facilitate a "safe, peaceful, Wi-Fi-dependable space" for select students beginning next week, principal Arthur Mola said in an interview with The 74 about the school's plan.
Locally, Loudoun County Public Schools, Arlington Public Schools and Fairfax County Public Schools are also planning to bring several thousand kids to school buildings, starting in October. Some D.C. charter schools, including KIPP D.C. and Friendship Public Charter School, have been hosting limited in-person services for a few weeks.
D.C.'s school centers "will ensure students and families who need it most have that option ahead of a possible transition to more robust in-person experiences," Deputy Mayor for Education Paul Kihn said in a statement to The 74.
Mayor Muriel Bowser said Monday she'd make a "more comprehensive" announcement next week about the potential of returning to in-person learning come November, likely through some kind of hybrid schedule.
Levy said starting with small in-person groups may offer insight for a broader reopening. And while Cardozo principal Mola says "that's not the reason we're having the student support center," if it serves "as a way to gauge whether or not a hybrid return is even possible, I think it ends up being a win-win for everyone."
The announcement, however, has aggravated ongoing concerns about a lack of transparency between the district and families and teachers. A bevy of D.C. residents and teachers on Twitter demanded clarity on how students will be selected, teachers' role in the planning, safety and reporting protocols, and, perhaps the most frequent question: What are the actual plans?
Are there actual plans that we can see? Or is it just a powerpoint for a press conference…

— Laura Fuchs: Peddler of "antics" (@DCWard7teacher) September 28, 2020
Today's press conference leaves me with more questions than answers.

What reporting system will DCPS use to inform families and staff of new cases, and how accessible will that reporting system be? Why was @WTUTeacher not present at today's press conference?

— Mysiki Valentine (@ValentineforDC) September 28, 2020
D.C. is currently in Phase 2 with a 1.6 percent positivity rate; Bowser has said that with the city's current coronavirus data, schools can safely reopen with a hybrid model. The teachers union, however, has continued its #OnlyWhenItsSafe campaign, blasting district officials for reportedly not including teachers in reopening discussions.
Schools that submitted plans appear to have a high degree of autonomy in setting the dates and times they'll be open, what services they'll offer, how they'll select students and their safety protocols (though all must meet D.C. Health guidelines).
Here's a look at how one school, opening Monday, plans to do it.
A look at Cardozo
Cardozo Education Campus serves about 750 students from sixth to 12th grades, 100 percent of whom are considered "economically disadvantaged."
Although Mola had planned early on this year to open his school as a support center, the "nail in the coffin" was when he witnessed a ninth-grader struggle through a virtual interview for the chancellor's student advisory board because of background chaos in his home.
"Each time he would come off from mute, there were siblings, young toddlers — and this young man, so apologetically, just said to the interviewer, 'Give me a second, let me come back to the question,'" Mola said. "And I was just so struck by that."
The goal of Cardozo's center, then, is to create "a safe, peaceful, Wi-Fi-dependable space" for students with volunteer instructional support staff "to provide anything from mild academic support to technological support and anything else that might be needed in the moment to help a student get through their virtual lessons," Mola said.
School will be open every day but Wednesday, from 9 a.m. to 3:30 p.m., with breakfast and lunch included and time to venture outdoors.
Each grade will have an assigned day to attend. Sixth, ninth and 12th grade will each have their own allotted day with three "pods" of 12 students max — sixth and ninth because they're critical transitional grades, and 12th grade because "we have to make sure they're as ready for college as they can possibly be," Mola explained.
On Fridays, the remaining four grades will be split into morning or afternoon half-day sessions. In total, Mola expects about 180 students served on a weekly basis.
Beyond that, Mola said he isn't strictly prioritizing certain student populations for these services, calling the selection process a combination of "first come, first serve" and "targeted recruitment."
"My team is definitely identifying students we know would benefit tremendously from this program; they're receiving personalized phone calls. We're also utilizing all of the mass communication channels that we have available, whether it be Instagram" or robocalls and emails, he said.
How Cardozo is approaching safety
Mola outlined a variety of steps the school plans to take to keep students and staff safe.
Many are familiar: six-feet desk separation. Floors marked with the six-feet indicator dots. Face masks required (which will be provided). Ample hand sanitizer.
In some cases, Cardozo is taking it "a step further," Mola said. His staff are using a "very small footprint of the building itself, inside our newest classrooms." The adult in the room will have a plexiglass divider at his or her desk. And daily morning screenings will include temperature checks — something not mandated by D.C. Health.
Asked about a "safety plan," a DCPS spokesman pointed to a list of 10 health and safety commitments the district intends to maintain.
In terms of reporting, the spokesman added DCPS will abide by D.C. Health reporting standards, such as "notification to those staff and/or students in close contact with a positive case at a school, including the requirement to quarantine for 14 days."
Support The 74's year-end campaign. Make a tax-exempt donation now.