$14 Million From Chan Zuckerberg Initiative Will Nearly Double Personalized Learning in Chicago Public Schools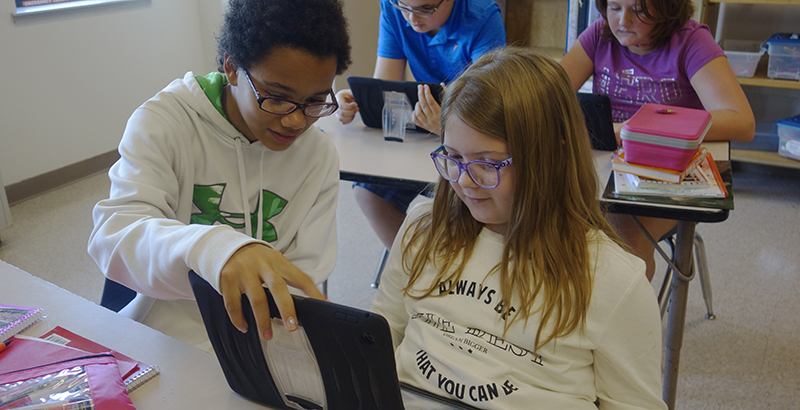 The number of personalized learning schools in Chicago will nearly double with a $14 million grant from the Chan Zuckerberg Initiative to expand the student-centered approach in America's fourth-largest district.
Most of the money will be spent on professional development for teachers, with some going toward technology for classrooms. Chicago Public Schools will receive $4 million, and LEAP Innovations, a national personalized learning organization that has worked closely with Chicago to develop its student-centered learning models, will receive $10 million.
"The goal of this grant is to expand the number of schools that are getting access to personalized learning," said Phyllis Lockett, founder and CEO of LEAP Innovations. "This opportunity for equity is really huge, just from the standpoint of personalized learning meeting kids where they are and valuing differences."
Personalized learning in Chicago is opt-in, meaning principals and teachers can choose to adopt the approach. LEAP helps support those schools. Lockett said there's great demand from Chicago schools, making the extra funding critical for expansion. Nearly 100 schools will be added to the 120 that already have personalized learning models.
LEAP's work will center on redesigning traditional teaching and learning practices, which includes professional development sessions throughout the school year, in-school job coaching, classroom resources, technology, and social-emotional support. The personalized learning model involves more student agency over classwork, collaboration with other students during the day, and teachers working in tandem with their peers and having more one-on-one time with students.
Though not every district has $14 million to spend on personalized learning support, Lockett said the approach is still scalable. She pointed to a recent report showing that although upfront costs in Chicago ranged from $338,000 to $780,000 per school, they decreased over five years to become 2 percent of a school's budget.
"We're partnering with Chicago Public Schools and LEAP Innovations to redesign learning environments and put far better tools in the hands of teachers — helping them do the work of their lives and provide transformative and personalized learning experiences that let students unlock their potential," said Jim Shelton, president of education for the Chan Zuckerberg Initiative, in a press release. "We're proud to support CPS and LEAP's efforts to help educators understand and meet the needs of each and every student."
Disclosure: LEAP Innovations and The 74 both receive funding from The Bill & Melinda Gates Foundation.
Support The 74's year-end campaign. Make a tax-exempt donation now.