San Francisco Failing to Serve Low-Income Students of Color, Report Says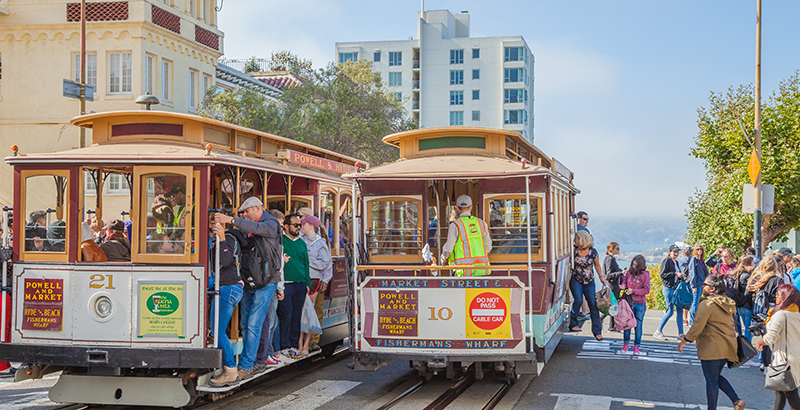 San Francisco, despite its reputation for unabashed progressivism and rapidly growing wealth, has a public school system with gapingly large achievement gaps and a more pronounced failure to serve low-income black and Latino students than other California districts, a new report says.
"The current results should raise deep questions about the will of district and city leaders to recognize the problem and do what's necessary to fix it. A school system that leaves so many children behind should be held accountable," Innovate Public Schools, an education reform advocacy group in the Bay Area, said in its report released Thursday. It will also be presented to leaders at City Hall.
The achievement gap in San Francisco looms as large as 69 points, as judged by proficiency on English tests. In the 2016–17 school year, 83 percent of white students who were not low-income scored at proficient levels, compared with just 14 percent of low-income African-Americans. Slightly more, 22 percent, of low-income Latino students tested at proficient levels.
"San Francisco has always been a progressive city, but our numbers, as far as education, do not mirror that," Geraldine Anderson, a parent activist, told The 74.
Anderson's older son, Xavier, went to a district elementary school before transferring to a KIPP school for middle grades and is now a freshman at a boarding school in East Palo Alto, where he received a full scholarship. Her younger son, Kingston, is a first-grader at a district elementary school, and while she's generally pleased with his school, data from test results "scared me into wanting to make changes," she said.
The San Francisco results aren't the norm among California districts serving comparable numbers of students with similar demographics.
Riverside Unified, for example, had 5 percent low-income African-American students in 2016–17, compared with San Francisco's 6 percent. But in Riverside, 32 percent of those students tested as proficient in English and 20 percent in math, compared with 14 percent and 10 percent, respectively, in San Francisco.
Among 16 similar districts, the highest ranking San Francisco achieved was 11th, on math proficiency for Latino students. On that test, 16 percent of Latino students tested proficient, less than half the statewide average of 38 percent.
San Francisco's results also aren't typical statewide. In 96 percent of California districts low-income African-American students scored better on their 2016–17 English tests than those living in the affluent Bay Area city.
San Francisco Unified serves about 56,000 students in 136 schools, 14 of which are charters. The student body is 40 percent Asian, Filipino, or Pacific Islander; 27 percent Latino; 7 percent black; 14 percent white, and less than 1 percent Native American. Another 4 percent are multiracial, and 8 percent declined to identify their race. A little more than half, 55 percent, are eligible for free or reduced-price lunch, a measure of poverty, and 24 percent are English language learners.
Cyn Bivens said her daughter Jacqueline didn't have a good experience in San Francisco public schools, beginning with the Spanish immersion school she started attending in kindergarten.
Bivens said she transferred Jacqueline to another San Francisco public school for the second half of fourth grade after a series of negative incidents, including inappropriate discipline by teachers and a contentious relationship with the school's principal.
"The system treats black parents like they don't know how to take care of their children," Bivens told The 74.
Jacqueline enrolled in a KIPP school last year; she's now a sixth-grader there. It's not perfect, but a far better alternative than the district schools, her mother said.
"Our children need many avenues to education. I don't care if it's public, Montessori, charter, or private school," Bivens said. "Whatever avenue a child takes to get what they need in the way of education, I think is a positive thing."
Beyond charters, San Francisco does offer district-run school choice.
The district's current system, which began in 2011, attempts to balance the desire to end racial and economic isolation with families' preference to attend schools near where they live. It isn't working, though, according to Innovate, for reasons including the clustering of top-performing schools in wealthier neighborhoods, transportation concerns, a small supply of good schools, and a difficult-to-understand choice system.
Many wealthy families choose to simply bypass public schools. One in 4 children in San Francisco attends private school, compared with 1 in 10 statewide, according to the report, which roughly mirrors the 10 percent who are enrolled in private school nationally.
The lack of educational opportunities means many of the city's prime job opportunities, including those in the signature tech industry, are out of reach. Just 37 percent of Latino students and 31 percent of African-American students in San Francisco meet eligibility requirements for admission to the state's public universities. Workers with advanced degrees earn more in careers across the board.
"Taken together, this information raises deep questions about who we are as a city. The huge divides in wealth and education are making it harder and harder for working-class African-American and Latino communities to survive here," the report says. "That should trouble the conscience of every single San Franciscan."
In the short term, the report urges San Francisco leaders to work on school turnaround, and suggests models that give strong school leaders more autonomy, like the Mastery schools in Philadelphia. The group also suggests opening new schools and, long term, adopting "whole-district change" through strong district leadership, a new emphasis on instruction, and other efforts that have worked in other districts.
Support The 74's year-end campaign. Make a tax-exempt donation now.