With Nation Focused on Reopening Schools, Biden's Choice of Kamala Harris as Running Mate Could Renew Attention on Integration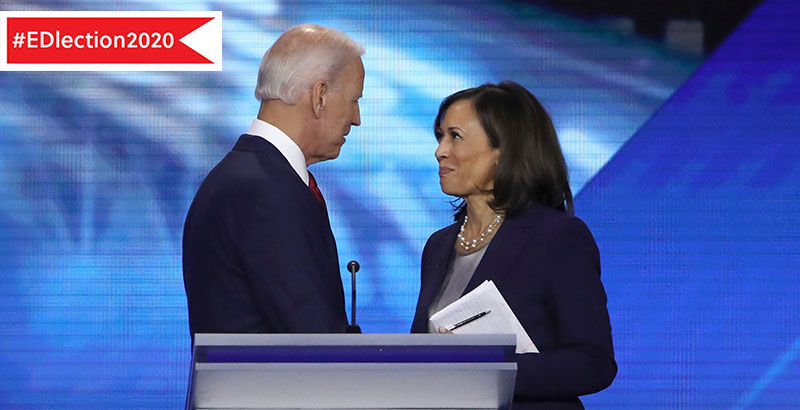 Their heated exchange over school busing during a Democratic presidential debate last year was one of the more dramatic moments of the primary season. But now former vice president Joe Biden and California Sen. Kamala Harris share the ticket and could make education a more defining issue in their effort to unseat President Donald Trump.
The question is whether integration — or any other K-12 issue — can figure into the campaign while grappling with the coronavirus is dominating the education conversation in this country.
Between now and the election, Harris's past record as a prosecutor, along with the education proposals she presented as a presidential candidate, will be closely examined as both supporters and opponents look for indications of how the candidates will address contentious issues including campus police, choice and improving school quality.
Being Biden's running mate will "test her seriousness about the segregation issue" at a time when the pandemic has "radically exacerbated achievement gaps," said Bruce Fuller, a University of California, Berkeley, sociologist whose recent research shows increasing racial isolation for children in preschool and elementary school. "Taking a potshot at Biden while trying to win over the left wing [was] in part a tactic, but that's different than long-term work on an intractable issue."
During that June 2019 debate, Harris alluded to Biden's comments about finding common ground with U.S. "senators who built their reputations and career on the segregation of race in this country" and personalized the event by talking about her experience as part of a school busing program.
Tyrone Howard, an education professor at the University of California, Los Angeles, and director of the Black Male Institute, said he would like the campaign to focus on the quality of schools in Black and Latino neighborhoods, where most students are not selected for magnet schools and other integration programs.
As a former prosecutor and California attorney general, Harris doesn't have a background in education. But during a National Education Association presidential candidate forum last summer, she promised to fully fund special education, nominate an education secretary with experience in public schools, and focus on ending gun violence. As a presidential candidate, she proposed to increase teacher pay by an average of $13,500 a year.
Harris's tough position on truancy as San Francisco's district attorney — which led to the arrests of some parents — also received attention during her run for the nomination.
"She's going to have to backpedal a bit from her prosecutorial stance in the school domain," Howard said, adding that "there's got to be a softer, more sympathetic tone toward parents" hit hard by the pandemic.
Yumeka Rushing, chief strategy officer for the NAACP, added that parents and educators want to hear what the candidates will do to help schools recover from the pandemic.
"COVID-19 is crippling our education systems, and so is poor leadership and decision-making that puts politics before people," she said. "States need more federal funding to meet the needs of education systems. Education systems need states to direct resources to schools. Schools need to focus on the supports kids need now to realize their potential — and those supports look different in crisis."
Those interested in what a Biden administration would do on issues such as accountability and school choice, however, aren't too impressed, and they view Harris as closely aligned with the teachers unions. "It's hard to see much of a silver lining for education reformers," said Mike Petrilli, president of the conservative Thomas B. Fordham Institute.
As a prosecutor, Harris sued for-profit online charter chain K12 Inc. over false advertising and unfair business practices. During the primaries, she wasn't as hard on charter schools as some of her opponents, but it's unclear whether that topic will resurface.
Steve Zimmerman, former director of the Coalition of Public Independent Charter Schools and now the executive director of Academy of the City Charter School in Queens, New York, said Biden and Harris have nothing to gain by staking out an anti-charter position.
For them, "What comes first right now is winning the election and not finding new ways to divide the electorate," he said.
'The Kamala Harris of the present'
As she has called herself California's "top cop," Harris's career as a prosecutor could play into the conversation over police in schools at a time when several major school districts have cut ties with law enforcement agencies and protests over racial discrimination and the murder of George Floyd continue in cities like Chicago and Portland.
Fuller notes that her background could appeal to the "center of the party," but Kenneth Trump, president of National School Safety and Security Services, said he doesn't expect Biden-Harris to take a moderate position on those issues.
"There's the Kamala Harris of the past and now the Kamala Harris of the present," he said, adding that issues related to law enforcement, including school police, are especially polarized. The Republican ticket "is very strongly pro-police. The Biden-Harris ticket can be expected to lean more heavily to the other extreme."
Support The 74's year-end campaign. Make a tax-exempt donation now.